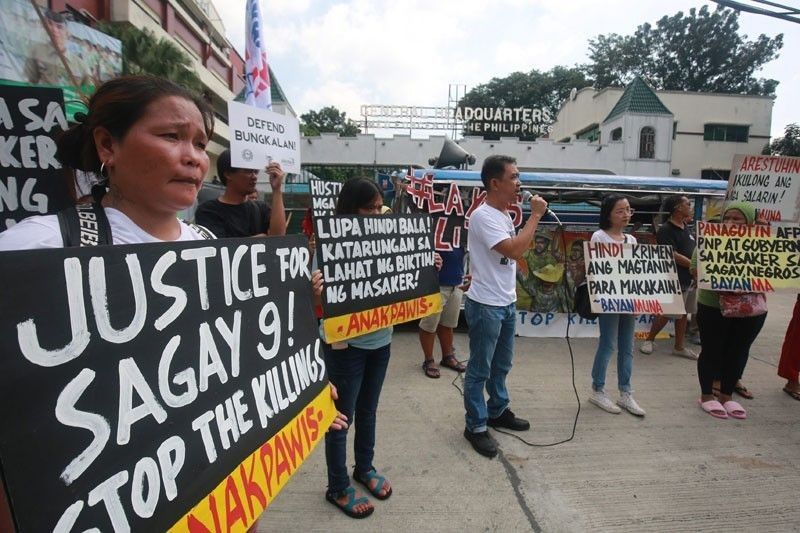 Last October, nine sugarcane workers—including three women and two minors—were killed on October 20 by some 40 unidentified armed men. The Armed Forces of the Philippines linked the killing of the National Federation of Sugarcane Workers members as part of the so-called "Red October" plot, while some reports pointed to private armies and paramilitary groups as perpetrators of the killing.
Michael Varcas
Sagay witness's mom files raps vs cops, estranged father
MANILA, Philippines — The mother of a 14-year-old survivor of the "Sagay 9" killings has filed a criminal complaint against local police and the boy's estranged father for allegedly coercing him to be a witness against members of the New People's Army.
The complaint, filed with the assistance of the National Union of Peoples' Lawyers, accuses Vic Pedaso of violating Republic Act 9262 or the Anti-Violence against Women and their Children Act.
A copy of the complaint given to media did not elaborate on the alleged violations, but RA 9262 penalizes "attempting to compel or compelling the woman or her child to engage in conduct which the woman or her child has the right to desist from ... or attempting to restrict or restricting the woman's or her child's freedom of movement or conduct by force or threat of force, physical or other harm or threat of physical or other harm, or intimidation directed against the woman or child."
Pedaso was earlier named in reports as the complainant in the kidnapping and serious illegal detention complaint against NUPL lawyer Kathy Panguban.
READ: Kidnapping raps vs lawyer of 'Sagay 9' witness's mother baseless, Karapatan says
Police Chief Inspector Robert Mansueto, SPO1 Julie Ann Diaz and PO Christine Magpusaw of the Sagay City Philippine National Police were also accused of violating Republic Act 7610, the Special Protection of Children against Abuse law.
The cops are also facing a complaint for allegedly violating the Supreme Court's Rule on Examination of Child Witness.
In Pedaso's complaint against Panguban, Mansueto, chief of the Sagay City police, said that father received a call from the mother of his child claiming that they were under tight watch in the area where they were brought after the boy, whom the Karapatan and NUPL refer to as "Lester," was turned over by the city's Social Welfare and Development Office.
But the NUPL and rights group Karapatan said that the complaint was malicious and baseless.
The NUPL earlier said that Lester "chose to be with his mother since he barely knows his biological father because the latter abandoned them for 10 years."
The name of the complainant—the mother of the minor—is withheld from the story as provided by an earlier SC ruling on a VAWC case.