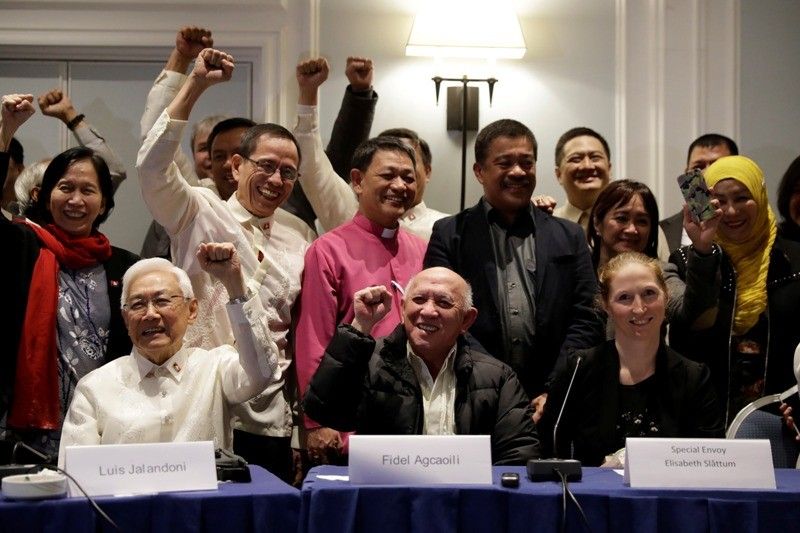 Front row from left, Luis Jalandoni, representative of the communist movement the National Democratic Front of the Philippines, Fidel Agcaoili, Communist rebel negotiator, Norwegian Special Envoy Elisabeth Slattum, celebrate after signing a joint statement on what has been achieved in the third round of talks, in Rome, Wednesday, Jan. 25, 2017. Formal talks have since been terminated.
AP Photo/Alessandra Tarantino
Communist negotiators seek meeting for return to peace talks, Duterte says
MANILA, Philippines – Communist leaders are seeking a meeting with President Rodrigo Duterte on the resumption of peace talks, which was terminated by the government last year because of the rebels' attacks against civilians and security forces, he said.
Duterte said National Democratic Front of the Philippines chief negotiator Fidel Agcaoili and NDFP senior adviser Luis Jalandoni want to talk to him but are worried that they might be arrested if they come to the Philippines.
"Agcaoili and Jalandoni – I will not keep it a secret. I do not want (it to be) confidential. They will come here. They want to talk to me. Their problem is they might be arrested," the president said during a biodiversity event last Saturday in Palawan.
"I said, 'You will really be arrested... They said they want to talk to me. So I called a cluster meeting with the military. So what do you think? They said 'maybe'. It's not a very big margin there but maybe," he added.
Duterte said he was still thinking whether to meet with the communist leaders.
"So, when I go back after Papua New Guinea and Singapore, I will make the announcement. Kaya usap tayo ulit kasi baka, baka pala (So let's talk again because it's a maybe)," the president said.
Duterte is flying to Singapore on Monday to attend the Association of Southeast Asian Nations meet and to Papua New Guinea on Thursday to participate in the Asia Pacific Economic Cooperation summit.
Peace talks between the government and the communists were cancelled after Duterte had accused the NDFP of seeking a coalition government, a power-sharing setup that he said is not allowed by the constitution.
Peace talks terminated in 2017
On Nov. 23, 2017, Duterte issued Proclamation No. 360 terminating the peace negotiations and ordering the government peace panel to cancel all meetings with their communist counterparts. In the proclamation, Duterte said the communists had failed to show sincerity and commitment in pursuing genuine and meaningful peace negotiations because they engaged in "acts of violence and hostilities."
Duterte said communists claim to love the country but are "taking advantage" of the lumad or indigenous peoples. He said about 75 percent of the New People's Army, the armed wing of the communists, are lumads.
"It's time for you to surrender actually. I said I cannot be sure of everything. By the grace of God...in two years, we might achieve peace," the president said.