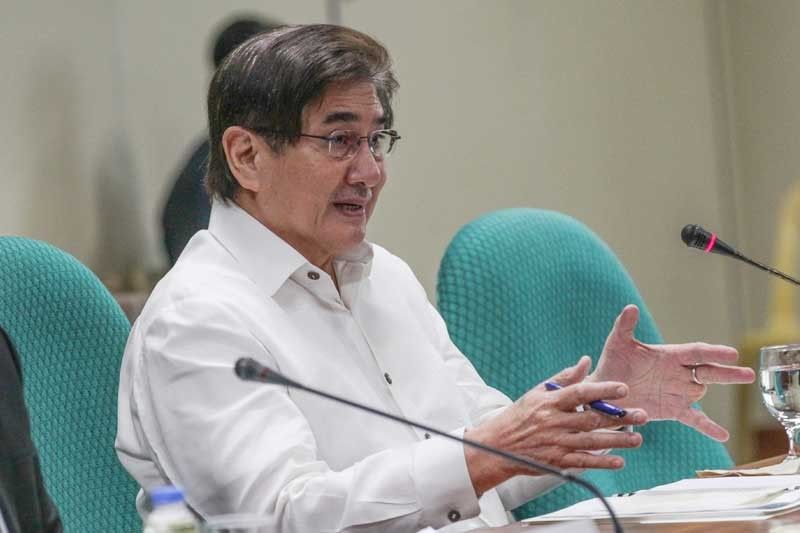 "For a better Philippines, a better government, for the Filipino people and for a better future for our most precious children, I have decided to accept the offer of the President to help lead the DICT," Honasan said in a statement.
Geremy Pintolo
Sen. Gregorio Honasan formally accepts DICT post
Paolo Romero
(The Philippine Star) - November 10, 2018 - 12:00am
MANILA, Philippines — Sen. Gregorio Honasan has accepted President Duterte's offer for him to head the Department of Information and Communications Technology (DICT) but he is expected to assume the post only after the Commission on Appointments (CA) confirms his appointment.
"For a better Philippines, a better government, for the Filipino people and for a better future for our most precious children, I have decided to accept the offer of the President to help lead the DICT," Honasan said in a statement.
Honasan will remain in the Senate until the CA confirms him and he formally takes his oath before Duterte, when he will be deemed resigned from the chamber.
Senate President Vicente Sotto III said he expects his colleague to breeze through the CA following tradition whenever a member of Congress is appointed to the executive branch.
"Although we will miss him in the Senate, I know he will be of great value to the executive department," Sotto said.
The CA is expected to conduct a quick deliberation on Honasan's appointment in the next weeks.
The Palace welcomed the decision of Honasan to accept the DICT's top post, presidential spokesman Salvador Panelo said yesterday.
"With the entry of a provisional new major player in the telecommunications industry, we are confident that the senator would provide good direction and sound management to the DICT, consistent with the President's priority programs beneficial to Filipino consumers in the areas of information, communications and technology," Panelo said.
Panelo expressed confidence in Honasan's ability to head the agency.
The Palace has yet to release Honasan's formal appointment papers.
"For now, we congratulate Senator Honasan and wish him all the best as he undertakes genuine reforms in the DICT," Panelo added.
Honasan's appointment comes at a time when the Duterte administration is pushing for the entry of a third telecommunications firm to break the duopoly in the industry.
The National Telecommunications Commission has provisionally selected a third player, Mislatel Consortium which includes Udenna Corp., its subsidiary Chelsea Logistics Holdings Corp. and state-owned China Telecommunications Corp.
Udenna is owned by Dennis Uy, who contributed heavily to Duterte's campaign in the 2016 presidential elections.
DICT acting Secretary Eliseo Rio intends to appeal to President Duterte and keep his post until he delivers on his promise to award the country's third telco player before the year ends.
"We are still waiting for the advice. I serve at the pleasure of the President. What I am just asking is to finish this third telco selection which, as I promised before, would be awarded before Christmas," Rio said.
Rio added that he has not been advised when Honasan will take over the DICT, expressing his regret of being replaced prior to the completion of the third telecommunication-selection project.
"I would still like to help the nation but if it is not needed, then I will respect it… I was hoping I could finish this, especially with just a few more days left," he said.
Rio was named as DICT acting secretary by Duterte last May. He took over as officer-in-charge of the agency following the resignation of then secretary Rodolfo Salalima in September last year.
Rio questioned the timing of his replacement.
"It's kind of weird. Why will I be replaced in midstream? What did I do? But of course we have to follow the order of the President," Rio said.
Silent workhorse
Honasan's colleagues extended their warm congratulations to him and said they expect him to perform well at the DICT, particularly improving internet services and ensuring the country's communication security.
Senate President Pro Tempore Ralph Recto described Honasan as "a silent workhorse in a chamber of show horses."
He noted Honasan has always been after good policies, not after good publicity.
"His marching order is in the DICT law: to give the Filipino access to quality, affordable, reliable ICT service or, in simple consumer language, service without dropped calls, dead spots, disappearing signals and slow internet speed," Recto said.
He said Honasan's job is important as broadband is now the third utility, after water and power.
"It needs to be improved because every 10 percentage points increase in broadband penetration is said to boost GDP (Gross Domestic Product) by one percent," he said.
Sen. Grace Poe, chair of the public services committee, congratulated Honasan as she cited the hard-won accomplishments of his soon-to-be predecessor, Secretary Rio.
"We need someone like Senator Honasan at the helm of the DICT who is dedicated and efficient and who will insure that our country will be able to modernize and make technological advances that can support growth and development," Poe said in a statement.
Sen. Francis Escudero congratulated Honasan and said he will be missed by his colleagues.
Sen. Panfilo Lacson said he will miss Honasan who, he said, always helped provide quorum in his committee hearings.
"The DICT may be a young and small department in terms of personnel and budget but its role in national security and economic growth cannot be disregarded," Lacson said.
He joked that he expects Honasan to dispose of his "Jurassic" mobile phone, a Nokia 3210. – With Richmond Mercurio