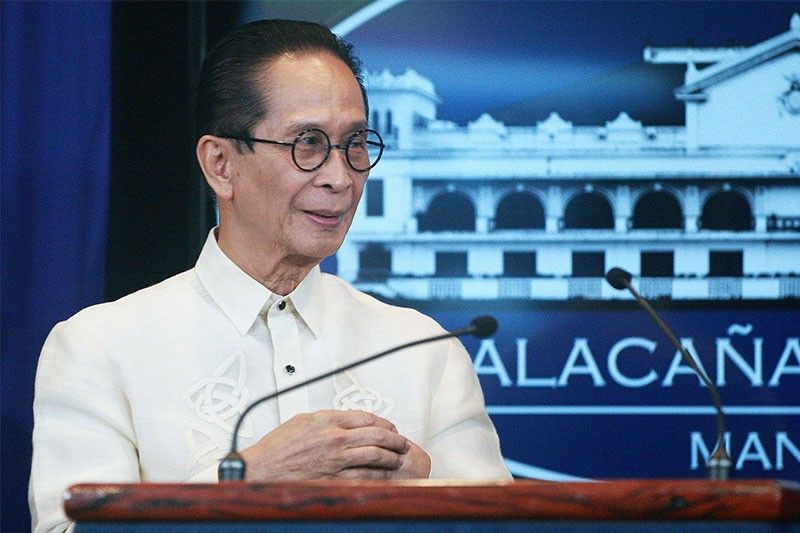 "Michael Yang is just one of those advisers that the president consults on a particular matter," Panelo said.
STAR/Joven Cagande
Palace: Michael Yang is economic adviser to Duterte
MANILA, Philippines (Updated 5:20 p.m.) — Presidential Spokesperson Salvador Panelo acknowledged Tuesday that Davao-based Chinese businessman Michael Yang is an economic adviser to President Rodrigo Duterte, about a month after the president denied it.
Duterte told reporters in October that Yang could not be his economic adviser "because he is Chinese."
But a report published in news site Rappler on Monday showed Yang's appointment papers as "Economic Adviser to the President" from January 1, 2018 to June 30, 2018 — then another contract renewing his services until the end of the year.
RELATED: Duterte: Rogue cops linking Chinese trader to drugs
"Michael Yang is just one of those advisers that the president consults on a particular matter," Panelo said when asked for comment by Malacañang reporters on Tuesday.
"It appears from the documents I saw, it was signed by Secretary Menardo Guevara and Executive Secretary Salvador Medialdea," Panelo told reporters. Guevara is currently the justice secretary, but held the post of executive deputy secretary at the time of Yang's appointment.
Guevarra, for his part, stressed that there is no legal prohibition to Yang's contract.
"It was only on advisory capacity. The president may or may not listen to him," the Justice chief said in a message to reporters.
Local media first noticed Yang — who has also been seen with the president in public appearances — had listed himself as "Presidential Adviser for Economic Affairs" on the website for the "Office of the President for Economic Affairs" at www.opea.com.ph. The site has since been taken down.
Duterte clears Yang of drug links
Duterte had also cleared Yang of alleged links to the illegal drug trade back in October. Duterte said Yang could not be involved in the drug trade because he is often with the Chinese Ambassador to the Philippines Zhao Jinhua.
When a reporter asked Panelo why the president initially denied that Yang was an adviser, he said that "it wasn't he (the president) who signed the papers."
But when asked if it was signed without his knowledge, Panelo said "of course, it was with his knowledge."
Although Panelo said that hiring foreigners as consultants is allowed, he tried to explain that what the president said when denying Yang was his adviser was that "he could not appoint this person as a consultant — this particular person."
But in the next breath said that Yang "is one of the consultants of the president, he consults him now and then."
While it is legal for the government to hire foreigners as consultants, under Republic Act 9184, the process should undergo public bidding.
And, according to Commission on Audit rules, the hiring of foreign consultants is justified only if the technical expertise needed for the position cannot be filled by a Filipino.

READ: COA questions DTI's hiring of 106 consultants

When reporters asked Panelo what technical services Yang was providing that a Filipino couldn't provide, Panelo said that this was "between the president and his economic advisors."

He gave the same answer when asked whether or not Yang has access to sensitive state information.
As to whether Filipinos could be assured that Yang isn't using his position to influence policy, Panelo replied that "one economic adviser cannot create policy, it's the president that creates policy."
Detained opposition Sen. Leila de Lima filed a resolution in October urging the Senate to look into Yang's appointment.
"The independence of the State from foreign control necessitates that the questionable citizenship of a presidential adviser be authenticated, and the nature and scope of his influence over foreign policy be fully disclosed," De Lima said then. — with Kristine Joy Patag
READ: De Lima wants probe into Michael Yang's reported government appointment