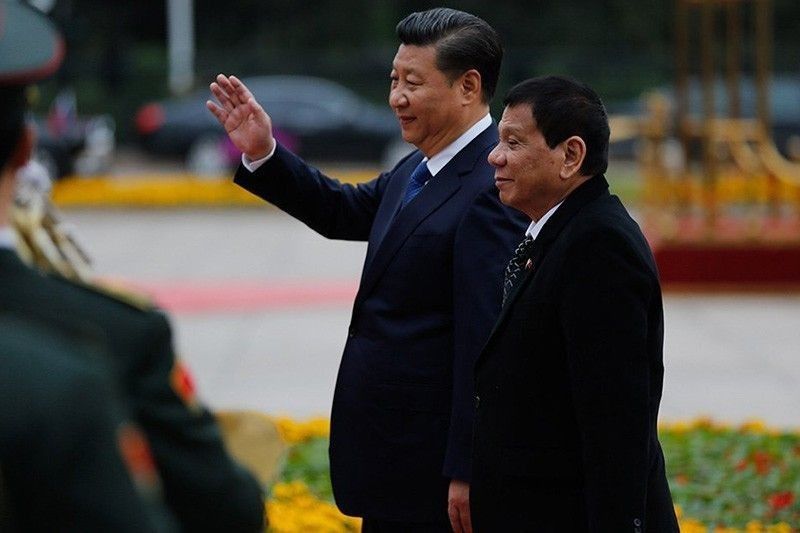 In this Oct. 20, 2016 photo, President Rodrigo Duterte is accompanied by Chinese President Xi Jinping during his arrival at the Great Hall of the People in Beijing, China. The two leaders are expected to finalize an agreement on the possible joint exploration in the West Philippine Sea as Xi visits Manila later this month.
Presidential Photo/Toto Lozano, File
Philippines mulls lifting West Philippine Sea oil exploration ban
MANILA, Philippines — The Philippine government is considering to lift the moratorium on oil and gas exploration in the West Philippine Sea to be able to move forward with an agreement with China.
Manila is hoping to finalize the terms of an agreement with Beijing on the possible joint exploration in the West Philippine Sea or South China Sea as Chinese President Xi Jinping visits the country this month.
Energy Secretary Alfonso Cusi said the terms for the joint exploration with Beijing and the proposed lifting of the oil exploration ban in the disputed waters would be discussed during the Chinese leader's visit to the country.
"Those two are still being discussed and hopefully that will be resolved during the visit of President Xi Jinping. I would not wish to pre-empt things, but we are hopeful that we will come up with the terms of operations," Cusi said in an interview in Singapore earlier this week.
In 2012, Aquino administration issued the moratorium on all exploration and drilling works in the West Philippine Sea amid rising tension with China.
"We have been talking with China to resolve that issue. That is a high priority area for us because we know that there are a lot of reserves that we can explore and exploit," Cusi said.
The moratorium has thwarted a possible joint venture between Chinese state-owned China National Offshore Oil Corp. and PXP Energy Corp., which holds a 78.98-percent operating interest in Service Contract 72 or contract to explore Recto Bank.
PXP Energy Chairman Manuel Pangilinan, on the other hand, said he did not think the moratorium on sea exploration would be lifted in time for Xi's visit, Bloomberg reported.
Pangilinan added that talks with the Chinese oil company could not restart until the two countries reach a bilateral agreement.
PXP Energy earlier expressed hope that the government would lift the moratorium to allow the company to resume exploration works.
"The company remains hopeful that the force majeure imposed on SC 72 and SC 75 will be lifted by the Department of Energy soon for the company to be able to resume exploration works in these SCs," PXP Energy said in July.