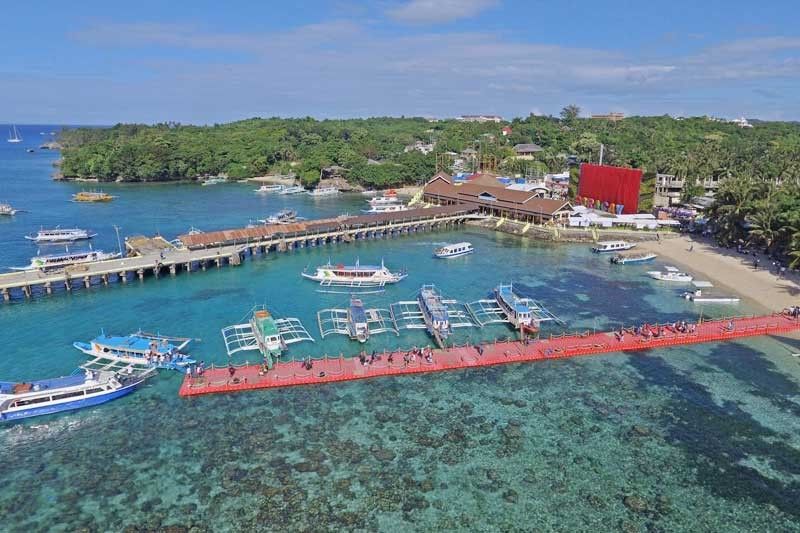 Aerial photo shows the temporary port set up by the Boracay Inter-agency Task Force.
Walter Bollozos
'Welcome to a better Boracay'
No-Nos In Boracay:
Casinos
Littering
Not allowed On the beach:
Parties, bonfires
Ihaw-ihaw (barbecue)
Pets
Sandcastle building
To be regulated
MANILA, Philippines — World-renowned Boracay island yesterday reopened its doors to local and foreign tourists, delighting them with a rehabilitated beachfront that looked like what people fell in love with 30 years ago.
"As we welcome a better Boracay, the Department of Tourism (DOT) urges everyone to be responsible tourists. It is the key to the preservation of this national treasure," said Tourism Secretary Bernadette Romulo-Puyat.
The reopening marks the end of the first phase of the island's two-year rehabilitation program after President Duterte ordered a total shutdown of the tourist attraction that he described as a "cesspool" six months ago.
Puyat said the effort to clean up Boracay continues to gain interest from the international community as a model for sustainable tourism, adding that several international news organizations featured the Philippines as a country that is taking steps to protect its environment.
"Everybody is saying they are amazed by the Philippines. In fact, other countries are visiting us. We are really a model for sustainable tourism... (Boracay's rehabilitation) is just the beginning. We want all major tourism destinations to practice sustainable tourism," Puyat was quoted as saying in a CNN International report.
As the Boracay Interagency Task Force (BIATF) officially welcomed tourists to the island yesterday, Puyat urged visitors to respect and observe local regulations to help protect and preserve the tourist destination.
It created an oath that calls on the island's tourists to act more responsibly and be part of the efforts to make a "better Boracay." The oath reads: "I hereby solemnly swear, as a visitor of Boracay island, that I will, to the best of my ability, help ensure its preservation and sustainable development, and follow/observe environmental laws and regulations."
Puyat warned of strict enforcement of existing guidelines and policies that include the ordinance prohibiting drinking of alcohol and smoking in public places and partying within the no-build zone easement. She added that sand castle making will be regulated and the use of kerosene lamps or open fires at the beach area will be prohibited.
"The Boracay experience is the ultimate lesson in balancing development and protecting the environment. The lessons learned here are not for Boracay alone but also for the other island destinations around our beautiful country," Puyat said.
The BIATF will also limit the number of tourists allowed on the island on any given day at only 19,215 guests, based on the carrying capacity recommendation of the Department of Environment and Natural Resources (DENR).
According to the carrying capacity study, the island and its swimming areas can only support 55,757 people per day – broken down into 36,542 residents and workers and only 19,215 tourists.
Eduardo Año, Interior and Local Government officer-in-charge, said the task force is also studying the possibility of closing the island for one month every year, specifically during the southwest monsoon season, to allow the island to heal itself.
Puyat promised that the DOT would continue to accredit compliant accommodation establishments that pass the standards.
"More rooms will be available as we continue with Phases 2 and 3 of Boracay's massive rehabilitation. We are making sure the task force requirements are 100 percent complied with," Puyat said.
As of Thursday, only 157 Boracay accommodation establishments, with a total of 7,308 rooms, were cleared to operate.
The BIATF earlier urged the public to avoid transacting with establishments that have not yet secured the necessary clearances, permits and/or accreditation from the DOT, DENR and the Department of the Interior and Local Government (DILG).
"We are also strongly advising non-compliant establishments to delete or put on hold all online promotions and related collaterals until compliance with government regulations shall have been accomplished. The actions of these non-compliant establishments in soliciting and/or accepting booking reservations (despite the lack of clearance to open) may be considered deceptive and may subject them to civil liability/suits," the BIATF warned.
Prior to yesterday's opening, the DOT facilitated the training of 2,100 tourism frontline workers as well as conducted training sessions and seminars for porters, receptionists and front office staff.
At least 100 policemen will also be required to go through the Tourist-Oriented Police for Community Order and Protection Awareness Training before being deployed to Boracay.
Director General Oscar Albayalde, Philippine National Police chief, said they would strictly enforce the laws and prevent the island from becoming a venue for illegal activities, like the use of drugs.
The police doubled their force on the island – from 200 to 400 – with an augmentation force from the military and Philippine Coast Guard.
Training courses in community local guiding for Mabuhay hosts are also being rolled out.
Año swore in after yesterday's opening program Vice Mayor Abram Sualog as the acting mayor of Malay town in Aklan. Boracay island is part of Malay.
Mayor Ciceron Cawaling was a no-show at the program after the Office of the Ombudsman slapped him with a six-month preventive suspension last Oct. 23.
But Rowen Aguirre, executive assistant for Boracay affairs of Malay, questioned why only Cawaling was suspended when 17 were charged for neglect of duty, referring to the complaint the DILG filed last June 27. This neglect reportedly led to the island's degradation.
Also charged for gross neglect of duty, conduct unbecoming of a public officer, conduct prejudicial to the best interest of the service and grave misconduct were Aklan Gov. Florencio Miraflores, Sualog and Jen Salsona, the Malay licensing officer.
Aside from those cases, Cawaling and several others were also accused of issuing permits to 20 establishments in Boracay from 2016 to 2018 without the requisite Fire Safety Inspection Certificate (FSIC) from the Bureau of Fire Protection.
"Even Gov. Miraflores and acting mayor Sualog were charged, why single him out? If they say that it was done for Mayor Cawaling not to influence the issuance of permits, they still had people who were charged but not suspended," he pointed out.
He added that Cawaling has been staying in Boracay and received the news calmly. Prior to the suspension, Aguirre said they received information that some people lobbied for the mayor's suspension.
"It was allegedly asked that the suspension order be handed down before the closure, if only to show that someone was held answerable for what happened," Aguirre claimed. – With Jennifer Rendon, Robertzon Ramirez, Emmanuel Tupas, Rhodina Villanueva, Paolo Romero
Related video: