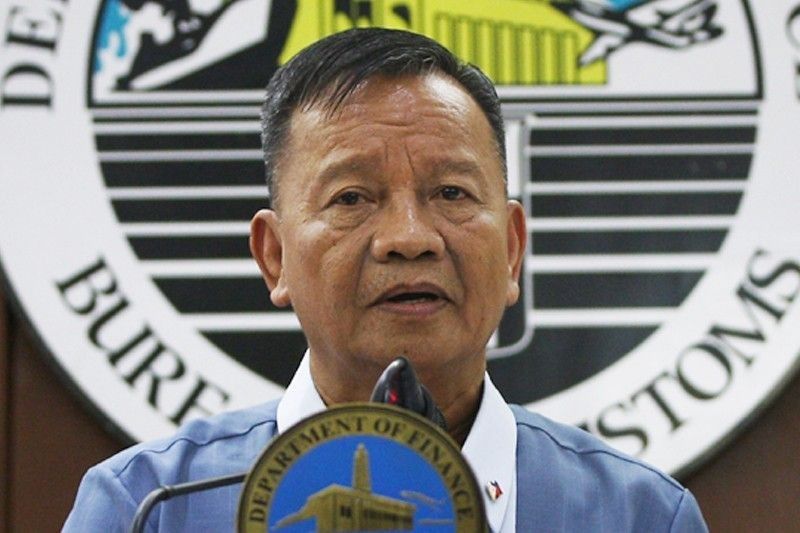 Lapeña has said a drug syndicate may be trying to discredit him.
Miguel De Guzman/File
Duterte 'promotes' Lapeña to TESDA; ex-AFP chief Guerrero to head Customs
(Philstar.com) - October 25, 2018 - 6:30pm
MANILA, Philippines — President Rodrigo Duterte announced on Thursday afternoon that he would move embattled Customs Commissioner Isidro Lapeña to head the Technical Education and Skills Development Authority.

READ: Customs chief changes tune on shabu in magnetic lifters

Lapeña removal comes just a day after he acknowledged that magnetic lifters seized by the Philippine Drug Enforcement Agency in August may have contained at least P6.8 billion worth in methamphetamine hydrocholoride (shabu).
The PDEA has since said that the shabu that could have been hidden in the lifters could be worth as much as P11 billion.
The new valuation is based on the weight of the lifters. PDEA Director General Aaron Aquino said they conducted a weighing test on the magnetic lifters with the Department of Public Works and Highways and compared their weight with that specified on bill of lading.
He said there was a discrepancy of 1.6 tons between the earlier figure and the re-recorded weight.
The Customs chief said this week that he wouldn't resign despite the issues surrounding the bureau. President Duterte's announcement means he can make good on that statement.
READ: Isidro Lapeña claims demolition job, won't resign

Duterte addressed Lapeña directly: "I will promote you to a Cabinet member position. General ... Guerrero, you are to move to the Bureau of Customs."
He made the announcement during a speech at the Philippine Coast Guard anniversary.
MARINA chief to take over Customs
Lapeña will be replaced at the BOC by former Armed Forces chief and current Marina Administration Administrator Leonardo Rey Guerrero, who was named to the post in April.

The president acknowledged he knew Guerrero was already happy was with his position, but he was compelled to order the move because "the demands of public service and the need for honest men requires it."
All personnel would be on floating status to give time for Guerrero to "clean up" the department, according to Duterte.
This is not the first time that a Customs chief has been replaced after allegations of a huge shipment of shabu slipping past inspectors. In August 2017, Nicanor Faeldon resigned after being tagged in the entry of P6.4 billion in shabu that was later seized in a warehouse in Valenzuela City.
DUTERTE YEAR 2: Biggest drug bust bags a bodegero
Lapeña, PDEA chief at the time, was assigned to take over for Faeldon, who has since been assigned to the Office of Civil Defense.
The House of Representatives' Committee on Dangerous Drugs and the Senate blue ribbon committee are holding separate inquiries into the alleged smuggling of drugs into the Philippines.
The president's practice of reappointing and reshuffling officials has been criticized in the past, with opposition lawmakers like Sen. Paolo Benigno "Bam" Aquino IV saying it sends mixed single. "There is a clear double standard in the continuous recycling of officials involved in anomalies such as Nicanor Faeldon, [former National Food Authority administrator]Jason Aquino and others," Aquino said in May.