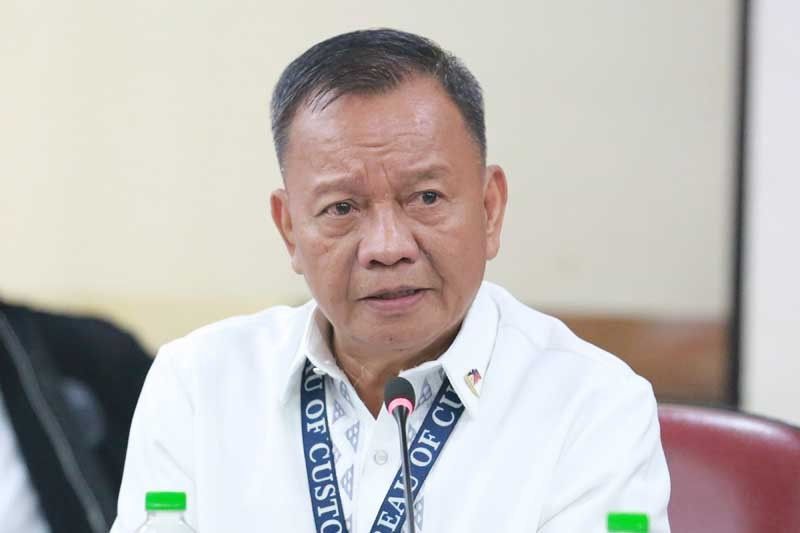 Lapeña backtracked when Antipolo City Rep. Romeo Acop questioned him toward the end of the joint hearing of the House of Representatives committees on dangerous drugs and good government on the missing contraband.
Michael Varcas
Customs chief changes tune on shabu in magnetic lifters
Jess Diaz
(The Philippine Star) - October 25, 2018 - 12:00am
MANILA, Philippines — Customs Commissioner Isidro Lapeña yesterday recanted his previous statement that there was no methamphetamine hydrochloride (shabu) shipment worth P6.8 billion that entered the country last August.
Lapeña backtracked when Antipolo City Rep. Romeo Acop questioned him toward the end of the joint hearing of the House of Representatives committees on dangerous drugs and good government on the missing contraband.
"You have been a police investigator before. With all the testimonies here and in the Senate and the circumstantial evidence so far gathered, do you still insist on your previous statements?" Acop asked.
"When the four magnetic lifters found in Cavite were opened, they were empty. But with what is going on now, with all these pieces of evidence, I now tend to believe that those lifters had contents that are now being peddled by drug syndicates," Lapeña said.
Acop, also a former police officer-investigator, said if Lapeña insisted on his previous assertions, he would be suspected of involvement in illegal drugs.
Acop said he believes the Customs chief is not protecting smugglers or is involved in drug smuggling.
"I think that you are just covering up for the incompetence of some of your people," Acop told Lapeña.
Following Acop's questioning, former Customs intelligence officer Jimmy Guban reiterated that he collaborated with Philippine Drug Enforcement Agency (PDEA) deputy director general Ismael Fajardo and erstwhile Supt. Eduardo Acierto on intelligence information about illegal drugs.
PDEA director general Aaron Aquino has relieved Fajardo for his alleged involvement in illegal drugs. For the same reason, Lapeña has stripped Guban of his post.
Acierto, on the other hand, has been dismissed by the ombudsman in connection with the licensing of assault rifles, some of which had been seized from New People's Army rebels.
Guban said their information on two magnetic lifters seized by BOC and PDEA agents on Aug. 7 at the Manila port turned out to be positive.
Guban added that on Acierto's request, he chose a "consignee-for-hire" for another set of four magnetic lifters that arrived a few days later and found their way to a Cavite warehouse where they were discovered empty by PDEA personnel.
That was Guban's only participation in the second shipment, he claimed.
"So that means that your group had the two magnetic lifters seized and had the four others, whatever they contained, whether the contents were illegal drugs or not, slip past Customs? That was your modus operandi?" Acop questioned Guban, who answered, "Yes."
Acierto and Fajardo did not show up at yesterday's hearing.
Lapeña changed his previous statements despite the testimonies of two of his x-ray personnel, John Mar Morales and Manuel Martinez, who told the two House committees that their x-ray examination and analysis of images of the metal lifters showed that "they were empty."
Their statements contradicted the assertion of former x-ray division chief Lourdes Mangaoang that the lifters were not empty and had some contents, although based on examination alone, she could not tell if the contents were illegal drugs.
"However, based on the investigation of the PDEA and testimonies in the Senate, I have no doubt that the lifters found in Cavite contained shabu," Mangaoang said.
At the start of the hearing, panel chair Surigao del Norte Rep. Robert Ace Barbers decried the heightened word war between the PDEA and BOC on the case of the supposedly missing P6.8-billion shabu shipment.
Barbers said while the two agencies are quarreling, drug syndicates are watching on the sidelines and continue with their illegal activities.
He urged the PDEA and BOC to get their act together, reminding them that smugglers of illegal drugs should be their common enemy.
Before hearing the testimony of the BOC personnel, the committees asked for the credentials of Morales, Martinez and Mangaoang.
Morales said he has 20 years of experience and training in x-ray examination and analysis here and abroad, while Mangaoang and Martinez each had five years.
Morales, now assigned in Batangas, was at the time working at the x-ray division in the BOC main office in Manila. Martinez, on the other hand, was the one who scanned the four metal lifters.
Mangaoang was later allowed to present a PowerPoint and justify her assertion that the lifters had contents.
But Acop found her "credibility questionable and her testimony thus unreliable because of her improper motive."
In the course of questioning Mangaoang, Acop tried to establish that there was "ill will" on her part in criticizing Lapeña and in making it appear that the supposed shabu shipment slipped past the Manila port under the nose of her Customs boss.
He said Lapeña had reassigned her at least five times, which she did not like.
Mangaoang admitted that she was not happy with her reassignments and that she considered one of them as a demotion.
"But I have no ill will against Commissioner Lapeña and that I am speaking to tell the truth," she said.
Mangaoang protested Acop's line of questioning, telling the Antipolo lawmaker in a raised voice, "I did not volunteer to (come) here. I was invited and I feel that I am being prosecuted. If you don't need me, I can leave."
Barbers reminded Mangaoang that she was invited because of her high-profile media blitz in recent days on the missing shabu shipment and her criticisms of Lapeña.
"You are a public servant and you owe it to the public to tell the truth. Don't make it appear that we owe you a debt of gratitude for coming here," Barbers told her.
Not cutting supply
Sen. Leila de Lima said yesterday that President Duterte clearly has no intention of cutting the supply of shabu in the country in spite of his tough stance on illegal drugs.
Reacting to reports of yet another shipment of over P6.8-billion shabu smuggled into the country, De Lima said the Philippines "has truly become a narco-state under no other president but Duterte himself."
"The biggest question in the Duterte administration's drug war that is not being answered by Malacañang is its anemic response to the smuggling of billions of pesos worth of shabu when compared to its impunity in killing alleged small-time pushers and addicts," De Lima said in a statement.
In spite of the claims made by Mangaoang, De Lima said the administration continues to deny the existence of the drugs.
She lamented how no investigation has been initiated by the BOC or Malacañang to determine culpability in the alleged smuggling of shabu into the country.
"No Customs official is investigated or fired. (Commissioner Lapeña) refuses to accept responsibility for his agency's incompetence in stopping the smuggling of shabu, despite allegations even on his agency's possible connivance in the smuggling," De Lima said.
"This is just but a repeat of the original P6.4-billion shabu smuggled in five metal cylinders under the watch of then Customs commissioner Nicanor Faeldon last May of 2017," De Lima added.
Show of support
The executives and employees of the BOC in the Zamboanga City district office yesterday stood briefly outside their building to show their support for Lapeña.
Segundo Sigmunfreud Barte Jr., customs district collector, said they support Lapeña's leadership and the reforms that he has implemented in the BOC.
A tarpaulin at the Zamboanga City BOC district office proclaimed support for Lapeña.
Barte maintained that Lapeña has instituted reforms and cleansed the BOC's tarnished image, "which many in the bureau described as unprecedented." – With Marvin Sy, Roel Pareño