Candidates urged to include food security, environment in platforms
October 21, 2018 | 12:44pm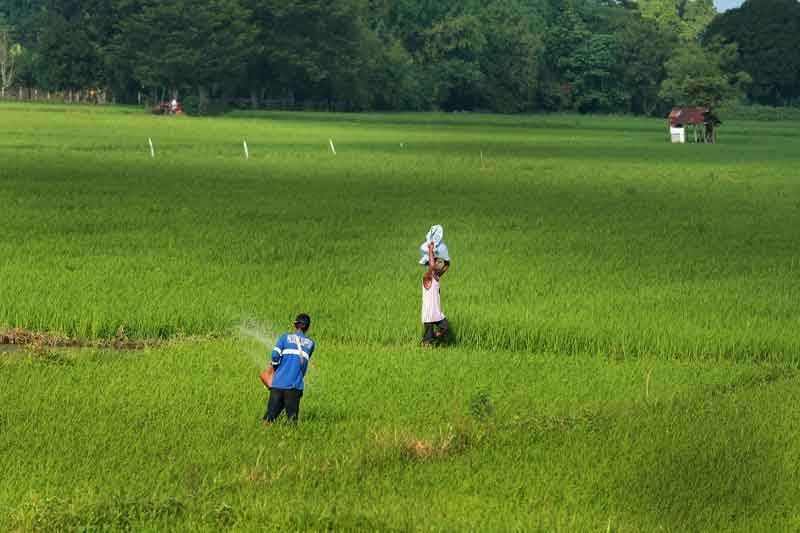 MANILA, Philippines — A dozen advocacy and non-government groups are calling on candidates to include food security and land rights on their campaign platforms.
Among the measures that the groups—including KAISAHAN, Campaign for Land Use Policy Now! and Asian NGO Coalition—are calling on candidates to back is the National Land Use Act, a piece of legislation that President Rodrigo Duterte urged Congress to pass in his State of the Nation Address in July.
The bill, if passed into law, will have the national and local governments "determine the specific uses of land and other physical resources" in the country.
Among its provisions is the full protection from conversion to other purposes of "irrigable lands, all lands developed or possessing the potential for development of high value crops, and all agricultural lands that are ecologically fragile and whose conversion will result in serious environmental problems."
The House of Representatives has passed its version of the National Land Use bill while a counterpart remains pending at the Senate.
READ: Legislative roundup: Duterte's 8 priority bills and Congress' progress so far
In a campaign launched on World Food Day last week, the groups also called for the passage of "food-related" legislation that will protect agricultural land, and that will manage forest resources and indigenous community-conserved areas.
Reforms in agribusiness venture deals
The groups are also calling for reforms in agribusiness venture agreements between farmers and large companies that they say are disadvantageous to tillers.
"Far too many Filipino farmers, fishers, and workers—the people who produce our food—suffer from hunger and unjust working conditions. Women suffer even more, as they are often paid less for the same work," Maria Rosario Felizco, country director of development organization Oxfam said in a press statement. Oxfam is among the organizations supporting the campaign.
The Philippine Institute for Development Studies, a government think tank, said of AVAs in March that "while it is true that many farmers have entered into one-sided contracts," there are agreements that are better for farmers than lease deals.
'Best' and 'worst' qualifications for candidates
"Just like a job fair, this election is like a search for the best candidate to be hired by people to serve the real interests of the poor and the marginalized. We posted the 'best' and 'worst' qualifications to guide political aspirants. Candidates possessing any of the 'worst' qualifications need not apply!" the advocay groups said in a joint statement.
They said the best candidates would be those with platforms that protect land rights, the environment, and human rights. They also panned potential candidates with conflicts of interest, and those that support the destruction of the environment and the conversion of agricultural lands as "the worst."
The campaign was launched outside the Commission on Elections office during the filing of certificates of candidacy.
Other groups in the "#Vote4FoodSecurity" campaign ate Kilusang Magniniyog, Alyansa Tigil Mina, Pambansang Kilusan ng mga Samahan Magsasaka (PAKISAMA), Philippine Partnership for the Development of Human Resources in Rural Areas (PHILDHRRA), Center for Agrarian Reform and Rural Development, People's Campaign for Agrarian Reform Network, John J. Carrol Institute of Church and Social Issues, Alternative Law Groups, International Land Coalition – National Engagement Strategies, Philippine-Misereor Partnership, Inc., FOCUS, and IDEALS, Inc.
Farmers' group Kilusang Magbubukid ng Pilipinas has launched a separate campaign to make food security a campaign issue, saying they are watching which candidates will "[make] a clear stance on how to address the problem on poverty and food security."