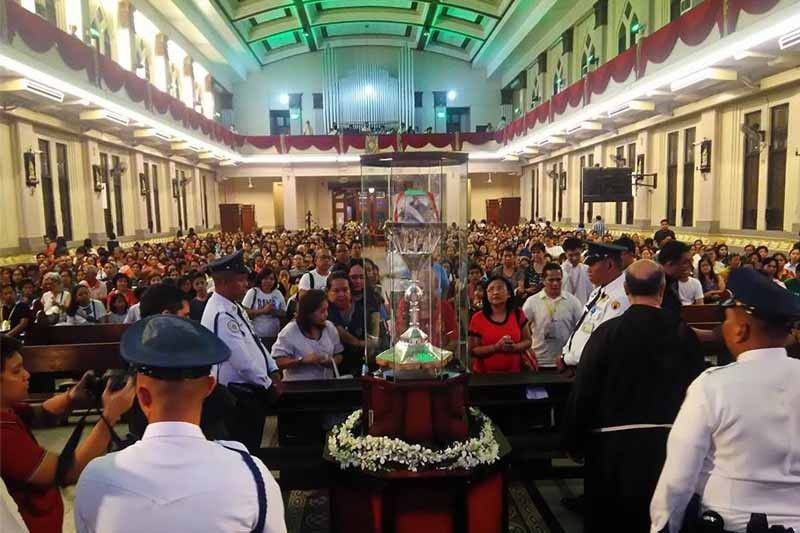 In this Oct. 8, 2018 photo, Saint Padre Pio's relic was venerated by the public at the University of Santo Tomas' Santisimo Rosario Parish Church, Manila.
UST Santisimo Rosario Parish Church/Released
LIST: Schedule of veneration of Padre Pio relic
(Philstar.com) - October 9, 2018 - 4:39pm
MANILA, Philippines— Several devotees of well-loved Saint Padre Pio of Pietrelcina over the weekend trooped to various Catholic institutions for the public veneration of his incorrupt heart relic.
Padre Pio's relic arrived at the Ninoy Aquino International Airport Terminal 1 on Friday and has since been brought to National Shrine of Saint Padre Pio in Sto. Tomas, Batangas and the University of Santo Tomas.
The relic is currently in Manila Cathedral, also for public veneration. It will be brought to Cebu and Davao and will be in the country until October 26.
Padreo Pio is known for bearing the stigmata of Jesus Christ, where several miracles were attributed to him.
Here is the rest of the schedule for the public veneration of Padre Pio's relic:
October 9 to 11 (Tuesday to Thursday morning)
October 11-13 (Thursday to Saturday)
October 14-16 (Sunday to Tuesday)
October 17 (Wednesday)
October 18-26 (Thursday to Friday)
National Shrine of Saint Padre Pio
Concelebrated Mass at 9 am (daily)
Veneration and Confession
October 26 (Friday)
Concelebrated Mass at 9 am
Farewell liturgy
Departure and motorcade to NAIA
Related video: