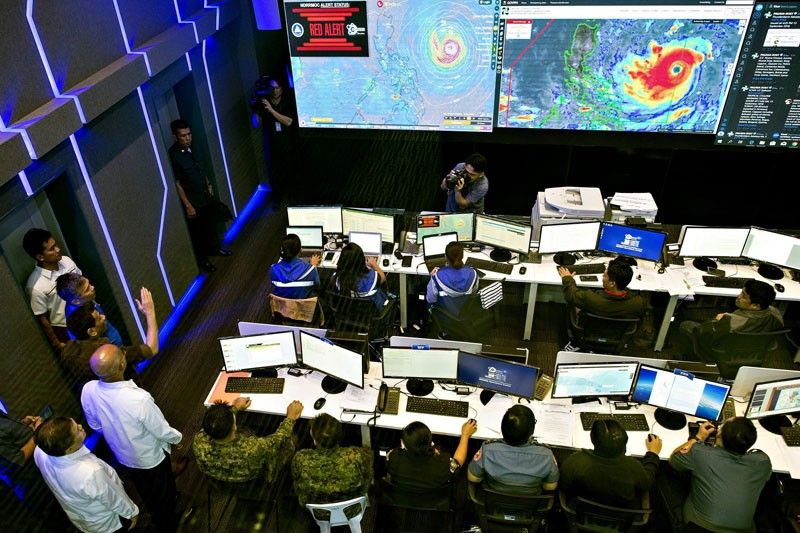 President Duterte visits the National Disaster Risk Reduction and Management Council Operations Center at Camp Aguinaldo yesterday as Typhoon Ompong barrels toward the Philippines.
AFP
Cabinet men dispatched to Typhoon 'Ompong' areas
MANILA, Philippines — President Duterte yesterday ordered some of his Cabinet members to go back to their home provinces in the north and act as front-liners to monitor the situation as Typhoon Ompong hits the country in the next 48 hours.
Duterte said this would allow his officials to strategically monitor the impact of the storm and make appropriate emergency responses.
"It is agreed that all Ilocanos should go home," he said, referring to members of his Cabinet from Regions 1 and 2 that lie in the path of the monster cyclone.
Duterte has designated presidential adviser on political affairs Secretary Francis Tolentino as "conduit" or contact person between him and the National Disaster Risk Reduction and Management Council (NDRRMC) in the next 24 to 48 hours while Ompong unleashes its fury.
Tolentino said he is ready to set up a command center in Tuguegarao, Cagayan, along with Transportation Secretary Arthur Tugade and Labor Secretary Silvestre Bello III as directed by the President.
Tolentino requested Defense Secretary Delfin Lorenzana to bring them to Cagayan.
Duterte also designated the police and military to provide support to all government agencies involved in disaster relief and response.
"In any crisis you have to reckon with Murphy's Law, we have our projections but anything can go wrong," Duterte said.
"The most accurate way of preposition is for Tugade and Bello from Cagayan to go to their provinces," Duterte said.
Duterte presided over a command conference at the nerve center of the NDRRMC in Camp Aguinaldo to oversee preparations for evacuation and rescue operations ahead of Ompong.
Public Works Secretary Mark Villar was also asked to be on standby to ensure that all roads will be cleared in case of landslides.
To avoid a repeat of the government's lack of immediate response during Super Typhoon Yolanda in 2103, Duterte saw the need to ensure that communications are established among state agencies to coordinate efforts.
Environment Secretary Roy Cimatu pointed out the provinces of Cagayan, Isabela and other major areas in Luzon are at risk of being isolated due to power outage for several "days or weeks" in the aftermath of the storm.
Cimatu said there is a need for the military to send in its air assets for deployment of relief goods.
"We have to be prepared for this," Cimatu said, adding he sees that major power posts and cell sites may be toppled by the powerful typhoon.
Jalad said the NDRRMC has organized telecommunications teams for coordination.
He said the NDRRMC has satellite phones to spare in case of failure of communications. He added there are portable cell sites on wheels for additional backup.
"I suggest there is just one line for the (government) agencies, and another line for the (police) and the Armed Forces," Duterte said.
Duterte said he prefers radio, which he said is more reliable than cell phones.
Duterte noted that mobile phones are rendered inutile during crisis when people need them. "Do not rely on commercial cellphones, they cannot be depended upon," he said.
In a presentation to the President, NDRRMC executive director Undersecretary Ricardo Jalad said the typhoon is expected to directly affect an estimated 4.5 million people within the 120-kilometer diameter of the projected track.
While the national government is ready for deployment in affected areas, Jalad said the government will seek international assistance if necessary.
Jalad said the NDRRMC plans to tap ASEAN Humanitarian Assistance in case additional emergency response is needed.
Foreign Affairs Secretary Alan Peter Cayetano said mechanisms are ready in case the President decides to call for international humanitarian assistance.
Jalad said the Department of the Interior and Local Governments (DILG) has issued an order to local officials to conduct of preemptive evacuation of residents living in disaster prone areas in Cagayan Valley, Ilocos, Cordillera Administrative Region (CAR) and Central Luzon.
"There's no forced evacuation yet," Jalad stressed, but added that as part of their overall disaster preparations, the NDRRMC is getting ready to evacuate around 800,000 individuals from the three regions.
The 800,000, Jalad said, are those living in landslide, flood and storm-surge prone areas in Cagayan, Isabela, Apayao, Abra, Mountain Province, Ifugao, Ilocos Sur and Ilocos Norte.
Tugade, for his part, told the command conference that the DOTr had deployed rapid reaction teams in the affected areas in the Ilocos region, CAR and Central Luzon.
Agriculture Secretary Manny Piñol, on the other hand, said about 1.20-million hectares of farm lands will be affected by the typhoon.
The President inquired if there is adequate rice supply, prompting Piñol to say that only an equivalent of three-day supply of rice will be affected once the typhoon hits the key areas in the country.
There is enough rice supply, augmented by recent rice imports made by the government, Piñol said. – Jaime Laude, Cecille Suerte Felipe
Related video: