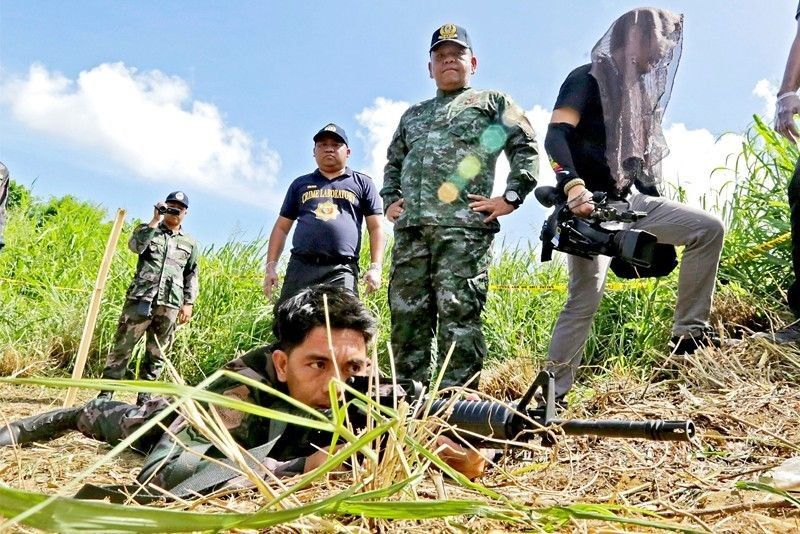 The guidelines are designed to resolve the murder cases of at least 10 mayors and four vice mayors since July 2016, under the term of President Duterte.
Ernie Peñaredondo/File
Guidelines for probers of high-profile murder cases being finalized
MANILA, Philippines — National Investigation Task Group (NITG) chief Director Francis Elmo Sarona is working on a case investigation plan to serve as guidelines for probers in handling high-profile murder cases of mayors and other local chief executives.
Sarona, concurrent Directorate for Investigation and Detective Management (DIDM) chief, said he is now finalizing the guide plan for investigators looking into the killings of local chief executives.
The guidelines are designed to resolve the murder cases of at least 10 mayors and four vice mayors since July 2016, under the term of President Duterte.
Philippine National Police (PNP) chief Director General Oscar Albayalde created the NITG to monitor the progress of the investigations on cases of murders of local executives nationwide, the most recent being the daring shooting to death of Ronda, Cebu mayor Mariano Blanco right inside his office.
Albayalde said there is no cause for alarm even as armed men stormed the office of Blanco and killed him.
"First, there is no reason for sinasabi n'yong (what you are saying as) alarm. Hindi naman ito (This is not a) cause for alarm but of course, we should be concerned whether they are included in the narco-list or not," Albayalde said.
"The PNP is always concerned especially if the victims of the shooting incidents are elected officials and we cannot turn our back on those incidents. We really have to investigate these," he added in English and Filipino.
Albayalde tapped Sarona to thoroughly monitor the development of high profile cases being handled by the special investigation task groups (SITGs) under the NITG.
"The NITG will closely monitor and facilitate national-level coordination of all investigative efforts by the different PNP units, offices and SITG involved in the investigation of incidents involving local chief executives," Albayalde said.
"And the role of the NITG is to oversee, consolidate and assist local probers in the conduct of investigation," he added.
As a matter of procedure, the PNP forms an SITG every time a local chief executive is killed. The SITG is usually composed of local police, scene of the crime operatives, provincial and regional offices.
Albayalde said investigators are looking into politics as the motive in the murder of Blanco, although there were reports linking him to the illegal drug trade in Cebu.
The PNP chief said that of priority concern are the recent deaths of Blanco and Ronda vice mayor John Ungab; Tanauan City, Batangas mayor Antonio Halili; General Tinio, Nueva Ecija mayor Ferdinand Bote and Trece Martires City, Cavite vice mayor Alex Lubigan.
Halili and Bote were murdered on July 2 and 3.
Media reports showed the other mayors killed since July 2016 include Buenavista, Bohol mayor Ronald Lowell Tirol, who was shot while inside the town's cockpit arena last May 27, and Ozamiz City mayor Reynaldo Parojinog and 14 others, including his wife Susan, brother Octavio Jr. and sister Mona, who were killed in a police raid on July 30, 2017.
Other cases are those of Balete, Batangas mayor Leovino Hidalgo, who was shot on June 10, 2017; Marcos, Ilocos Norte mayor Arsenio Agustin on June 3, 2017; Pantar, Lanao del Norte mayor Mohammad Exchan Limbona in Iligan City on Dec. 29, 2016; Albuera, Leyte mayor Rolando Espinosa Sr. in a reported shootout inside his cell at the Leyte Sub-Provincial Jail in Baybay City on Nov. 5, 2016; Datu Saudi Ampatuan mayor Samsudin Dimaukom in a shootout with policemen in Makilala, North Cotabato on Oct. 28, 2016; and Bien Unido, Bohol mayor Gisela Bendon-Boniel on June 7, 2016.
On the other hand, vice mayors killed, aside from Ungab, include Jackson Cinco Dy of Roxas, Oriental Mindoro, who was gunned down on Sept. 22, 2017; Anwar Sindatuk of Datu Saudi Ampatuan, who was killed in Maguindanao on Nov. 26, 2016; and Aaron Sampaga of Pamplona, Cagayan, who was killed in the province on Aug. 5, 2016.
Most of the incidents were perpetrated by unidentified gunmen.