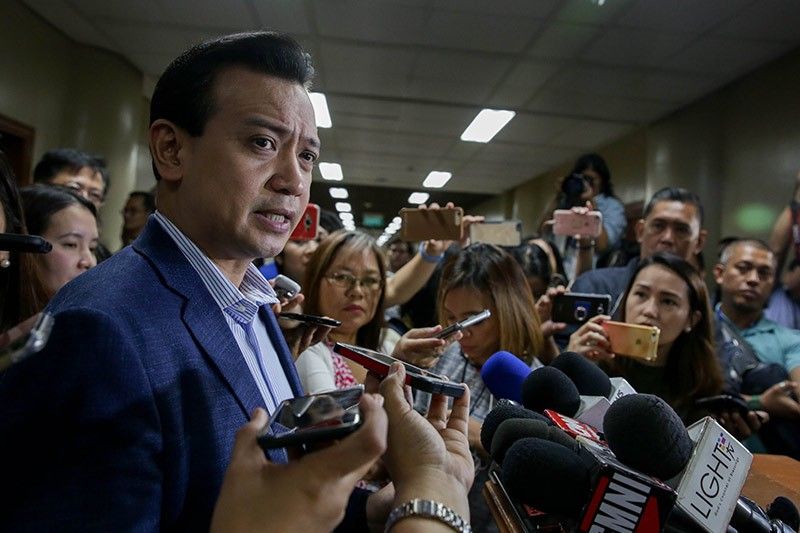 Sen. Antonio Trillanes IV answers questions from media following President Rodrigo Duterte's nullification of his amnesty. The senator likens what is happening to a "de facto Martial Law environment."
The STAR/Mong Pintolo
Duterte has no power to cancel Trillanes' amnesty, legal experts say
(Philstar.com) - September 4, 2018 - 10:24pm
MANILA, Philippines — President Rodrigo Duterte has no power to revoke the amnesty granted to Sen. Antonio Trillanes IV eight years ago, two legal experts said on Tuesday.
Antonio La Viña, former dean of the Ateneo School of Government, said the amnesty granted by former President Benigno Aquino III to Trillanes and other soldiers was already final and cannot be overturned.
"What is important here is (former Defense) Secretary (Voltaire) Gazmin, the whole board and President Aquino did their job and gave that amnesty and granted that amnesty. You do not question that," La Viña said in an interview with ANC.
For his part, Aquino's former Solicitor General Florin Hilbay said if Duterte wants to revoke Trillanes' amnesty, he should go to court.
"It is the burden of the president to find a way to nullify that contract so that he cannot unilaterally nullify that contract. He has to go to court first," he said also on ANC.
Hilbay said the amnesty is like a "contract," which in Trillanes' case "has already been issued and accepted."
Duterte signed Proclamation No. 572 that ordered the voiding of Trillanes' amnesty "effective immediately," and authorizing the military and the Department of Justice to file the necessary charges against the senator over his participation on the mutiny in Oakwood Hotel in 2003 and in the Peninsula Manila in 2007.
The police were also ordered to arrest Trillanes.
Trillanes, a vocal critic of the Duterte administration, is currently in custody of Senate President Vicente Sotto III. He said he would question the legality of Duterte's order.
While the DOJ contended that Trillanes did not file for amnesty application, and therefore was not qualified for it, news reports and videos have appeared on social media showing him filing the application.
The DOJ also said the president has the power to revoke amnesty any time, a position La Viña disagree with.
"Will future presidents now (be able to do the same) if they do not like the political leanings of a person then find some defect in the process?" he asked.
"This is way beyond Senator Trillanes and way beyond the Duterte administration," he added.
For rebel groups negotiating peace with the government, La Viña said Trillanes' case sends a chilling message that the state can easily run after you should you go against it.
Hilbay agreed.
"That's clear, they are trying to look at all possible technicalities to justify a ground for nullification...," he said.
Opposition groups have said that the amnesty revocation was a way by the administration to silence its critics, pointing to the jailing of Sen. Leila de Lima as well as the ouster of former Chief Justice Maria Lourdes Sereno as precedents.
De Lima and Sereno were both appointed by Aquino during his term.
As It Happens
LATEST UPDATE: March 20, 2019 - 8:12am
President Rodrigo Duterte has revoked amnesty granted to Sen. Antonio Trillanes IV in 2011 in relation to his involvement in mutinies against the administration of President Gloria Macapagal-Arroyo in 2003, 2006 and 2007.
Duterte claims in Proclamation 572 that Trillanes "did not comply with the minimum requirements to qualify under the Amnesty Proclamation."
President Benigno Aquino III granted the amnesty through a proclamation in 2010 that Congress concurred in.
The amnesty proclamation covered active and former police and military personnel and "[extinguished] any criminal liability for acts committed in connection, incident or related to the July 27, 2003 Oakwood Mutiny, the February 2006 Marines Stand-Off and the November 29, 2007 Peninsula Manila Hotel Incident without prejudice to the grantee's civil liability for injuries or damages caused to private persons."
Trillanes, a lieutenant, senior grade, at the time of the Oakwood Mutiny, applied for amnesty in 2011.
March 20, 2019 - 8:12am
The continuation of Sen. Antonio Trillanes IV's trial for a rebellion case has been moved to May as the Court of Appeals denies his petition for a TRO against it.
The CA denied the petition for TRO for the trial at Makati RTC Br. 150 saying doing so would mean granting the main prayer without trial.
Court of Appeals denies Sen. Trillanes' plea for TRO vs rebellion trial at Makati court. Court says issuing a halt order would mean granting prayer for main petition, without trial. The court ordered Makati Judge 150 Alameda, DOJ to comment on the senator's plea. | @kristinepatag pic.twitter.com/PNq6iS3lSi

— Philstar.com (@PhilstarNews) March 19, 2019
The court has also directed Makati RTC Br. 150 Judge Elmo Alameda to comment on Trillanes' petition.
The rebellion case is over Trillanes' participation in the 2007 Manila Peninsula siege, for which amnesty was granted in 2011. President Rodrigo Duterte has voided the amnesty.
November 26, 2018 - 4:13pm
The Department of Justice has transmitted to the Office of the Solicitor General the order by Makati Regional Trial Court Branch 148 denying its motion for reconsideration on an earlier decision not to issue an arrest warrant for Sen. Antonio Trillanes IV over a coup d'etat case it dismissed in 2011.
The court has stood firm on its decision that Trillanes applied for amnesty and acknowledged guilt in mutinies against the Arroyo administration.
It also stood by the same decision that found that Proclamation 75, which voided Trillanes' amnesty, is legal and is within the president's powers to issue.
"We are transmitting the Joint Order for your office to consider the filing a petition for certiorari with the higher courts witin the time allowed by the Rules of court, " Senior Deputy State Prosecutor Richard Fadullon, OIC prosecutor general, says in his letter.
Presidential spokesperson Salvador Panelo had initially said Solicitor General Jose Calida would go straight to the Court of Appeals and not wait for the Makati court to reconsider.
October 23, 2018 - 5:24pm
The Department of Justice will file a motion for partial consideration at Makati RTC Branch 148 by Friday, Justice Secretary Menardo Guevarra tells reporters.
The motion will only ask the court to reconsider "only insofar as it found that sen trillanes had sufficiently shown that he filed his certificate of amnesty, and that therefore it follows that he also admitted his guilt."
The Palace had earlier said Solicitor General Jose Calida was already preparing a petition questioning the Makati court's resolution before the Court of Appeals.
October 22, 2018 - 3:49pm
Lawyer Rhodora Peralta, Makati RTC Br148 clerk of court, confirms that Judge Andres Soriano has issued a resolution on a Department Justice plea to issue a warrant of arrest against Sen. Antonio Trillanes IV.
She says they will not give out copies until parties of the case receive the resolution first.
Makati RTC Br148 Clerk of Court lawyer Rhodora Peralta confirms that Judge Andres Soriano has issued resolution, but a copy has yet to be given to parties. She said they won't give out copies until parties of the case receive the resolution. | via @kristinepatag pic.twitter.com/Sh4NYmz0CO

— Philstar.com (@PhilstarNews) October 22, 2018
She refuses to give details on what the resolution says.
October 19, 2018 - 5:20pm
A week since proceedings have been wrapped up, Makati Regional Trial Court Branch 148 Clerk of Court Rhodora Peralta is quoted in a report by PTV4 as saying that the resolution may be released "most likely Monday" (October 22). Judge Andres Soriano is determining—pursuant to a ruling by the Supreme Court—the factual issues involved in President Rodrigo Duterte's Proclamation 572 that declared Trillanes' amnesty "void from the beginning" due to the senator's alleged non-compliance with requirements.