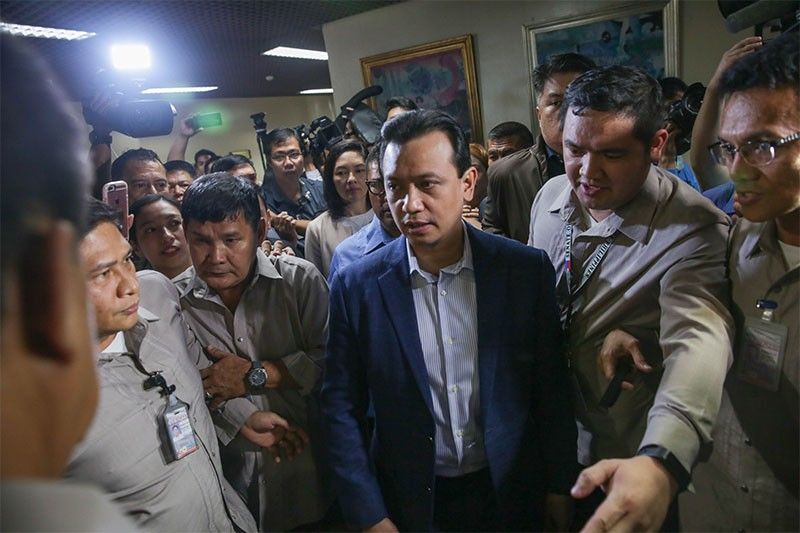 President Rodrigo Duterte declared the amnesty granted to Sen. Antonio Trillanes IV void due to supposed failure to comply with minimum requirements for the grant.
Mong Pintolo/The STAR
Fact check: Palace claims Trillanes did not apply for amnesty
MANILA, Philippines — Claiming that Sen. Antonio Trillanes IV did not comply with the minimum requirements to qualify for an amnesty, President Rodrigo Duterte revoked the amnesty granted to the senator in 2011.
In his Proclamation 572, the president claimed that Trillanes, a grantee under former President Benigno Aquino III's Proclamation 75, did not file an official amnesty application form,
"Whereas, former LTSG Antonio Trillanes IV, O-1197 PN, never expressed his guilt for the crimes that were committed on occasion of the Oakwood Mutiny and Peninsula Manila Hotel Siege, stating that 'they were not admitting guilt to the mutiny and coup d'etat charges lodged against them both in the civil and military courts' and 'I would like to qualify that we did not admit to the charge of coup d'etat or anything na i-finile sa amin kasi we believe na hindi iyon ang nararapat na i-charge sa amin,'" the proclamation read.
A certification issued by Lt. Col. Thea Joan Andrade, chief of the Discipline, Law and Order Division of the Office of the Deputy Chief of Staff for Personnel, stated that there was no available copy of Trillanes' application for amnesty in the records.
However, a footage of Trillanes filing his amnesty application surfaced online.
Aquino's spokesperson Abigail Valte posted the video on Twitter contradicting Malacañang's claim that Trillanes did not file an amnesty application.
The video is a January 2011 report from radio dzRH from when Trillanes submitted his amnesty application before the Ad Hoc Committee of the Department of National Defense.
Sen. Trillanes did not file an amnesty application? Too much bukbok rice, it seems. Here's a video of the filing of that application https://t.co/VdPi0LSfXT

— Abi Valte (@Abi_Valte) September 4, 2018
In the 2011 footage, Trillanes explains that the amnesty application form is a general admission of guilt, whether in the Armed Forces of the Philippines or the Revised Penal Code.
"Ever since hindi naman po kami nagpanggap na 'yung ginawa namin na pagpunta sa Oakwood and sa Manila Pen na natural na ginagawa ng sundalo. We are man enough to admit na we have broken rules in the pursuit of our moral cause and we faced it like men," Trillanes said in the video.
In a privilege speech before the Senate, Trillanes presented a copy of his official amnesty application, as well as his certificate of amnesty.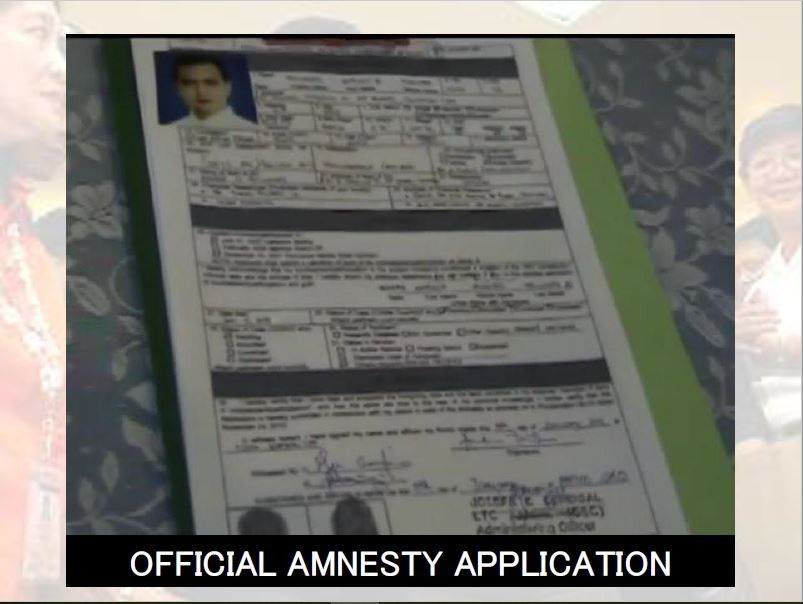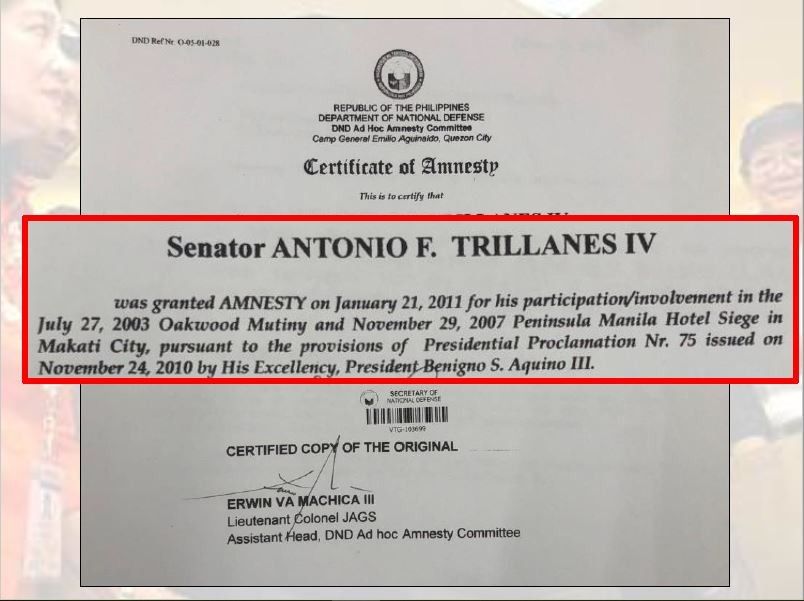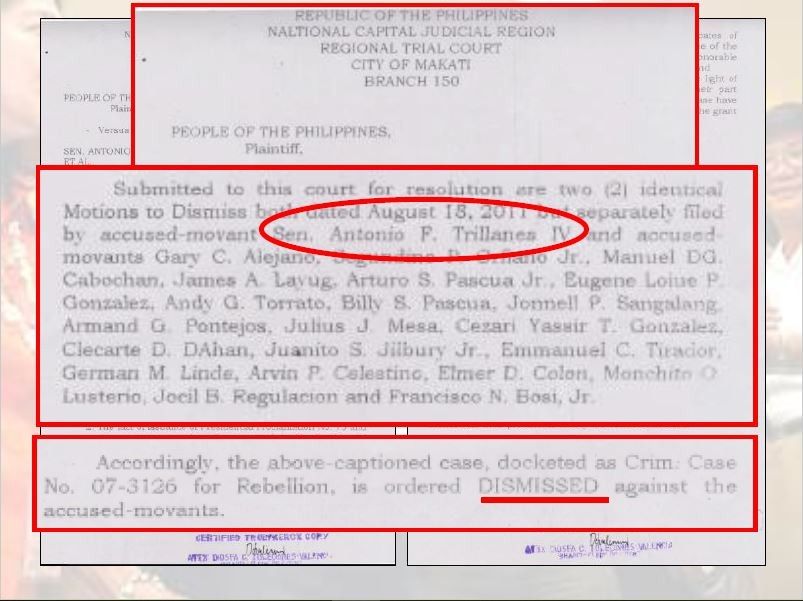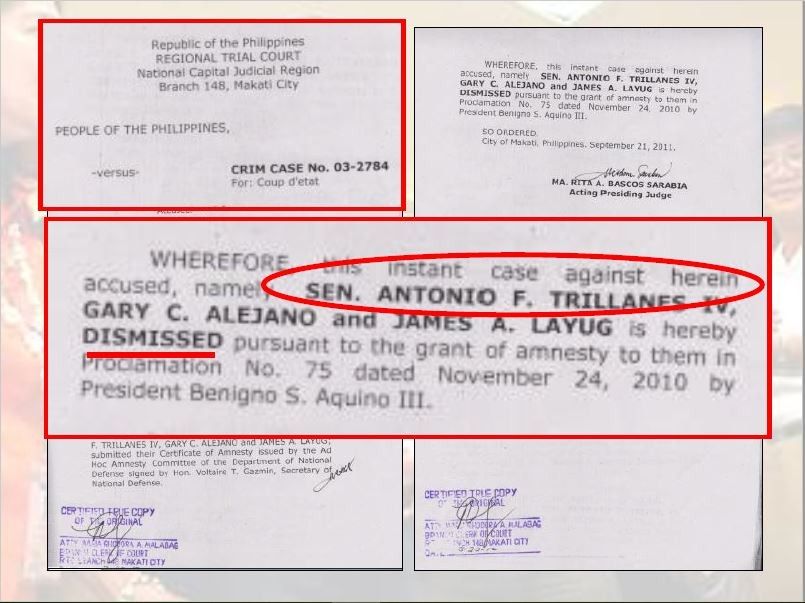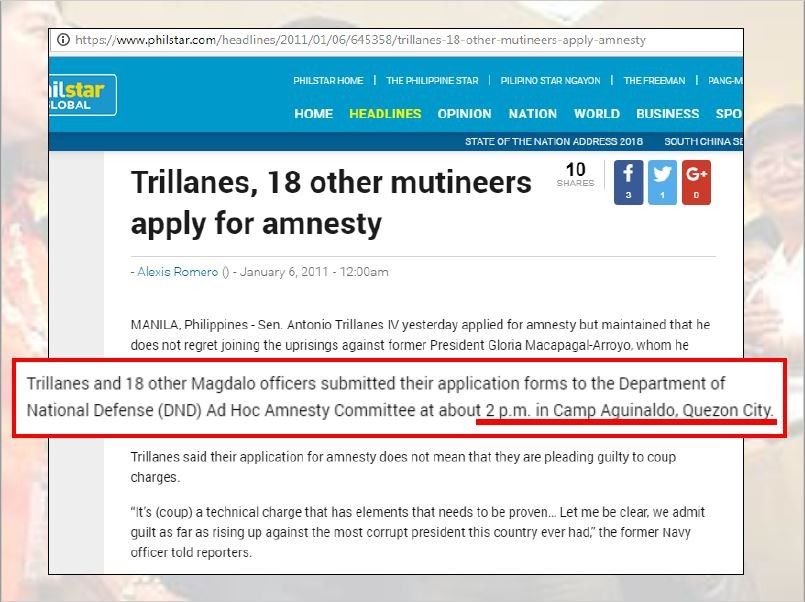 <
>
Aquino, in Proclamation 75, granted amnesty to active and former personnel of the military, police and their supporters who have committed crimes in connection with the 2003 Oakwood Mutiny, 2006 Marines stand-off and the 2007 Manila Peninsula siege.
The proclamation took effect in January 2011 upon the concurrence of a majority of all members of the Congress.
Trillanes had been indicted for rebellion for trying to overthrow former President Gloria Macapagal-Arroyo in the 2003 and 2007 coup attempts.
In a televised interview with Senate reporters, Trillanes admitted that he does not have a copy of his application form.
"I have the amnesty certificate, that's what matters," Trillanes said in Filipino.