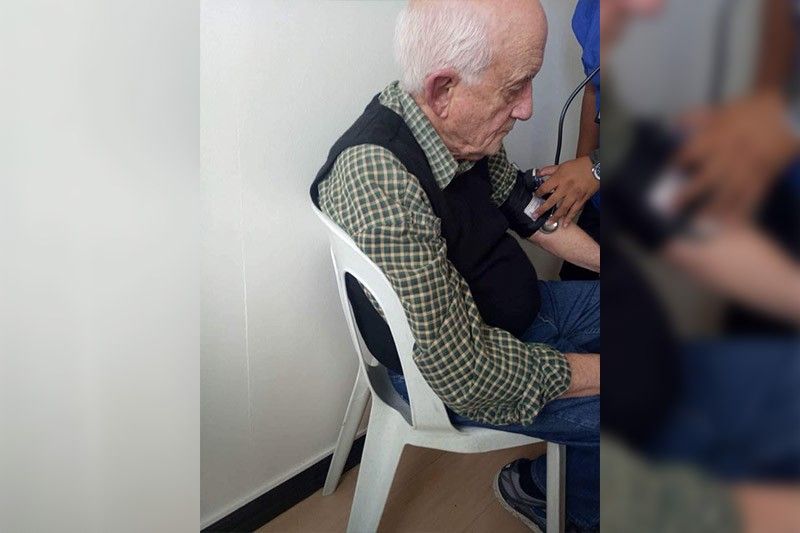 The Australian was barred from entering the country on August 8. He was allowed to rest and meet his family members due to "humanitarian request."
Karapatan/Facebook page
BI: Elderly Australian prof has yet to board flight due to health concerns
MANILA, Philippines — The Australian professor who is facing exclusion for being blacklisted has yet to board a flight to leave the Philippines due to medical issues, the Bureau of Immigration said on Friday.
Immigration spokesperson Dana Sandoval said that Boehringer was supposed to board a flight to Guangzhou, China—his port of origin—on Thursday night. "But the airlines reported that he had medical issues and was unable to board," Sandoval added in a message to reporters.
Boehringer, an 84-year-old Australian professor and human rights advocate, was barred entry to the country upon his arrival, midnight of August 8. He has since been held at the Ninoy Aquino International Airport since then.
He said that he was only informed that he was under the Immigration's blacklist when he handed his passport upon arrival.
According to the Immigration, Boehringer "was the subject of an order issued last year prohibiting [his] entry upon receipt of a report and recommendation for blacklisting from government intelligence sources."
Sandoval said that the professor reportedly joined a rally in November 2015 which is "in clear violation of the BI Operations Order prohibiting foreigners in engaging in political activities."
Humanitarian appeal
The National Union of People's Lawyers has appealed to Immigrations Commissioner Jaime Morente to recall the exclusion order so Boehringer may be given a medical check up before he boards the flight back to his point of origin.
In a letter to Morente, the lawyers said that Dr. Geneve Rivera-Reyes examined Boehringer at around noon of August 8, 12 hours since he has been barred from entering the country. By 12:30 p.m., the elderly professor has already vomited twice.
"He has also a history of an almost fatal pulmonary embolism," the NUPL said.
"Aside from his risk of having deep vein thrombosis, he is currently suffering from cellulitis from both legs. His legs are also swollen," they added.
"For humanitarian considerations, we pray that Mr. Boehringer's exclusion order be immediately recalled so he can be checked by a doctor and recuperate until he is fit to travel back home," the NUPL said.
The lawyers, who have extended assistance to Boehringer since his exclusion, said that they are also going to handle the case of the Australian professor.
Justice Secretary Menardo Guevarra has earlier said that Boehringer may still appeal his case. However, a delisting, Guevarra stressed, "may not be compelled and is purely an act of grace on the part of the sovereign state."
Sandoval, for her part, said that if Boehringer will submit "sufficient proof to reverse the blacklist, it may be lifted accordingly." — with a report from Evelyn Macairan