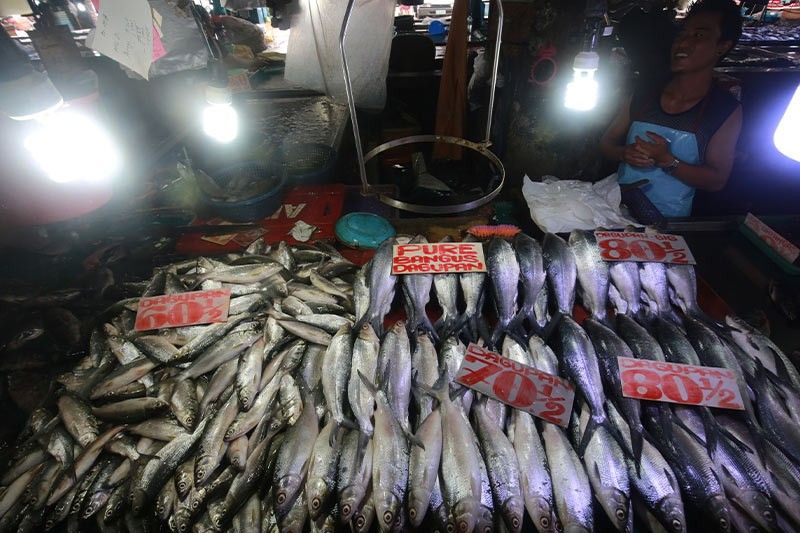 In this August 1, 2018 photo, a fish vendor tends to his stall at the Commonwealth Public Market.
The STAR/Michael Varcas
Gov't eyes slashing tariffs on meat, fish imports to curb inflation
(Philstar.com) - August 5, 2018 - 5:32pm
MANILA, Philippines — President Rodrigo Duterte wants Filipinos to have access to affordable food, Malacañang said Sunday, after economic managers and House Speaker Gloria Arroyo discussed a bill lowering tariffs on meat and fish imports to lessen the effects of rising commodity prices.
"From the start, President Rodrigo Roa Duterte wants affordable food for everyone," presidential spokesman Harry Roque said in a statement written in Filipino.
"To cushion the impact of rising prices, pushing for lower tariffs on meat and fish imports is one of the proposed measures discussed during the recent meeting between President Duterte's economic managers and Speaker Gloria Macapagal Arroyo," he added.
Roque did not make a categorical statement on whether Malacañang supports the lowering of tariffs, which is expected to reduce state revenues from fish and meat imports.
But he said economic managers "are happy to be continuing to be working closely with the leadership of the legislature."
Arroyo met with Duterte's economic team last Tuesday to talk about the rising prices of goods. In an earlier interview, socioeconomic planning secretary Ernesto Pernia said Arroyo had also vowed to work on the passage of rice tariffication bill to reduce the price of the staple.
Inflation or the rate at which the prices of goods and services is rising, hit 5.2 percent in June, exceeding government and market expectations.
Malacañang attributed the rising prices of goods to "economic activities" spurred by the government's infrastructure program. In a previous statement, Roque said inflation is "higher than usual" but is not something that the public should worry about.
Critics have blamed the Tax Reform for Acceleration and Inclusion or TRAIN law, which imposed new taxes on diesel, liquefied petroleum gas, kerosene and bunker fuel for electricity generation and higher taxes on other oil products, for the rising prices of goods.
Officials insist that the higher prices of goods were caused mainly by the rising oil prices in the international market and a weak peso. — Alexis Romero