End of 'endo' unclear on Labor Day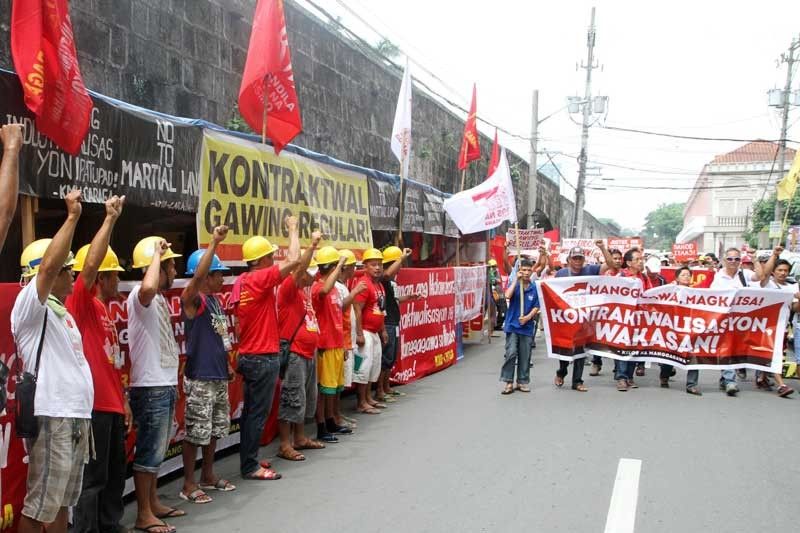 MANILA, Philippines — Until Monday morning, a day before a massive Labor Day rally that groups say will be the biggest in decades, it was unclear whether President Rodrigo Duterte would sign an executive order on job contractual labor, or "endo."
"Endo", from "end of contract", initially referred to the practice of short-term contracts short of the six months that would make a worker a regular employee with benefits. It has since been expanded to include contractual labor in general, which, IBON think tank contributes to "the prevalence of jobs that are insecure, low-paying, and lacking in benefits."

"I can confirm that there might be an EO that may or may not be signed depending on [a meeting between President Rodrigo Duterte and Labor Secretary Silvestre Bello III] tonight," presidential spokesperson Harry Roque said in a press briefing on Monday.
Last year, the Labor department issued an order imposing a ban on labor-only contracting, strictly regulating lawful contractual arrangements, and including workers in inspecting compliance with labor standards and laws.

Other practices that were prohibited include:
the farming of work through "cabo" or persons that, under the guise of a labor organization, cooperative or any entity, supplies workers to an employer
contracting out of job or work through an in-house agency
contracting out of job or work through an in-house cooperative which merely supplies workers to the principal
contracting out of a job or work by reason of a strike or lockout
and contracting out of a job or work being performed by union members
The order also prohibited contractors and subcontractors from requiring their employees to perform functions that are currently being performed by the regular employees of the principal.
An executive order was seen as a stronger measure against other forms of contractualization and one that Dutetre, while a candidate for president, said he could do in a matter of days.
Palace: Congress needed to end 'endo'
The Palace has said in recent weeks, however, that a total ban on contractualization is something that only Congress can do.
"If you want something like a total ban on contractualization, you need a law to repeal or amend that particular provision of the Labor Code. An executive order is meant only to supplement or to give the implementing details of what the law provides," Senior Deputy Executive Secretary Menardo Guevarra, now Justice secretary, said in April.
The announcement came on the heels of the president saying in March that he is looking for a compromise on the issue of labor contractualization. "Don't make it hard for them to run the business the way they like it because that's their money," he said then.
"The president had fulfilled his election promise to do away with '555 endo'," Roque said on April 20, referring to five-month contracts given to workers.
READ: No more executive order on contractualization
Bello, on the same day, said that Duterte is set to release on Labor Day "a certification as priority the pending bill on security of tenure, which mirrors the proposed EO the president is supposed to sign."
The House has already passed House Bill No. 6908, the Security of Tenure bill, but a counterpart bill is still at the committee level at the Senate.
"The certification from the president will be a signal for the Senate to give it priority," Bello said.
Workers see broken promise
But workers groups see this move as the president wavering on his campaign promise.
"First of all, House Bill 6908 is no different from Department Order 174. It only legitimizes the existence of agencies and offers farcical "regularization" under agencies. They term this "regular contractuals," which is a laughable oxymoron. Second, Article 106 of the Labor Code explicitly allows the Labor Secretary (and in effect, the president) to prohibit contractualization," Luke Espiritu, Bukluran ng Manggagawang Pilipino national president, said.
HB 6908 requires job contractors to have licenses and holds that "relievers, project and seasonal employees shall enjoy the rights of regular employees for the duration of the engagement, project or season."
BMP had earlier called the president's call for a compromise on endo a sell out, saying it "[was] even more insulting to workers, whose votes propelled him to the presidency during the 2016 elections, because he has continuously sworn to stop contractualization as part of his electoral agenda."
Michael Mendoza, chairman of Nagkakaisa labor coalition, said in a joint press conference last week that Duterte gave them false hope that workers would finally be liberated from inhumane employment practices.
"The problem is the president did not even ask for our opinion. We gave five versions of the EO but he did not even talk to us. We were made to wait for two years for nothing," he said.
Nagkakaisa is among the labor groups that will hold what organizers say will be the largest labor protest in decades.
Kilusang Mayo Uno chairman Elmer Labog said in the same briefing that workers from different labor groups have been united by their anger at what they see as an unfulfilled promise.
"The growing frustration, disappointment and disenchantment of workers over President Duterte's failure to fulfill his promise have only bonded workers. We will march as one on Labor Day in a historic first for the Philippine labor movement," Labog said.