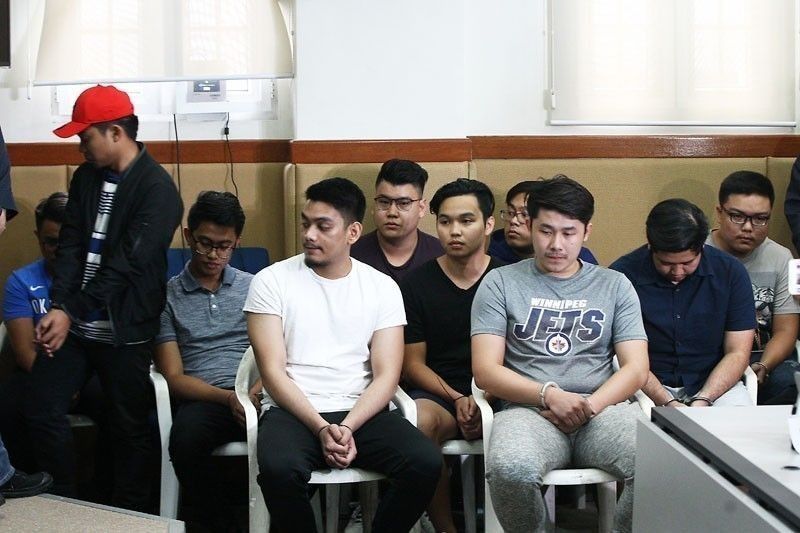 The 10 members of the Aegis Juris Fraternity accused in the fatal hazing case of Horacio "Atio" Castillo III voluntarily surrendered to the NBI in March 2018.
The STAR/Miguel de Guzman
DOJ junks appeal of Castillo kin over Atio hazing case
MANILA, Philippines — The Department of Justice threw out the appeal filed by parents of the slain University of Santo Tomas law student Horacio Castillo III to charge more respondents in the fatal hazing case.
Justice Secretary Menardo Guevarra in a message to reporters confirmed that the Petition for Review filed by the Castillo couple was junked due to "procedural lapses."
The Castillos assailed the state prosecutors' resolution that charged ten members of the Aegis Juris Fraternity with violation of Republic Act 8049 or the Anti-Hazing Law. Cleared from the anti-hazing and obstruction of justice raps were UST law school dean Nilo Divina and other alumni of the fraternity.
The Castillos filed their appeal on April 19, 2018, which was 35 days after they received a copy of the assailed resolution on March 15.
The DOJ, through a resolution penned by Justice Undersecretary Antonio Kho Jr., junked the appeal for being "filed out of time."
"Section 12 (a) of Department Circular No. 70 dated July 3, 2000 provides that the Secretary of Justice may motu proprio or upon motion, dismiss a petition for review if the same was filed the period prescribed by Section 3," the DOJ said.
While the Castillos filed motions to be allowed more time to file their appeal, the DOJ said: "The mere filing of appellants' motions for extension did not extend the period of appeal."
"We are constrained to dismiss appellants' petition by reason that their appeal was clearly filed out of time," the DOJ added.
Accused Ralph Trangria also filed a petition for review on the case, but his appeal was also dismissed for "non-compliance" with requirements, Justice chief Guevarra said.
The ten accused in the case are being detained at the Manila City Jail. They are due to stand trial for the case on July 24.
According to the testimony of state witness Mark Ventura, Castillo was punched and paddled for hours as part of the fraternity's rites. By the dawn of Sept. 17, 2017, Castillo was dead.