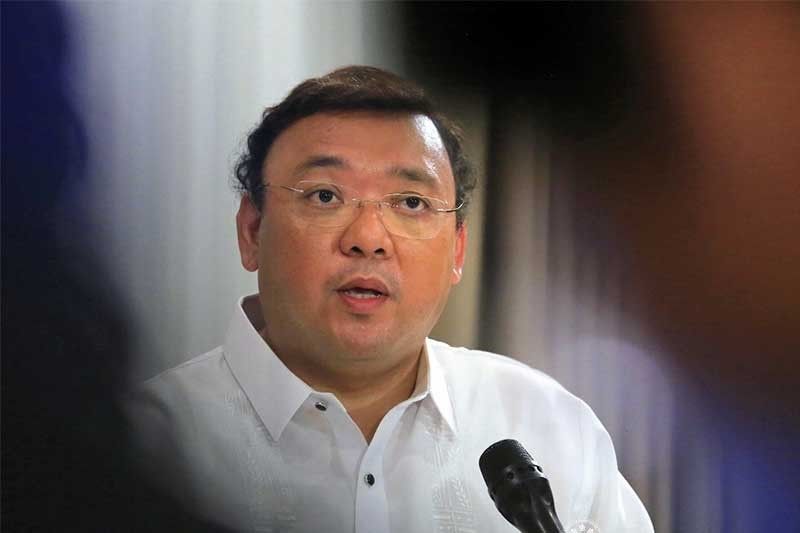 Presidential spokesperson Harry Roque also claimed that those who hung the banners are "propagating a lie."
Presidential Photo/Joey Dalumpines, file
Palace on 'Province of China' tarps: You need a better gimmick than that
MANILA, Philippines — Enemies of the government are behind the banners that refer to the Philippines as a province of China, Malacañang claimed Thursday.
On the second anniversary of the country's victory in its arbitration case against the Asian giant, tarpaulins that read "Welcome to the Philippines, province of China" were seen hanging from several footbridges in Metro Manila.
Spotted: A banner hanging on a Quezon City footbridge that says "Welcome to the Philippines, PROVINCE OF CHINA" on the anniversary of the arbitral ruling favoring PH over CN. | Photo by @rexxjffrsn pic.twitter.com/A9iTLRcY6u

— Philstar.com (@PhilstarNews) July 12, 2018
The red banners bore the Chinese flag and Chinese characters.
"It's absurd, and I'm sure it's the enemies of our government behind it. So to them, try again. You need a better gimmick than that," presidential spokesperson Harry Roque said about the banners, pictures of which spread online and were picked up by media and prompted his comments.
It is unclear who installed the tarpaulins, which are possible reference to a "joke" by President Rodrigo Duterte that the country can be a province of China.
READ: Duterte jokes about 'Philippines, province of China'
Roque also claimed that those who hung the banners are "propagating a lie."
"They are only provoking because they are obviously propagating a lie that we have given up on our national territory. It's farthest from the truth," the president's mouthpiece said, adding the government is asserting the country's sovereignty, while nurturing better political and economic relations with China.
ANC reported that the Metro Manila Development Authority is taking the banners down.
The Quezon City government has also ordered Public Safety and barangay officials to take down banners in their areas.
The tarpaulins irked many social media users.
"Whatever the motives may be, it's not funny, especially on this particular day," former Solictor General Florin Hilbay said in an interview on CNN Philippines.
The Permanent Court of Arbitration under the United Nations on July 12, 2016 ruled in favor of the Philippines in its arbitration case against China over the South China Sea.
The Hague-based tribunal ruled that China's nine-dash line claim over the disputed waters has no legal basis.
The government, however, opted to play down the verdict and focus on improving political and economic relations with China.