Duterte jokes about 'Philippines, province of China'
February 19, 2018 | 8:34pm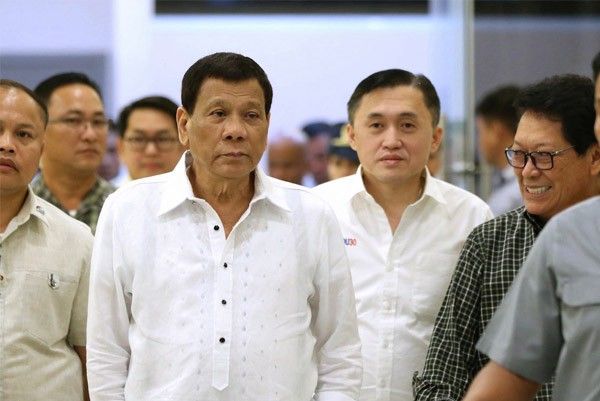 MANILA, Philippines (Updated 9:47 p.m.) — President Rodrigo Duterte issued a repeated defense of China and made a joke about ceding the country as a province of the Asian giant.
Facing a crowd of Chinese-Filipino businessmen on Monday, Duterte lumped his praise for China's leader, Xi Jinping, with his insistence that Beijing vowed not to build a man-made island on the disputed Scarborough Shoal in the South China Sea.
"I respect Xi Jinping, they assured us they will not build anything on Scarborough," Duterte said at the anniversary celebration of the Chinese Filipino Business Club.
"He (Xi) is a man of honor. They can even make us 'Philippines, province of China," we will even avail of services for free," Duterte said in apparent jest. "If China were a woman, I'd woo her."
Duterte has been criticized for his seemingly defeatist position in bilateral relations with China, which has fortified man-made islands west of the Philippines' coast despite protests and an United Nations arbitral award favoring the Philippines.
Chinese Ambassador Zhao Jianhua, who was present during the event, reacted to Duterte's joke with a coy smile.
Philippines willing to share oil
Duterte said he was even willing to share the Philippines' oil to China.
He said the Philippines can get two thirds of the oil while China can get one third because it is already rich.
"You are already rich and besides, we are already a province, province of Philippines, Republic of China. The nearest is Fujian," the Philippine leader said.
China is actually called the People's Republic of China. The Republic of China refers to Taiwan, which the PRC considers part of its territory.
"Just let Taipei be. It's very small. Let it float there. If you get the Philippines, you won't have a problem," the Philippine president said.
Duterte admits Chinese militarization in South China Sea
Duterte admitted that China is building military facilities in the West Philippine Sea, the area in the South China Sea being claimed by the Philippines. He is convinced, however, that the military installations are not intended for the Philippines.
"It's really intended for those who China thinks will destroy them and that is America. We are not part of it," the president said.
"There's negotiations for joint exploration. Can you beat that? Ignore the missiles there. They are not for us," he added. — with Alexis Romero