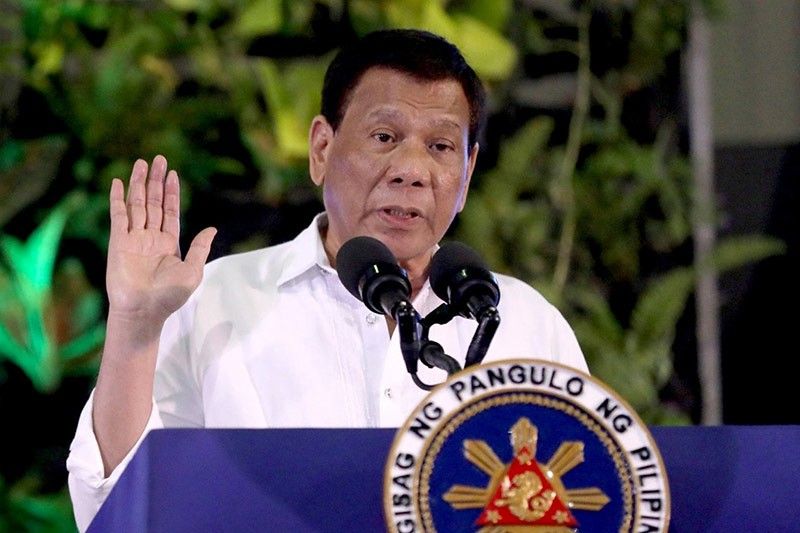 President Rodrigo Duterte in his speech during the 117th anniversary of the Office of the Solicitor General at Le Pavillon in Metropolitan Park, Pasay City on July 3, 2018, reiterates his vow to address the issues of corruption, criminality, and illegal drugs in the country.
Toto Lozano/Presidential Photo
Duterte violates moratorium on anti-Church tirades in just a day
(Philstar.com) - July 10, 2018 - 8:00pm
MANILA, Philippines — A day after agreeing to a moratorium on anti-Church statements, President Rodrigo Duterte warned religious leaders against the pulpit to criticize him as he claimed that his God is not the one worshiped by his critics but the Filipinos who voted for him.
Duterte threatened to "kill" those who use God to hit him and stressed that nobody could impose their views about the Almighty on him.
"There is a separation of power between any Church and state. Huwag mong isali ang Diyos mo doon sa (do not include God in your) platform of your criticism on your attack because when I answer, kapag sinali mo sa issue, sinali mo ang Diyos, p***** i** patayin kita (if you include it in the issue, if you include God, son of a b****, I would kill you)," the president said during a business summit Tuesday in Pampanga.
"I have tried to answer. There is a separation of powers. Why are you f*****g the name of the Lord against me? So if I answer, since your forefront is God, why are you hurt? Because I am now forced to recreate a design of my God who does not do those things," he added.
Duterte caught the ire of some religious leaders after calling God "stupid" for letting temptation tarnish his work. The president claimed that his controversial statement was directed to Australian nun Sister Patricia Fox, who is facing possible deportation for supposedly joining partisan activities.
Duterte has been at odds with the Catholic Church, the religious group of more than 80 percent of Filipinos, over his brutal war on illegal drugs, which has left about 4,000 people dead.
Catholic clergymen have been critical of the killings tied to the crackdown and have asked the government to respect the dignity of life. Duterte, however, insisted the Church has no moral ascendancy to talk about the issue because of its supposed failure to resolve the sexual abuses involving some priests.
On Monday, Duterte met with Catholic Bishops Conference of the Philippines President and Davao Archbishop Romulo Valles and agreed to refrain from hurling tirades against the Church.
Duterte claimed that his comments Tuesday were not directed against the Catholic Church. He claimed that the moratorium on anti-Church remarks would not stop him from expressing his views.
"There was disagreement that I do not talk about it. What I said there outside there in the auditorium was not about our talk. They had nothing to do with it. We were discussing some modality of behavior but definitely that would not prevent me from just saying my truth," the president told reporters in a chance interview.
"I'm not attacking the Church. What I said (was) if you use religion as a format, and I was not referring to any religion, you will see that I did not mention any religion," he added.
Duterte, a Roman Catholic who claimed to be a non-believer of organized religion, reiterated that he would not apologize for his comments about God.
'My voters are my God'
The president went on to claim that his supporters are more important to him than the God of his critics.
"I survived the election with six million," Duterte said, referring to his lead over his closest contender.
"Yan ang Diyos ko (That's my God). Six million Filipinos plus the others who voted for me. Above the margin and those who really voted for me, 15 (million) plus. Sila ang Diyos ko (They are my God)," he added.
Duterte claimed that unlike the God of his critics, his Supreme Being is "forgiving," "not rude" and "does not curse."
"As a matter of fact, my God does not say anything except the 10 commandments," he said, referring to a set of morality codes followed by Christians and Jews.
"When you use God to say that I'd go to hell, you know my God never created hell because if He created hell, he must be stupid God. My God is not stupid to create man just to burn him in hell. I don't believe that." — Alexis Romero