Duterte Year 2: 'Without rights, a return to rule by tyrants'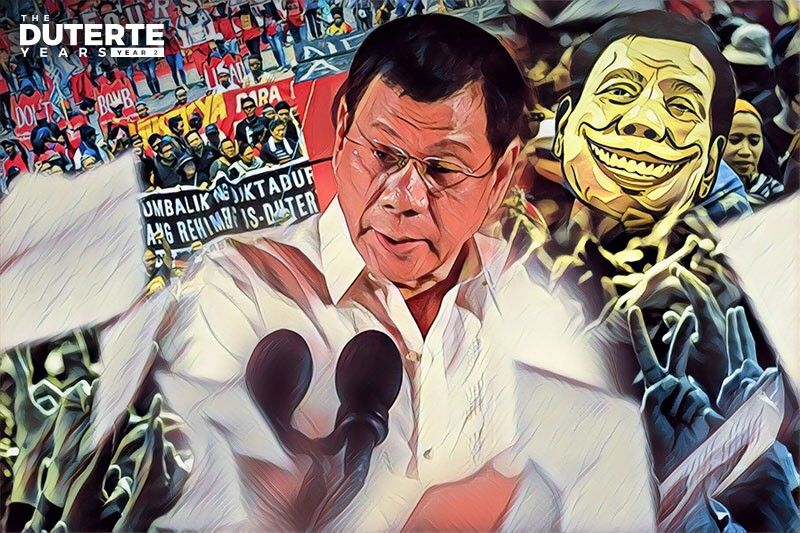 This piece is part of a news analysis series on the second year of the Duterte administration
MANILA, Philippines — There were more bloodshed and threats during President Rodrigo Duterte's second year in office.
Various rights groups stressed that the Philippines under Duterte is in its worst human rights landscape since the dictatorship of Ferdinand Marcos as thousands—mostly urban poor dwellers—have been killed in the brutal campaign against illegal drugs in so short a period.
Government spokespersons have disputed the claim, which has been made about practically all other administrations after Marcos'. They have said that the Philippines remains committed to upholding human rights and that allegations of abuse are being investigated — presidential spokesman Harry Roque says he is looking into individual cases.
The casualty count is more than 12,000, according to rights watchdogs. But the police have lower figures. They say they have killed some 4,300 "drug personalities" in legitimate anti-drug operations, and that they had been forced to because of violent resistance.
Last March, the International Criminal Court announced it had opened a preliminary examination into the bloody war on drugs, which has led to the withdrawal of the Philippines from the Hague-based court.
As the killings of suspected drug offenders by police and armed individuals continued, harassment and intimidation of individuals and agencies tasked with accountability also persisted.
Rights defenders both at home and abroad have been the target of the president's ire, with him saying in trademark remarks that his spokepersons and supporters say are just expressions of frustration that state forces can "shoot" rights advocates "obstructing justice."
The acid-tongued chief executive also threatened to slap a United Nations expert over her criticisms of extrajudicial killings of children in the drug war. The Duterte-allied House of Representatives sought to give the Commission on Human Rights a measly budget of P1,000 before relenting to opposition from the Senate.
Rights group Karapatan said there were 46 human rights defenders—including UN special rapporteur on the rights of indigenous peoples Victoria Tauli-Corpuz—named in the government petition seeking to tag more than 600 individuals as terrorists.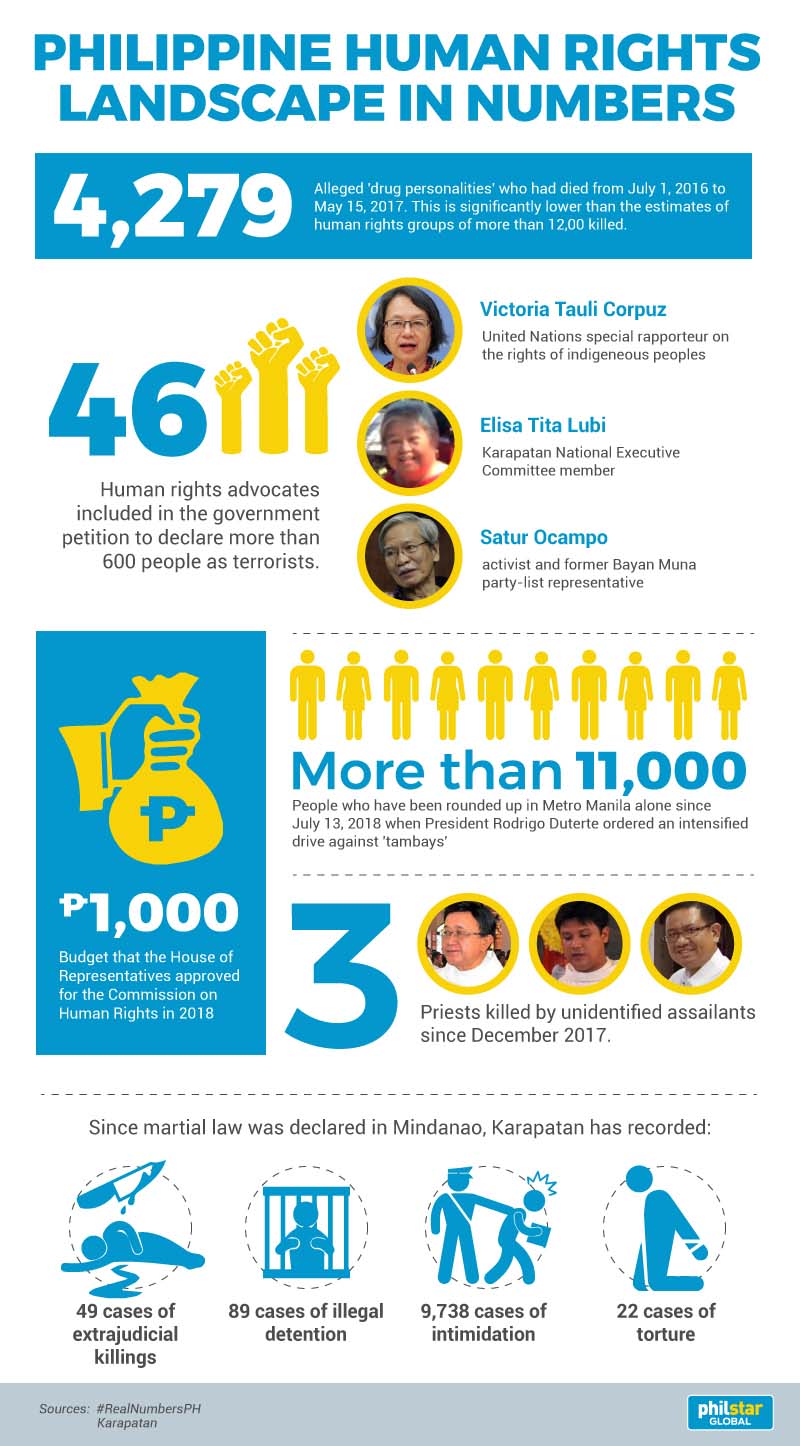 Recently, Duterte resumed his attacks against the Catholic Church, accusing priests of engaging in corruption and even calling God himself "stupid." Critics raised concerns that his verbal attacks against the Church might have fuelled violence against clergymen.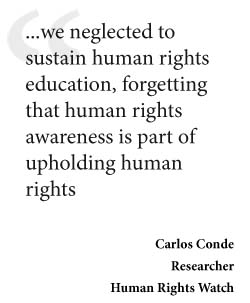 "We're talking about how Duterte normalized and institutionalized impunity and the wholesale disregard for human rights and civil liberties. We now live under a president whose contempt for human rights apparently knows no bounds," Carlos Conde, Human Rights Watch Asia Division researcher, told Philstar.com.
With the continued killings linked to the administration's drug war and the attacks on agencies and individuals critical of the government's policies, human rights defenders believe that there is a great need to protect human rights.
But do ordinary Filipinos still care about human rights? And why should it matter for them when the president himself declared, on several occasions, that he does not care about these rights?
Human rights 'severely politicized'
Conde pointed out that human rights education in the Philippines has waned since the ouster of Marcos more than three decades ago.
"We thought everything was okay now, and we should go about rebuilding our lives after the dictatorship. Many of us thought [there] was little point in dwelling in the past, so we neglected to sustain human rights education, forgetting that human rights awareness is part of upholding human rights," he said.
Adding salt to the injury was the perception that human rights has been severely politicized, Conde said.
Duterte's men have accused rights watchdogs and political opposition of politicizing or "weaponizing" the human rights issue for their own gain. It also does not help that Duterte dislikes the CHR and its chairman Chito Gascon, whose former membership and continued interaction with the Liberal Party of the former administration.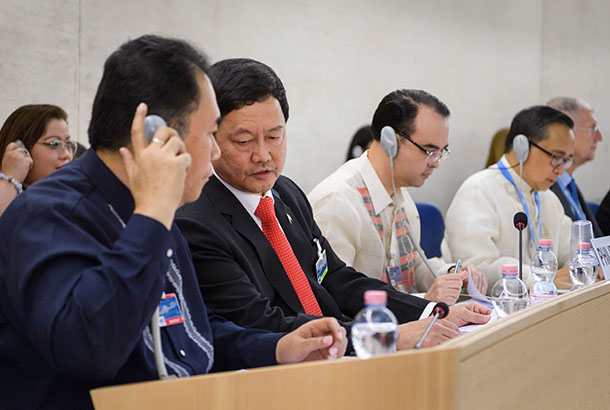 Head of the Philippines' delegation Menardo Guevarra (2nd L) listens to an assistant during the universal periodic review of the Philippines by the Office of the United Nations High Commissioner for Human Rights (OHCHR) on May 8, 2017 at the UN offices in Geneva. Foreign Affairs Secretary Alan Peter Cayetano (3rd L) has since repeatedly played down rights concerns as an attempt to discredit the Duterte administration and has insisted that criticism from abroad is unfounded and is an intrusion into domestic issues. Fabrice Coffrini/AFP, file
CHR notes 'serious decline' in rights appreciation
CHR acknowledged there is a "serious" decline in the appreciation of human rights and that the narrative has been slanted.
"It is a challenge for the commission right now to change public perception and to convey that human rights is non-partisan and we are not anti-government nor do we take a contrary stance against the government," CHR spokesperson Jacqueline de Guia told Philstar.com.
She noted that it is the agency's role as the "conscience of the government" to call them out and provide advice using a human rights lens.
The gaps in human rights promotion also stem from a lack of budget for the CHR, de Guia lamented. CHR has been given P695.5 million for 2018—a budget higher only than the Office of the Vice President's budget of P543.95 million.
'Without human rights, a return to rule by tyrants'
Human rights is the core of the existence of human beings, Conde stressed. "Without human rights, we might as well cease to exist."
"The public needs to realize that the institutions for justice and human rights work to their favor… They need to realize, for instance, that every time they are questioned by the police without basis, or arrested without warrant, those erode not just their rights but also of others," he said.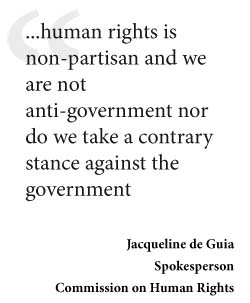 The HRW researcher, moreover, stressed that human rights is not only protection from the abuses of state forces but it is also about poverty, the people's livelihood, their lack of access to basic services, and other social issues.
De Guia added that human rights "works to provide more meaning to our life [as] it guarantees existence and ensures our freedom."
Karapatan Secretary-General Cristina Palabay, for her part, said that human rights and people's rights must be upheld and defended, especially in the context of "increasingly repressive and tyrannical regimes such as Duterte's."
"Without the respect, promotion and protection of human rights, it would be a throwback to the medieval rule of tyrants," she told Philstar.com.
In a TIME article, Gascon stressed there must be a collective pushback against what he called a worldwide retreat of human rights and democracy.
"We can and we must direct a righteous rage toward this trend, in a manner that is both purposive and strategic. The road ahead will be difficult, but we must persevere, building solidarity to affirm a politics of civility and inclusion, while employing non-violent strategies in our parliaments, our courts, our cyberspaces, and our streets," he wrote.
With Duterte's term ending in 2022, accountability for alleged rights abuses, aside from education and public awareness, is needed to show that human rights works for the interest of the Filipino people, Conde said.
"The public needs to feel invested in the promotion of human rights, that this is not just an idea or a battlecry or a political slogan," he said.
ALSO READ:

Duterte Year 2: Philippines moves closer to free college tuition for all
Duterte Year 2: TRAIN threatens poor, president's popularity