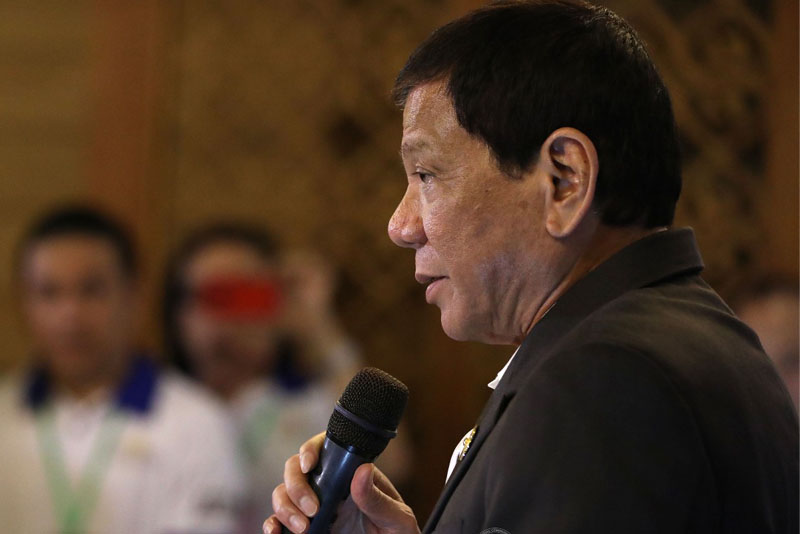 President Rodrigo Roa Duterte, in his speech during the meeting with Filipinos residing in Vietnam at the Pulchra Resort in Da Nang City on November 9, 2017, gives his insights on globalization citing that if it should be promoted, global trade players should strike a balance between the rich and poor countries. Presidential Photo/Robinson Niña Jr.
Duterte warns Callamard: If you investigate me, I'll slap you
(Philstar.com) - November 10, 2017 - 3:40am
MANILA, Philippines — If you investigate him, he'll slap you.
This was President Rodrigo Duterte's warning to United Nations Special Rapporteur on summary executions Agnes Callamard, who earned the leader's ire anew for supposedly saying that narcotics are "harmless."
"Kaya sabi ko kay Callamard, kung imbestigahin mo ako, sampalin kita," Duterte said in a speech before the Filipino community in Vietnam on Thursday night.
According to the president, Callamard reportedly consulted a doctor who qualified that "the use of drugs is harmless," which he said runs counter to a UN report titled "International Narcotics Control Board Precursors and Chemicals Frequently Used in the Illicit Manufacture of Narcotic Drugs and Tropic Substances 2014."
The firebrand leader then said the UN rapporteur is incapable of a fair probe since she supposedly contradicts UN's own report.
"I will not slap her in front of you. Why? Because you're insulting me. Why? Because you yourself do not believe in the research of your own organization. You are f****** me and I do not want it," Duterte said.
"How can I get a fair hearing if you yourself, who does not even read the publications of your mother organizations, of the United Nations," he added.
"Eh mismong study ninyo ayaw ninyong paniwalaan tapos ako kulungin ninyo because of extrajudicial killing."
Duterte — who easily won the race to Malacañang last year on a promise to use deadly force to wipe out crime and drugs — has stoked international alarm for activating his fierce anti-drug campaign.
Human rights watchdogs said Duterte could be committing crimes against humanity, adding that most of the fatalities are extrajudicial killings committed by cops and unknown assailants.
But the government has vehemently denied this by insisting that police are only killing in self-defense.
Last December, the Duterte administration invited Callamard to visit the Philippines subject to three conditions including allowing the president to ask the UN rapporteur questions in a public debate.
READ: Duterte insists on public debate with US special rapporteur
Callamard refused to heed the conditions, saying they violate UN protocols for country visits.
Last August, Duterte hurled a slew of invectives at Callamard, who has urged the government to make the death of 17-year-old student Kian delos Santos the last.
She also asked Duterte to investigate all "unlawful deaths" and to stop all murders.
READ: Pardon his French: Duterte curses at Callamard for comments on Kian case