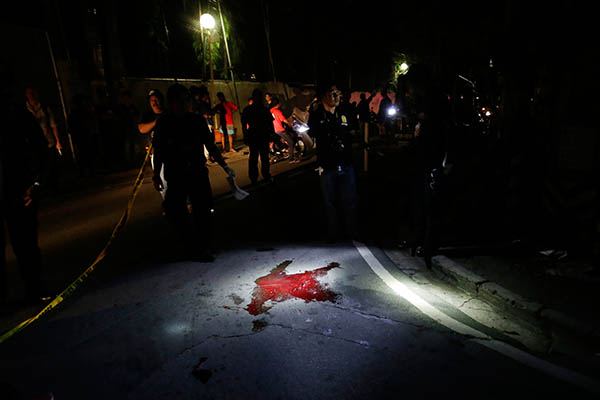 In this Sept. 5, 2016 photo, police inspect the site where alleged drug user Marcelo Salvador was shot dead by unidentified men in Las Pinas, south of Manila, Philippines. Drug dealers and drug addicts, were being shot by police or slain by unidentified gunmen in mysterious, gangland-style murders that were taking place at night. Salvador became a victim, the casualty of a vicious war on drugs that has claimed thousands of lives as part of a campaign by Philippine President Rodrigo Duterte. AP Photo/Aaron Favila
Duterte: Shoot CHR personnel if they obstruct justice
MANILA, Philippines (First Published 10:05 p.m.) — President Rodrigo Duterte on Wednesday said security forces should shoot Commission on Human Rights personnel if they are found to be obstructing justice.
The president also threatened to have the CHR investigated for conspiracy following its investigations into the circumstances surrounding the death of suspected drug suspects and criminals, contradicting an earlier assurance from the Palace that Duterte is aware that independent bodies such as the CHR have roles to perform.
This statement is the latest in the chief executive's tirades against the body, which has included a threat to abolish in the past, a remark that he has since dismissed as a "joke."
READ: 'Rody can't abolish CHR without amending Constitution'
Duterte did not hide his anger at the CHR on Wednesday night.
"One of these days, kayong human rights, kayong imbestigahan ko. Conspiracy. If they are obstructing justice, you shoot them," the hot-tempered Duterte said during the anniversary of the Volunteers Against Crime and Corruption.
He again returned to his usual refrain against the government body, saying that it is not protecting nor advocating for the rights of crime victims and government personnel.
"Basta human rights, ilang biktima na rito. Yung lima na namatay, yung one-year-old na ginulgol doon. Yung human rights na yan nasaan? They could not even utter it in public na, 'Look, do not do that to me.' Ganito 'yan e," he said.
READ: What Duterte gets wrong about the CHR
CHR: We are just doing our constitutional duty
The CHR on Wednesday night again stressed it is only doing its job when it probes potential rights violations by government personnel.
"The Commission wishes to reiterate that it is merely doing its constitutional duty and it remains hopeful that the government will recognize that the guarantee of equal protection of the law as well as fair and impartial trial including investigation is a constitutional right available to every single Filipino," Jacqueline de Guia, CHR spokesperson, said in a statement.
The Palace recently said that Duterte would not meddle with plans to probe the drug raid in Ozamiz City that led to the death of 15 people, including its former mayor, Reynaldo Parojinog Sr.
Menardo Guevarra, senior deputy executive secretary, said that as a lawyer, Duterte is aware that the CHR had a mandate to fulfill.
"He (Duterte) is also a lawyer and he knows that these other agencies have their own mandates, have their own procedures. So they are free to do what they want to do in accordance with their own mandates," Guevarra said in a press briefing.
'Investigate NPA'
After Duterte's second State of the Nation Address in July, he also called out the CHR for its alleged failure to investigate crimes committed by non-state actors such as the New People's Army against the government.
"Patas tayo. Justice for all. What is sauce for the gander is sauce for the goose," the chief executive said in a media conference after his speech.
The CHR said that its mandate was to be the watchdog against government abuses and not to implement laws that would stop crime.
It could also investigate other cases that involve vulnerable sectors, according to De Guia.
"We do that [investigation] kapag vulnerable sector at tsaka yung IHL (International Humanitarian Law)," she said. The commission has, in the past, condemned the Abu Sayyaf for beheading hostages. — Video report by Efigenio Toledo IV