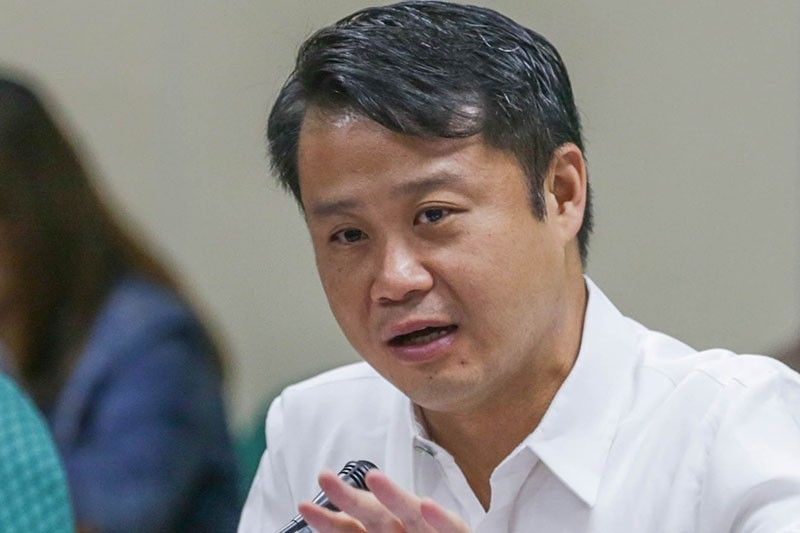 In this file photo, Sen. Sherwin Gatchalian chairs the committee on energy hearing on the Status of Electrification in the Country at the Senate.
The STAR/Geremy Pintolo
'Is there hope for PCOO?': Gatchalian is latest victim in PCOO blunder
MANILA, Philippines — The Presidential Communication Operations Office has once again committed an error in its website, this time mistakenly naming Sen. Sherwin "Win" Gatchalian as "Winston."
The mistake was pointed out by the senator himself in his Twitter account.
May pagasa pa ba ang PCOO??? pic.twitter.com/xCtChdqewj

— Sherwin Gatchalian (@stgatchalian) June 23, 2018
Gatchalian posted a screenshot of the June 13 press release of the PCOO and encircled the name error.
"Is there hope for PCOO?" he asked in Filipino.
The butchering of Gatchalian's name came a week after the state-run communications arm committeed two other blunders, including mistakenly naming late National Security Adviser and Parañaque lawmaker Roilo Golez as "Rogelio" in one of its captions for President Rodrigo Duterte's official photos.
The PCOO also referred to Norway as "Norwegia" after outgoing Norwegian Ambassador Erik Forner graced the Malacañang for an exit to Duterte last week.
In March 2018, netizens also slammed the PCOO after the reporters of media outlets covering Malacañang were given identification cards containing glaring grammatical errors.
The Philippine News Agency, the official news arm of the government, which is under the News and Information Bureau of PCOO was also previously criticized for its gaffes.
READ: 'Norwegia' and other PCOO official announcement blunders
In May last year, the PNA published an article with an erroneous title of "95 nations in 3rd UPR convinced no EJKs in PHL." This was called out by the UN Human Rights Council which clarified that the "95 states were not convinced that EJK is non-existent."
FACT CHECK: PNA replaces fake news that 95 states are convinced there are no EJKs in the country
The government news portal also published a photo from the Vietnam War and used it to report a story on Marawi without citation.
In August 2017, PNA drew flak anew for uploading a logo of DOLE food company instead of the Department of Labor and Employment for a labor-related story.
READ: PNA apologizes for wrong photo in DOLE story
The PNA also published reports that indicated notes of an editor in headlines.
READ: Who's Lei? PNA website down after draft bloopers
PCOO chief Martin Andanar last August said he would lead the PNA Editorial Board following the erroneous stories the state website ran.
As for the recent PCOO social media blunders, presidential spokesperson Harry Roque said that the agency should boost its spell-checking efforts.
RELATED: Palace on 'Norwegia' gaffe: To err is human but spell-check next time