PCOO officials told to explain error-ridden press IDs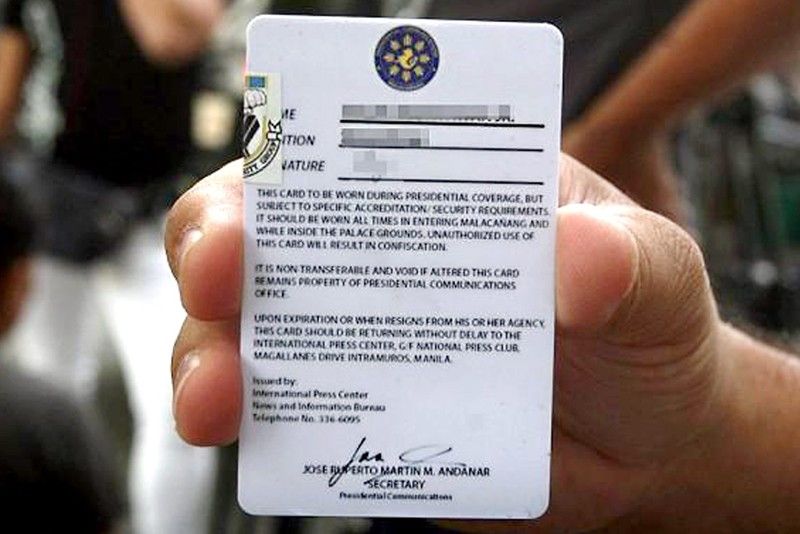 MANILA, Philippines — Presidential Communications Secretary Martin Andanar has asked three officials of his agency to explain how grammatical error-filled identification cards were issued to reporters covering Malacañang.
Andanar said he has issued a show-cause order to the officials of the International Press Center, who he said issued IDs to members of the Malacañang Press Corps without his approval.
"They (officials) have to prove why they should not be slapped with administrative case," Andanar told radio station dwFM on Monday.
"I'm expecting one answer today (March 26), or about two answers today," he added.
Andanar did not identify the officials involved but disclosed that one of them is a director.
"We will just allow legal process to proceed without mentioning their names. We will release findings after the investigation," he said.
Andanar said the officials who committed the blunder cannot be dismissed without due process, noting that state workers are protected by the Civil Service Code. He admitted that the error has "caused a national controversy."
The IDs released to Palace reporters allow them to cover the president's activities within and outside Malacañang.
The IDs given to journalists contained several grammatical errors and poorly constructed sentences, prompting Andanar to order an investigation.
The glaring errors include "Upon expiration or when resigns from his or her agency, this card should be returning without delay to the International Press Center, G/F National Press Club, Magallanes Drive, Intramuros, Manila" and "It should be worn at all times in entering Malacañang and while inside Palace grounds."
The IPC recalled the IDs last week.