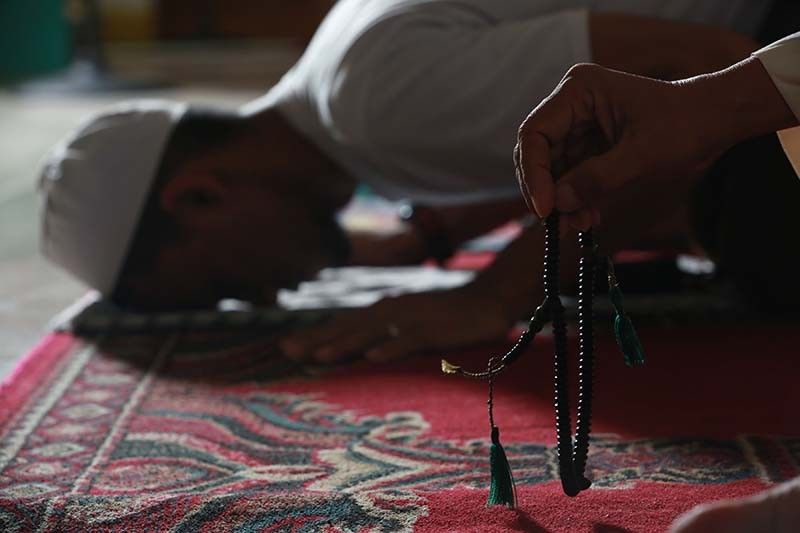 Muslim prays at Salam Mosque in Culiat in Quezon City. Ramadan commemorates the first revelation of the Quran to Muhammad according to Islamic belief. Today marks the end of Ramadan.
The STAR/Michael Varcas
As country celebrates end of Ramadan, Duterte urges Filipinos to be united amid differences
MANILA, Philippines — President Rodrigo Duterte called on Filipinos on Friday to be united amid differences in faith and culture as Muslims around the world celebrate the end of Ramadan.
In his message for Friday's celeberations, Duterte said he and Muslims were thanking Allah for giving the country strength to endure the challenges of "misguided ideologies, terrorism and violent extremism."
"I join our Muslim brothers and sisters as they mark the end of Ramadan and reaffirm their commitment to self-purification and jubilation," the president said.
"I trust that the sacrifice of Muslim Filipinos during their month-long fasting has rekindled their faith and reawakened their sense of benevolence and empathy towards their fellowmen," he added.
Just last month, the nation marked the first anniversary of the siege of Marawi City, which was obliterated after militants tried to occupy the city and transform it into the capital of the province of the Islamic State in Southeast Asia.
The battle between security forces and militants lasted for five months, resulting in the destruction of much of the city's center and death of thousands of combatants and civilians.
Duterte said that the ocassion was also time to reflect on the progress the country had achieved in ensuring long-lasting peace in the Philippines, especially Mindanao.
"May this revered festival inspire us all to foster greater unity amidst our differences in faith and culture. Together, let us engage in acts of charity as we steer our nation towards a more progressive and tolerant future," the president said.
Recently, the Senate and the House of Representatives passed their respective versions of the Bangsamoro Basic Law, which would allow Muslims in Mindanao to self-rule.
The two versions will still have to be reconciled at the Bicameral Conference Committee, where it is expected to face a lot of challenges because of the differences between the drafts and concerns that they have been severely diluted.
Vice President Leni Robredo, meanwhile, urged other Filipinos to emulate the sacrices Muslims made in order to help the poor and those in need especially those affected by the fighting in Marawi City.
She also expressed hope that a version of the BBL satisfactory to all sectors would be passed soon.
"We hope that the Bangsamoro Basic Law will soon be passed, in a form that adequately reflects the hopes and dreams of our dear Bangsamoro brothers and sisters, to end their long-drawn suffering and fulfill their desire for lasting peace," she said.