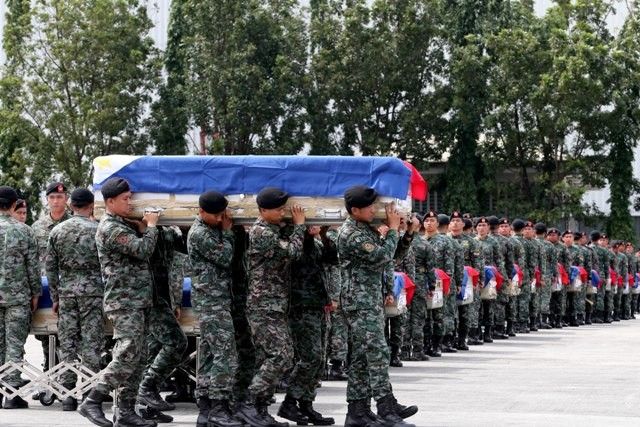 In this Thursday, Jan. 29, 2015 file photo, the Philippine National Police Special Action Forces carry the flag-draped coffins of their comrades upon arrival from Maguindanao in southern Philippines at Villamor Air Base in Pasay, Philippines.
AP/Bullit Marquez, File
Morales denies 'weak charges' vs Aquino over Mamasapano clash
(Philstar.com) - June 11, 2018 - 11:55am
MANILA, Philippines — Ombudsman Conchita Carpio-Morales on Monday denied that her office filed "weak charges" against former President Benigno Aquino III over the bloody Mamasapano clash in 2015.
Morales, in an exclusive interview with CNN Philippines' "The Source," said that her office "cannot be pressured to file a particular case against someone if we don't believe that that should be the charge."
Aquino and his men, former police chief Alan Purisima and former PNP-Special Action Forces director Getulio Napeñas Jr., are facing charges before the Sandiganbayan over the botched police operations in Mamasapano town in January 2015.
Oplan Exodus resulted in 44 deaths among the PNP-SAF commandos, 18 Moro rebels and five civilians.
In November last year, the Ombudsman filed graft and usurpation of authority charges against Aquino over the Mamapasano clash, but the Volunteers Against Crime and Corruption wanted Aquino indicted on reckless imprudence resulting in multiple homicides.
The VACC slammed the ombudsman for filing "downgraded" charges against Aquino and his men.
The Office of the Solicitor General backed the VACC's bid as it filed a manifestation before the Supreme Court on January 25 this year—the third year since the clash—to ask the ombudsman to reverse its earlier ruling that junked the reckless imprudence resulting in multiple homicide cases against Aquino, Purisima and Napeñas.
Morales, however, stressed: "We go by the evidence."
On February 10, the SC issued a halt order on Aquino's arraignment before the Sandiganbayan.
Before the temporary restraining order was issued, only Purisima was arraigned, entering a not guilty plea.
Aquino had plucked Morales out of retirement as Supreme Court Associate Justice in 2011 to head the Office of the Ombudsman. Morales will retire from being the country's chief graft-buster on July 26.
READ: Who's who: A look at candidates aspiring to be the next ombudsman
— Kristine Joy Patag