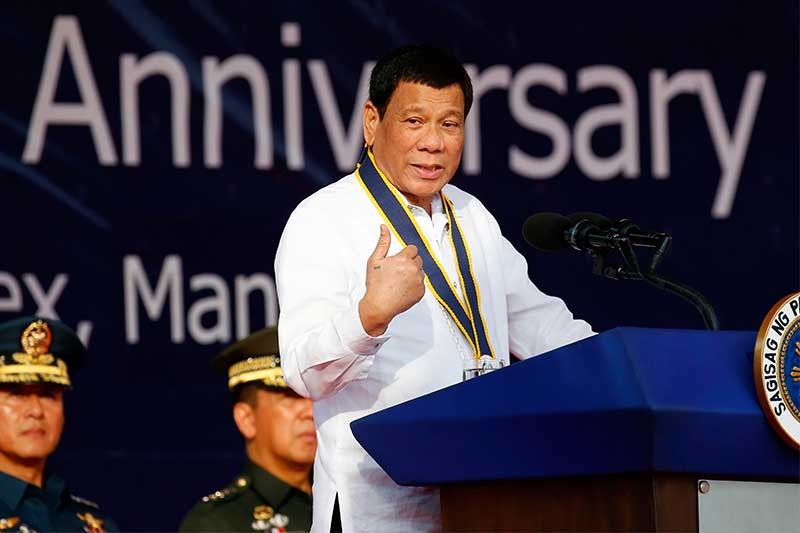 Philippine President Rodrigo Duterte addresses troops during the 120th anniversary of the Philippine Navy, Tuesday, May 22, 2018 in suburban Pasay City south of Manila, Philippines.
AP/Bullit Marquez
Duterte draws flak for 'women cannot handle intimidation' remark
MANILA, Philippines — President Rodrigo Duterte, once again, drew criticism after making a misogynistic remark, implying that only men can withstand threats and intimidation.
Speaking at an event in Davao City on Thursday, Duterte said that some jobs are inappropriate for women.
"I believe in women, the competence and capability. But not all in life. It should be the case. It's not appropriate when you cannot stand threats and intimidation," the president said.
Netizens were quick to call out the president for his remarks.
Duterte said that women cannot handle intimidation.

Erstwhile beauty queen and nurse Kumander Liwayway of HUKBALAHAP led her troop to numerous victories, all while wearing red lipstick, dresses, and manicured nails.

She was 100x braver and sassier than Duterte will ever be.

— EUREKA PERALEJO (@Punongbayan_) May 24, 2018
ANYWAY I'm going to head back to work now and prove dumbass Duterte that women can do anything they aspire to do ()

— Nathania Chua (@PilosopoTanya) May 24, 2018
Duterte is every father, brother, or male figure in your life who said something disparaging about women that you didn't correct because he was "harmless," just joking, or "Ganyan talaga siya." That's why no one is correcting him. These sentiments are normal in women's lives.

— Shakira Sison (@shakirasison) May 24, 2018
Sobrang nakakainsulto that someone like Duterte has the gall to insult our competence as women. Hoy! Have you seen your effing government?! Ganda ka?

— Ka-Bleeding (@1nutty_hazel) May 24, 2018
I find it somewhat, well . . ironic . . that President Duterte, from a platform of total capitulation to China, has the nerve to say women can't handle intimidation. #Gobsmacked

— JoeAm (@societyofhonor) May 24, 2018
#TodayFromDutertesMouth
Macho-fascist Duterte not only embodies the feudal Filipino culture that sees women as objects to control and dictate their socioeconomic roles but he further perpetuates and reinforces this backward culture to preserve the status quo.#FightTyranny pic.twitter.com/to1ZhjqJ33

— Kenneth Cadiang (@KinitMakulit) May 24, 2018
President Duterte is INTIMIDATED by women. Heller.

— Daughter of Mindanao (@tessgarcia) May 24, 2018
Duterte's latest remarks come days after activists and women's rights advocates launched the #BabaeAko movement on social media.
Men and women alike expressed support for the movement, which seeks to denounce the president's "misogynistic remarks that downplay and demean the role of women in society.
"We remind all public officials that, having the power and influence to set policy agenda, they should denounce and refrain from any kind of remark that perpetrates a machofascist culture — a culture that should have been shelved centuries ago, and we vow to condemn all kinds of similar statements, whoever it comes from," the #BabaeAko movement said in joint statement.
The President has spoken in response to our calls vs misogyny and macho-fascism, that we are not appropriate for some jobs because we cannot stand threats and intimidation. "Etong mga babae, prim and proper 'yan." #BabaeAko and I refuse to be stereotyped.

— Sarah Elago (@sarahelago) May 25, 2018
#BabaeAko and I take personal offense on anyone who tries to explain the actions of Duterte or anyone who tries to excuse themselves from the accountability. It's 2018, and I cannot believe we still have to educate you on respect.

— Meghan...ern (@kristinamisajon) May 24, 2018
I am threatened and intimidated a lot. All my life. Don't me. #BabaeAko

— Raquel Fortun (@Doc4Dead) May 24, 2018
Ang husay ng #BabaeAko campaign: Mabilis na naengage at nalagay in the defensive ang taga-Palasyo at mga payaso.

Misogynists always pretend to be pro-women than women or more enlightened than women — to cover up their misogyny.

— Tonyo Cruz (@tonyocruz) May 24, 2018
There are jobs that should never be occupied by tyrants and misogynists. And the presidential seat is on top of that list. #BabaeAko #LalabanAko

— Gabriela WomensParty (@GabrielaWomenPL) May 24, 2018
I am a mother, a teacher, a Filipino. I condemn Duterte for being a misogynist and making it "acceptable" for women to be hated and attacked. He is a foul-mouthed, lily-livered tyrant. My children, I, and this country deserve better. I will fight back.#BabaeAko pic.twitter.com/x5lu3uyKrh

— Miss Maggie (@MiaMagdalena) May 24, 2018
Yes, men can join the #BabaeAko campaign. This is Joel Salud, Philippines Graphic editor in chief. pic.twitter.com/vCAqT0Fxu5

— inday espina varona (@indayevarona) May 22, 2018
Duterte has previously made comments against women in the government including Vice President Leni Robredo, Ombudsman Conchita Carpio-Morales, ousted Chief Justice Maria Lourdes Sereno and Sen. Leila de Lima.
The president even said that the next Ombudsman "could not be a politician, especially not a woman."