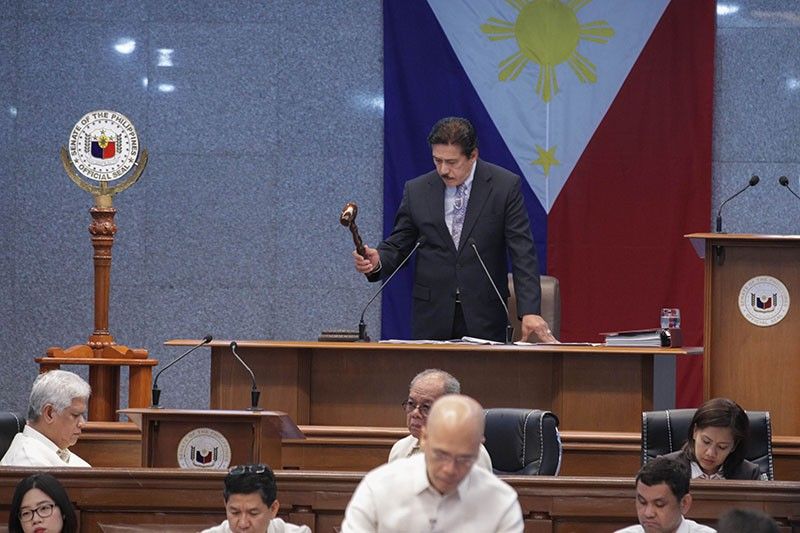 Sotto is the most senior member of the Senate, where he has served for 26 years.
Geremy Pintolo
Sotto on quo warranto resolution: I don't interfere with the Judiciary
MANILA, Philippines — Senate President Vicente Sotto III on Tuesday is not keen on urging the Supreme Court to review its decision that voided Lourdes Sereno's appointment as chief justice.
In an interview with GMA's "News to Go", Sotto said he is not among the senators who signed the resolution questioning the Supreme Court ruling on the quo warranto petition against Sereno.
Sotto said in Filipino that he "is used to not interfering with the Judiciary."
"What I don't like the most is the Judiciary attempting to interfere with us (at the Senate)," he added.
Sotto's stance is a departure from that of his predecessor, Sen. Aquilino Pimentel III.
Pimentel earlier said that Congress has the sole power to oust Sereno. He stressed: "The chief justice is an impeachable official who can be removed only after impeachment by the House and conviction by the Senate.
It was a sentiment echoed by lawmakers from opposing fences.
READ: In rare display of unity, majority, minority lawmakers slam Sereno's ouster
Sotto, however, assured that if the said resolution reaches the Senate floor, it will be discussed among the lawmakers.
"We will debate on it to hear both sides," he said.
The Senate leadership decides on the schedule for deliberations on a proposed bill or resolution.
READ: More senators urged to sign quo warranto appeal
'Hands are tied on impeachment'
Sotto however said that the Senate cannot pursue anything on the impeachment as the House of Representatives has yet to elevate the case to them.
"As far as the impeachment is concerned, our hands are tied," Sotto added.
READ: House won't pursue impeachment against Sereno for now, says Umali
The House of Representatives has yet to put the articles of impeachment—approved by the House justice panel in March—to a vote in plenary.
House Justice Committee chair Reynaldo Umali (Oriental Mindoro) earlier said that it would be "more prudent" to wait for the SC's final ruling, noting that the 8-6 vote that ousted Sereno was a "close vote."
Sereno already said that she will appeal the ruling. She is allowed to file a motion for reconsideration 15 days from the receipt of the decision.
Should her appeal be denied, the ruling becomes final and an entry of judgment will follow.