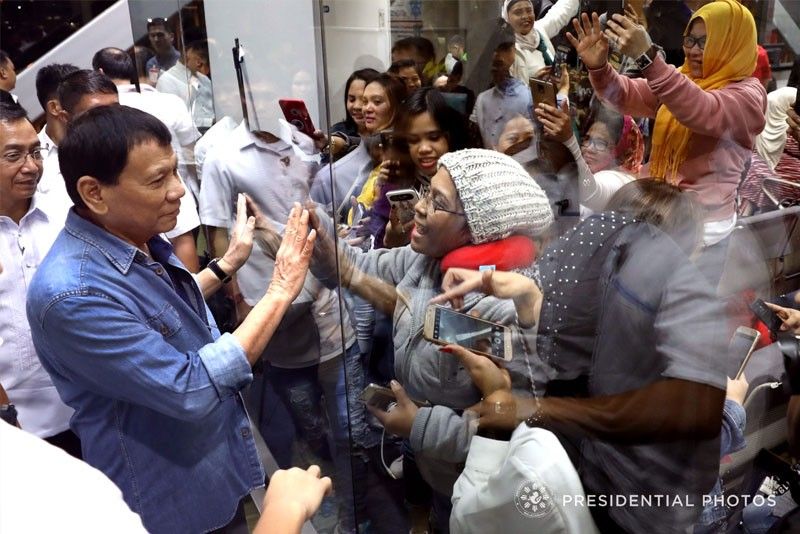 Photo taken on Feb. 12, 2018 shows President Duterte interacting with overseas Filipino workers returning from Kuwait at the NAIA in Pasay City.
Kuwait deployment may resume – DOLE
MOU for OFWs still set for signing
MANILA, Philippines — The deployment ban on Filipino workers to Kuwait is not permanent, Labor Secretary Silvestre Bello III clarified yesterday, claiming President Duterte was misquoted by media.
In a radio interview, Bello said the deployment ban only stays until the Philippine and Kuwaiti governments sign a memorandum of agreement (MOA) ensuring protection of Filipinos working in the Gulf state.
The Department of Labor and Employment (DOLE) chief maintained that the media misquoted Duterte when he announced the deployment ban.
"Reports are sometimes inaccurate. The President reportedly said the ban is now permanent – that is not the case. The President had said from the start that the deployment ban will stay for as long as there is no (memorandum of understanding) and there is no justice," Bello said in the vernacular.
But when an audio clip of Duterte's pronouncement on the permanent ban was played, Bello said the statement was possibly taken out of context. Bello said he would clarify the matter with the President.
In another interview, Bello reported that he is flying with Department of Foreign Affairs (DFA) officials to Kuwait on May 7 to resolve the diplomatic row and push for the signing of an MOA.
Bello further dismissed as "fake news" reports of a rift between him and Foreign Secretary Alan Peter Cayetano over policy differences on the Kuwait deployment ban.
Meanwhile, presidential spokesman Harry Roque Jr. tried to soften the impact of the Chief Executive's hard stance against Kuwait.
"Now on Kuwait: what the President announced is the maintenance of the status quo," Roque said at a regular press briefing in Malacañang yesterday.
"Until we have reached or signed a memorandum of agreement providing for the minimum terms and conditions of employment of our nationals, the deployment ban stays," he added.
Roque explained that a calmer President has set the signing of the MOA for better treatment of Filipino workers as a pre-condition to reboot diplomatic relations between the two countries.
"Now, is this permanent as reported by some media outfit? Well, let's just say it stays right now because the precondition set by the President is really the signing of that (MOA)," Roque said.
Upon his arrival from Singapore last Sunday morning, Duterte said "the ban stays permanently" and that there will be no recruitment, especially for domestic helpers, for Kuwait.
The President also said he is ready to ask help from other nations to employ the OFWs who might lose their jobs or those who want to leave their families in the country to look for greener pastures.
Duterte also appealed to the sense of patriotism of Filipinos by returning to the Philippines. While he ordered the deployment ban, the Chief Executive said those who want to stay and continue their services for Kuwaiti employers may do so.
Roque confirmed that Bello and some Cabinet members will be leaving for Kuwait on May 7 to speak with top Kuwaiti officials in a bid to repair damaged relations. Earlier, they said they were keen on having the MOA signed before the start of Ramadan in mid-May.
Roque said the meeting "means that the process of diplomatic negotiations and conversation continues."
The President has maintained that the safety of all Filipino workers abroad remains his top priority.
Roque assured Filipino workers still in the Gulf state that the embassy will continue to extend assistance to those who want to return home.
"We don't have an ambassador but there is a chargé d'affaires, there is diplomatic mission. Diplomatic ties remain, which means that we have a mission there to protect our nationals," Roque said.
"Kuwait also is duty bound to protect aliens under the standards dictated by international law, under terms and conditions which are not inferior to the way that they treat their own nationals," he added.
Roque said the Philippine government is hoping that the situation will return to normal so that the two countries can further talk about the Filipino workers there.
"Let's just say we are trying to normalize as much as we could ties with Kuwait," he said.
Taking a different tack when he attacked Kuwait early this year following the brutal death of Joanna Demafelis whose body was found in a freezer a year after she was reported missing, Duterte was more calm when he addressed the issue over the weekend.
"That's the President's statement. He is not picking a fight with Kuwait. The statement was very… the President was very somber. He was very calm," Roque said.
"He says that if Kuwait does not want our workers then he would ask them to come home. But he has expressed profound gratitude for the fact that Kuwait has employed many of our nationals," Roque said.
Roque noted that Duterte's "whole tenor was not confrontational."
"It is not as if we are escalating it as reported by some media outlets," he said.
A senior Kuwaiti official yesterday sought to calm a crisis with the Philippines over the treatment of domestic workers in the oil-rich Gulf state.
"This is largely a misunderstanding and exaggeration of some minor or one-off case," Deputy Foreign Minister Nasser al-Subaih told reporters in Kuwait City.
"We have taken a serious stance... but we do not believe in escalation and want to remain in direct communication to resolve the problem," Subaih added.
As this developed, Surigao del Sur Rep. Johnny Pimentel, chairman of the House committee on good government, said Filipino workers returning from Kuwait need not worry as there are other larger labor markets for them.
"Outside of Kuwait, we have far bigger labor markets in other parts of the Middle East and elsewhere that offer better protection for our workers," Pimentel said in a statement, citing other Middle Eastern countries, among them Saudi Arabia, United Arab Emirates, Qatar, Oman and Bahrain, which can accommodate the workers.
Riyadh and UAE alone, according to him, are each easily three times bigger than Kuwait's labor market.
"In any labor market, what is important is that the jobseekers must have the skills that they can sell to employers," he said.
Of the 252,000 Filipinos in Kuwait, 170,000 are domestic workers, while the rest are mostly employed in the petroleum sector.
Domestic workers in Kuwait who decide to come home, Pimentel said, should be provided "new and improved competencies" by the DOLE's Technical Education and Skills Development Authority.
Exempted from the ban are workers vacationing in the Philippines and expected to return to the same employer to finish their contracts, as well as those returning to Kuwait on a new contract with the same employer.
Under DOLE guidelines, balik manggagawa or returning workers are exempted from the ban. Seafarers are also not covered by the total deployment ban.
Filipinos who opt to stay in Kuwait may continue to work there as long as they are needed by their employers and as long as their contracts are renewed, according to Pimentel.
Sen. Francis Escudero aired his support for the deployment ban imposed by President Duterte, saying this should be in place until the Kuwaiti government prevents abuses committed against Filipinos working in the Arab country.
For his part, Senate President Aquilino Pimentel III said the situation between the Philippines and Kuwait should be resolved immediately, considering that the two countries have enjoyed strong relations over the years.
He also called on the government to explore the possibility of asking either Saudi Arabia or Qatar to act as its intermediary with the Kuwaitis in order to resolve the row. – With Delon Porcalla, Marvin Sy, Christina Mendez, AFP