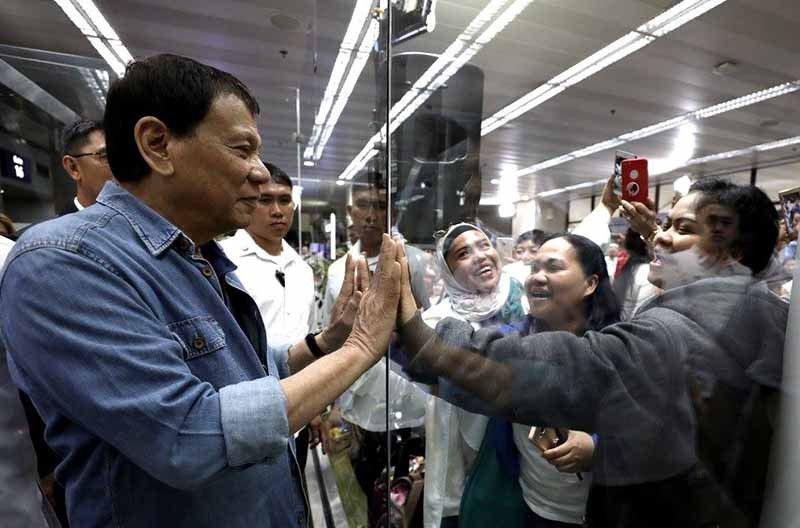 Speaking before a crowd of some 4,000 overseas Filipino workers at the Big Box Mall here, the President said he was bringing some bad news – and that was his decision to bring home over 250,000 OFWs in Kuwait.
Facebook/PCOO
Duterte to OFWs in Kuwait: Come home
SINGAPORE – President Duterte last night asked all Filipino workers in Kuwait to come home following tensions between the Philippines and the Gulf state over the rescue of distressed domestic helpers.
Speaking before a crowd of some 4,000 overseas Filipino workers at the Big Box Mall here, the President said he was bringing some bad news – and that was his decision to bring home over 250,000 OFWs in Kuwait.
He said he would look for funds to repatriate OFWs who want to come home, even if he would borrow money "from anywhere or from someone."
He hinted that he would use the P5.4 billion he recently got as grant from Chinese President Xi Jinping for OFWs in Kuwait.
Stressing that he does not want to get into trouble or fight with someone, he said was forced to get into such decision "because too many things had already happened."
"The only sin of Filipino workers in Kuwait or in any other countries is 'survival' to earn a living," he said.
He, however, assured Kuwait that the Philippines respects its long history of friendship with the Gulf state.
" In a very diplomatic way, I do not want to destroy a good neighbor, a friend, for after all, how many long years they helped us. They accepted our Filipino brothers and sisters," the President said.
But he reiterated his appeal to OFWs in Kuwait to come home.
"Lahat kayong Pilipinong nakikinig, umuwi na lang kayo sa Pilipinas tutal marami nang trabaho. Marami na talagang trabaho ngayon (All of you Filipinos listening, come home to the Philippines. There are many jobs now," he said.
Malacañang should initiate high-level talks with its counterparts in Kuwait in order to straighten out the diplomatic row between the two countries.
Senate President Aquilino Pimentel III suggested that the government send either Labor Secretary Silvestre Bello III or Foreign Affairs Secretary Alan Peter Cayetano to hold high-level meetings with Kuwaiti officials, which he said would be the key to repairing the country's relationship with Kuwait.
Instead of quibbling about the move of Kuwait to declare Philippine Ambassador Renato Villa persona non grata and ordering his exit from the country, Pimentel said the government should just continue communicating with Kuwaiti officials and find ways to resolve the matter.
"We are not even in a state of war. We have over 200,000 overseas Filipino workers there. They (Kuwaitis) also come here for investments and other opportunities so what we need are these high-level visits and good communication," Pimentel told radio station dwIZ yesterday.
The Kuwaiti government's action against the Philippine ambassador was in response to the rescue missions conducted by the embassy staff there to assist Filipino workers who were reportedly being abused by their employers.
One operation to rescue a Filipina worker was documented on video and posted on social media, which drew mixed reactions from those who viewed it.
Kuwait protested the action as an assault on its sovereignty, prompting an apology from not only Villa, but also Cayetano.
However, in spite of the apologies, the Kuwaiti government decided to expel Villa.
Pimentel said an important lesson from the incident is that the people in government should refrain from posting everything that happens on social media.
Sen. Nancy Binay said the personalities involved in the posting of the video on social media should be held accountable.
Binay said she is studying the possibility of filing a resolution calling for an inquiry into the incident in order to get to the bottom of what took place there.
But just like Pimentel, Binay said the incident should make everyone concerned realize the need to be more circumspect in their social media posts.
Sen. Richard Gordon said the rescue operations should never be shared in public, especially on social media where the entire world would see this.
Ideally, he said the embassy officials should make representations with the host country's ministry of foreign affairs whenever there are cases regarding abuses of Filipino workers and it feels there is no sufficient action from the local authorities to address them.