China to accept 100,000 Filipino English teachers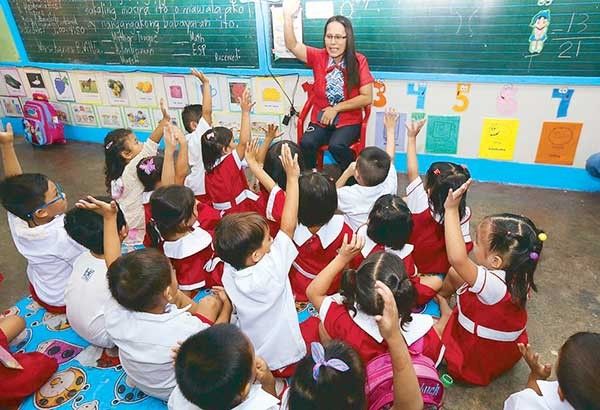 DAVAO CITY, Philippines — At least 100,000 Filipino English teachers are needed in China, President Duterte said yesterday before his departure for China where the two countries are expected to sign a related agreement on the sidelines of a global economic forum.
"Yes, let me just say the market of China is growing and our Philippine efforts are included there. But having said that, we are also in a position now – we are going to have a platform for this actually, especially the labor department, tumatanggap na sila ngayon ng trabahante (they are now receiving workers). They are accepting first teachers but 100,000," the President said in pre-departure remarks at the Davao International Airport.
Duterte flew to Hainan to attend the Boao Forum for Asia, an international economic forum that serves as a dialogue platform for leaders in the Asia – Pacific.
He said the Chinese have eased or removed some trade restrictions – specifically on fruit exports – because of the warming of ties with the Philippines. He did not elaborate.
He said in jest that the Chinese want to learn the English language before taking over the United States. "Eh hindi bumabayad ng utang eh. So forfeited 'yung lupa mo (It's not paying its debts so its land gets forfeited). So that's the problem," he said.
In Hainan, Philippine Ambassador to China Chito Sta. Romana said the two countries are expected to sign an agreement on the sending of more Filipino English teachers to Beijing.
This is one of the bilateral agreements to be signed during the visit of President Duterte here.
The President is on his third visit to China for the Boao Forum for Asia, an international economic forum that serves as a dialogue platform for leaders in the Asia – Pacific.
"There are some minor details still being ironed out, but if everything works, the agreement (is) to hire more Filipino English teachers for China," Sta. Romana told reporters yesterday.
Sta. Romana explained that there are Filipino teachers here but they found the jobs on their own.
"There used to be a Chinese rule that excluded the Philippines as a legal source or as a source that they encouraged. They wanted to emphasize what they called native speakers but they have relaxed it now," the envoy said.
"We noticed that they were allowing certain countries that were not, strictly speaking, native speakers but rather were former colonies of native speaking countries and so... when they allowed that, it was very clear the Philippines was part of that, it could not be excluded," he added.
Sta. Romana said the improved ties between the Philippines and China also played a role in the readiness of Beijing to hire more Filipino teachers.
"Whereas before, in the period of contentious relations, they did not discuss this or no, that's not possible. They became more open. So now they are more open, they are more accommodating and there's growing need in China to learn English," he said.
The Philippines and China are embroiled in the dispute over the West Philippine Sea (South China Sea), where $5 trillion worth of goods passes through every year. Duterte, who has been accused of being too cozy with China in exchange for assistance, has promised to discuss the issue with Chinese leaders within his term.
Aside from the agreement on Filipino teachers, the Philippines and China are also expected to sign economic cooperation deals including the final loan agreement on the Chico Dam project and lay the groundwork for more bilateral exchanges.
Sta. Romana also said the Philippines would make sure Filipino workers hired in China would be covered by social security.
"But of course, there are a lot of problems to be solved. We want to make sure they are covered by social security, that they're not subject to unfair rules. So we want assurances," he said.
"There are a lot of details still to be resolved because if the Chinese market opens up to us, they have to open up to other foreign markets. They have to balance their policy," he added.
"I think the situation is already open. It's a question now of just making sure that we know where the opportunities are and that they are able to see the availability in the Philippines," the envoy added.
Joint exploration
Sta. Romana also said a joint oil and gas exploration agreement with China is expected to be ready in the "next couple of months" as he stressed that any deal should be compliant with existing laws.
"I think the best estimate I have gotten is from (foreign affairs) Secretary (Alan) Cayetano that we are trying to see if we can achieve an agreement hopefully within the next couple of months but as always, in negotiations, we can never predict," he explained.
"If it's necessary to take a longer time, we will take our time as long as we meet our objectives," he told journalists here yesterday.
"But if we can do it, and there is political willingness on both sides, (we will) try to achieve an agreement as soon as possible. But it won't be tomorrow," he added.