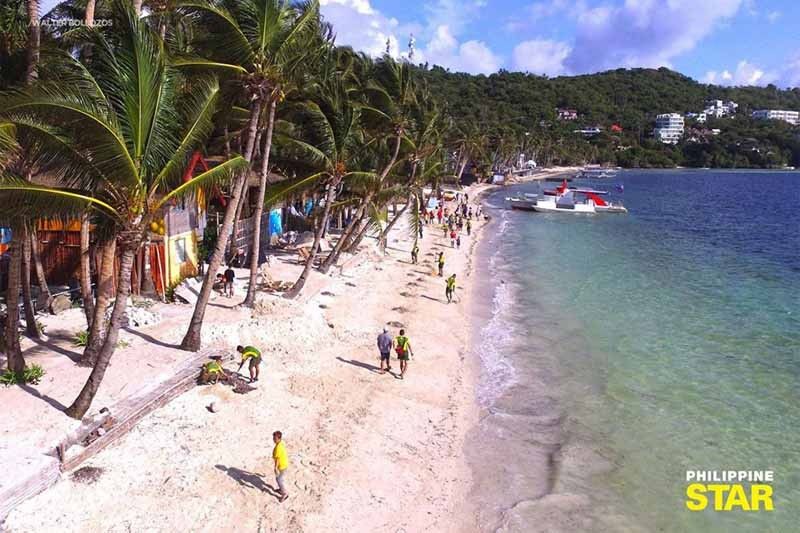 The proclamation placing Boracay under state of calamity covers the world-famous island's three barangays: Manoc-Manoc, Balabag, and Yapak.
The STAR/Walter Bollozos
Duterte declares state of calamity in Boracay
MANILA, Philippines —President Rodrigo Duterte signed the proclamation declaring a state of calamity in Boracay on the day of its closure.
The proclamation placing Boracay under state of calamity covers the three barangays on the world-famous island: Manoc-Manoc, Balabag, and Yapak.
"In this regard, the temporary closure of the island as a tourist destination for six months starting 26 April 2018, or until 25 October 2018, is hereby ordered, subject to applicable laws, rules, regulations and jurisprudence, " the proclamation read.
The four-page Proclamation No. 475 was released to the members of the media on Thursday afternoon, hours before Duterte's departure for Singapore.
READ: Sun sets on Boracay sans official closure order
With the proclamation, concerned government agencies are directed to undertake necessary and appropriate remedial measures during the state of calamity as provided by Republic Act 10121, or the Philippine Disaster Reduction and Management Act, and other applicable laws, rules, regulations.
These measures include control of the prices of basic goods and commodities for affected area, and employment of negotiated procurement utilization of appropriate funds including National Disaster Risk Reduction and Management Fund for relief and rehabilitation efforts in the area, among others.
The concerned departments have been directed to augment the basic services and facilities of the affected local government units.
All the departments, agencies, government-owned or controlled corporations and affected LGUs are likewise asked to implement and execute the closure and the appropriate rehabilitation works. This is in accordance with the operational plans and directives including the Boracay Action Plan.
Meanwhile, the Philippine National Police, Philippine Coast Guard, Armed Forces of the Philippines and other law enforcement agencies are directed to act with restraint within the bounds of the law in the strict implementation of the closure of the island.
The proclamation also urges tourists, residents and establishment owners in Boracay to comply with the directives for the closure that would pave way for the rehabilitation and restoration of the island.
Duterte said the state of calamity proclamation would remain in force for six months or unless it is lifted before that.
Interior and Local Government officer-in-charge Eduardo Año admitted that the proclamation was "issued, in a way, delayed."
On Monday, presidential spokesperson Harry Roque downplayed the non-issuance of the proclamation days ahead of the closure. He said it was no big deal because it was just a matter of signing.
"What's important is we gave advance notice that it will happen," Roque earlier said.
Roque said the proclamation is necessary for the procurement process because it serves as a "legal basis." —With reports from Alexis Romero