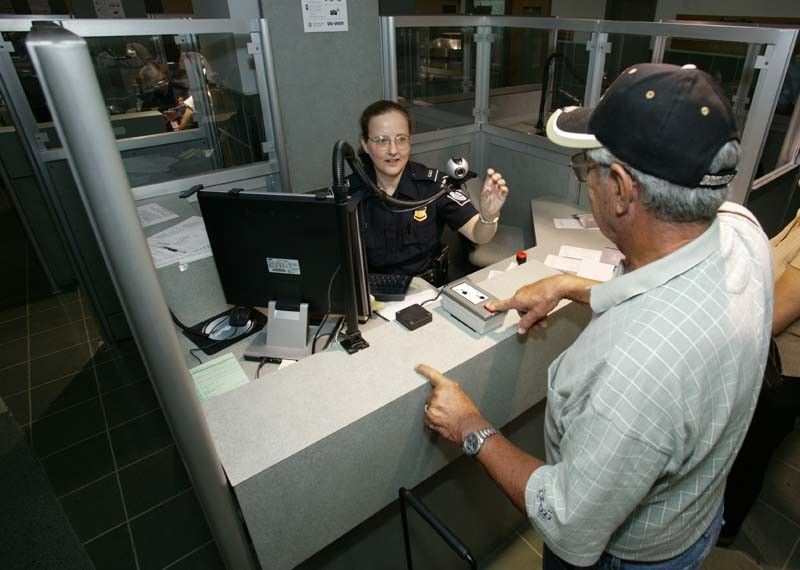 A CBP officer processes a passenger in this photo from the US Customs and Border Protection website
US Customs and Border Protection website
Karapatan: Moro rights activist barred from entering US
BAGUIO CITY, Philippines — A Moro human rights activist, invited for a speaking tour by several church-based institutions including the US Conference of Catholic Bishops, the Sisters of Mercy and the General Board of Global Ministries, has been barred entry into the United States.
Jerome Succor Aba is being held at the San Francisco International Airport for almost 24 hours, since April 18, by US Customs and Border Protection, Cristina Palabay, secretary general of human rights group Karapatan, said.
US authorities have not released any basis for deny Aba entry, she said.
Aba, 25, is national chairperson of Suara Bangsamoro and co-chair of the Sandugo Movement for Moro and Indigenous Peoples for Self Determination.
Karapatan said Aba, when he insisted on speaking with legal counsel, was told that "a lawyer will not do him any good."
The CBP has refused to give Aba's lawyers from the US National Lawyers Guild access to him, the group said.
"We remind the officials from the so-called 'Land of the Free' that civil liberties should be accorded to all – regardless of whether someone is a citizen of that country or not. The right to counsel is a universally recognized right," Palabay said.
Aba was also supposedly told that he does not have any "good reason" to be in the US, despite being granted a 10-year multiple entry visa.
The CBP, on its website, says "a visa simply indicates that a US consular officer at an American embassy or consulate has reviewed the application and that officer has determined that the individual is eligible to enter the country for a specific purpose."
It also says "the CBP officer at the port-of-entry will conduct an inspection to determine if the individual is eligible for admission under US immigration law."
The rights group said Philippine and US officials may be "working in a concerted effort to use repressive immigration laws to stifle freedom of expression and articulation of human rights causes."
On Monday, Bureau of Immigration officers apprehended and detained Patricia Fox, an Australian nun and farmers' rights advocate, citing a bureau order prohibiting foreigners from joining political activities in the Philippines.
Fox, who has been a missionary in the Philippines for 27 years, has denied engaging in party politics.
President Rodrigo Duterte on Wednesday said that he had ordered her investigated for criticizing the government.
Karapatan also did not discount that Aba may have been denied entry for being a Moro activist.
"In the implementation of the arbitrary, repressive, and discriminatory Muslim ban in the US, individuals from countries with a predominantly Muslim population have been denied entry, but Aba's case proves that individual Muslims are also being targeted, regardless of the country," Palabay said.