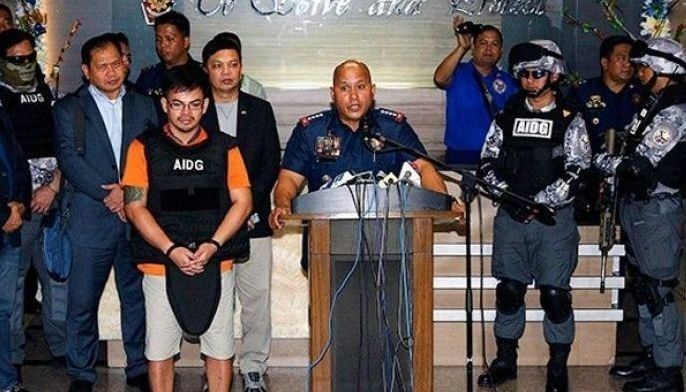 Police Director Roel Obusan, Philippine National Court-Criminal Investigation and Detection Group chief, said that he is confident that Kerwin Espinosa and dozen others will be indicted on drug raps.
The STAR/Boy Santos, File photo
CIDG chief confident Espinosa, Lim will be indicted on drug raps
MANILA, Philippines — Police Director Roel Obusan, Philippine National Court-Criminal Investigation and Detection Group chief, stood by the strength of their complaint against alleged drug lord Peter Lim and confessed drug trader Kerwin Espinosa.
Obusan, in a news conference on Wednesday morning, insisted that material evidence, taken from witness Marcus Adorco's testimony, was contained in their complaint-affidavit.
"What is being established in probable cause, a well-grounded belief that a crime has been committed," Obusan added.
But Assistant State Prosecutors Michael John Humarang and Aristotle Reyes, in the resolution they issued, said that the complaint cited sole witness Marcus Adorco's inconsistent testimonies.
The prosecutors said the inconsistencies in Adorco's affidavits—that include dates and place of meeting with drug suppler, timeline of drug transactions, volume of drugs involved—are "material matters" of the case.
Obusan, however, said that it is only natural that there will be inconsistencies in Adorco's testimonies since various transactions transpired.
"You should consider the frailties of a person into his memory," Obusan said, insisting that: "What we are talking about [are] numerous transactions...that happened years past. It will be difficult to determine the dates."
READ: Duterte: Aguirre to replace Kerwin Espinosa, Peter Lim in jail if...
Espinosa did not cooperate in case probe
Obusan also defended the inclusion of Espinosa—who earlier confessed to drug trading in a Senate hearing—as a respondent, and not as a witness to the case.
READ: Aguirre: PNP filed a weak complaint
"If you will get that excerpt (from Senate hearing) that will be added to the complaint, isn't it better that when he is called (to the preliminary investigation), he will say the same thing?" Obusan said.
"Our theory was he will repeat what he said (in the preliminary investigation)...that is why we included him as a respondent," the CIDG chief added.
Aguirre, in an earlier radio interview on Wednesday, said that the PNP could have added Espinosa's confession in the Senate legislative hearing in their complaint.
Responding to Aguirre's remark, Obusan pointed out that Espinosa already denied what he said in the Senate hearing.
"What's the use of a witness that keeps changing his tune?" Obusan said.
However, the CIDG chief said that they are heeding Aguirre's advice and will add Espinosa's confession at the Senate to their appeal.
A new three-member panel of prosecutors will handle the CIDG's motion for reconsideration, following Aguirre's orders.
The justice chief likewise ordered an investigation into possible offenses made by Humarang and Reyes in junking the PNP's complaint.
READ: Aguirre orders NBI to probe prosecutors who junked Espinosa, Lim drug raps