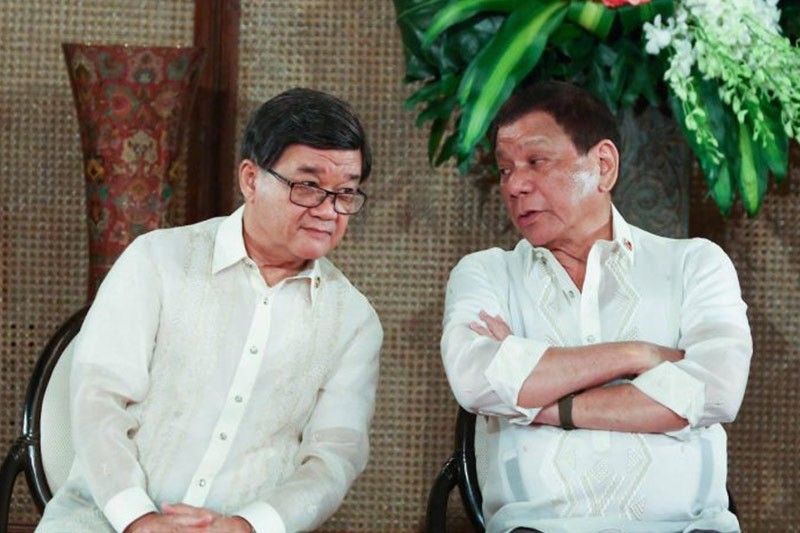 President Rodrigo Duterte chats with Justice Secretary Vitaliano Aguirre II on the sidelines of the 19th founding anniversary of the Volunteers Against Crime and Corruption in Malacañan Palace on August 16, 2017.
Rey Baniquet/Presidential Photo
Aguirre orders NBI to probe prosecutors who junked Espinosa, Lim drug raps
MANILA, Philippines — Justice Secretary Vitaliano Aguirre II on Wednesday morning directed the National Bureau of Investigation to look into possible offenses by the investigating prosecutors who dropped the criminal raps against suspected drug lords.
The NBI was ordered to "determine the possible misfeasance, malfeasance or non-feasance or other violations of law of Assistant State Prosecutors Michael John Humarang and Aristotle Reyes."
The Revised Penal Code defines malfeasance as a public servant carrying out an act prohibited by law, misfeasance as an improper or irregular performance of an act and nonfeasance as the failure to do an act that one is required to do.
Citing weak evidence submitted by the Philippine National Police as complainants, Humarang and Reyes dismissed drug complaints against Peter Lim, Kerwin Espinosa, inmate Peter Co, Lovely Impal and others.
Reyes was promoted to a regional trial court judge in Lucena late January. He also dismissed drug raps against former Bureau of Customs chief Nicanor Faeldon over the P6.4-billion shabu shipment case that slipped past the bureau. Traders and businessmen were instead indicted on the case.
The resolution was approved by Acting Prosecutor General Jorge Catalan.
On Tuesday night, Aguirre created a new panel of prosecutors that would handle the motion for reconsideration also filed by the PNP. This was after President Rodrigo Duterte threatened Aguirre that if Espinosa and Lim are freed, "his head will replace theirs."
The three new prosecutors who would handle the PNP's appeal are Senior Assistant State Prosecutor Juan Pedro Navera, Assistant State Prosecutor Ana Noreen Devanadera and Prosecution Attorney Herbert Calvin Abugan.
Senior Deputy State Prosecutor Richard Anthony Fadullon will serve as prosecutor general for the case.