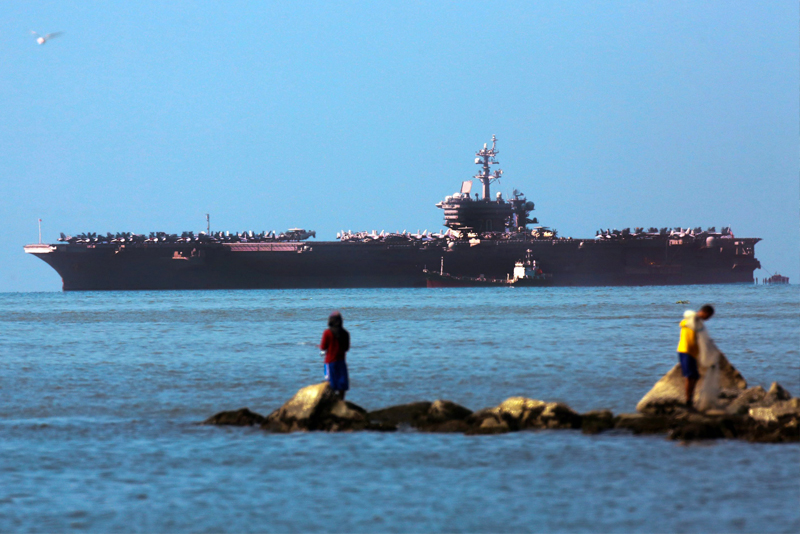 US naval officials said there's nothing unusual about the Strike Group's presence in the region. Krizjohn Rosales/File
US carrier back in South China Sea
Jaime Laude
(The Philippine Star) - February 25, 2018 - 12:00am
ABOARD THE USS CARL VINSON – The US Carrier Strike Group has been sailing through contested waters in the South China Sea since Friday and is now in the Spratlys Archipelago.
US naval officials said there's nothing unusual about the Strike Group's presence in the region.
The USS Carl Vinson is the lead ship of the Carrier Strike Group 21.
"It is routine operations. The US Navy is a global navy. Our presence matters in order to ensure that ocean remains open," spokesman Lt. Comdr. Tim Hawkins said in a press briefing aboard the Nimitz-class aircraft carrier.
Playing host to journalists from Singapore, US, Malaysia, Indonesia and the Philippines for an overnight stay aboard the Vinson, Hawkins explained the South China Sea is a maritime crossroads where a lot of maritime activities are expected.
He said 90 percent of world commerce travels in the disputed waters and in order for maritime traffic to remain open, "somebody must be around."
He added the role is now being played by the Strike Group in partnership with regional allies.
This is in line with the US Navy's mission primarily to defend US interests, deter conflict, respond to crisis, defeat aggression, protect maritime commons, strengthen partnerships and conduct humanitarian assistance and disaster response, Hawkins said.
During the tour, a navy official announced that the strike group is now "within Spratlys," but declined to elaborate.
Related video: