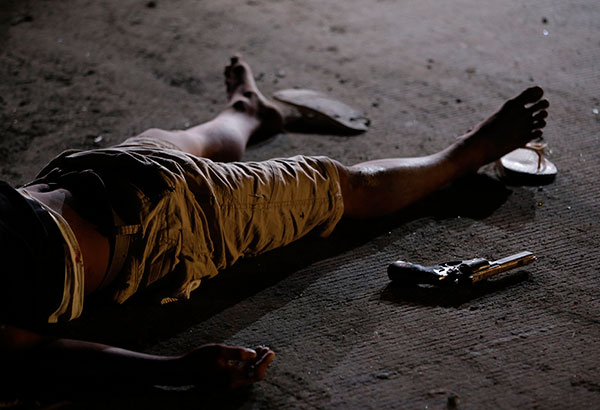 Malacañang on Thursday said the ICC is starting a "preliminary examinations" to determine whether Duterte's bloody anti-narcotic drive meets the legal criteria established by the Rome Statute to warrant investigation by the court. AP/Aaron Favila, file
Matobato lawyer welcomes ICC preliminary examination into drug war
MANILA, Philippines — The lawyer who sent an information to the International Criminal Court regarding the Philippines' deadly drug war said he was elated by the court's initial move to look into President Rodrigo Duterte's controversial campaign.
Malacañang on Thursday said the ICC is starting a "preliminary examination" to determine whether Duterte's bloody anti-narcotic drive meets the legal criteria established by the Rome Statute to warrant investigation by the court.
Last June, Sen. Antonio Trillanes IV and Rep. Gary Alejano (Magdalo party-list) filed a supplemental communication against Duterte and other officials before the ICC.
It was a supplement to the communication filed by lawyer Jude Josue Sabio last April 24, titled "The Situation of Mass Murder in the Philippines, Rodrigo Duterte: Mass Murderer."
Sabio is the counsel of Edgar Matobato, a man who has testified in the Senate that he was part of a hit squad that operated on Duterte's orders.
In a statement, Sabio said the Palace's announcement "vindicated" him, adding that he's confident that the communication that he submitted will hurdle the ICC's preliminary examination.
"Hopefully a warrant of arrest will be issue by the ICC against Duterte and his cohorts," the lawyer said.
"His system of death squad killings since the Davao Death Squad that he continued in the war on drugs will now be investigated by the ICC and justice will be done," he added.
ICC conducts preliminary examinations on all communications received
According to the ICC's website, the Office of the Prosecutor conducts a preliminary examination of all communications and situations that come to its attention based on the statutory criteria and the information available.
The Philippines last year warned it might be forced to "reassess" its membership in the International Criminal Court, which it said opposition groups might use to destabilize the Duterte administration.
Duterte has stoked international alarm for activating his ferocious anti-drug campaign which has been a hallmark of his three-decade political career.
Human rights watchdogs say most of the fatalities in the crackdown were extrajudicial killings committed by cops, adding that Duterte could be liable for crimes against humanity for giving police the "license to kill."
Citing Western criticism over the conduct of his bloody anti-narcotic campaign, Duterte last year said he might follow Russia and leave the "useless" ICC.
He said the international court failed to understand the reasons for his drug war as he reiterated that police are only killing in self-defense.
This was after the ICC's chief prosecutor warned that Philippine officials could face the court for alleged state-sponsored summary executions in the drug war.