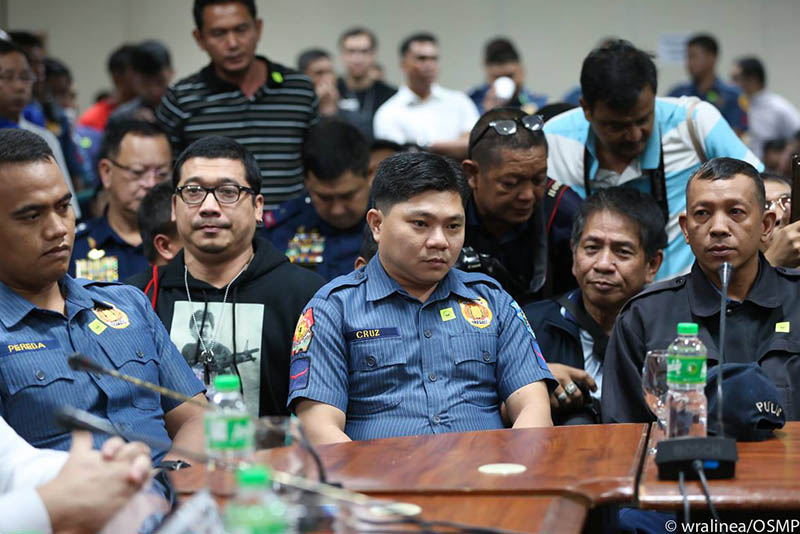 Police officers Jeremias Pereda, Jerwin Cruz and Arnel Oares—suspects in the killing of 17-year-old Kian delos Santos—attend the Senate dangerous drugs panel hearing on Thursday, Aug. 24, 2017. OSMP/Wendell Alinea, file
DOJ indicts 3 cops, police asset in Kian killing
(Philstar.com) - January 29, 2018 - 3:05pm
MANILA, Philippines — The Department of Justice has indicted three Caloocan cops and a "police asset" for the murder of 17-year-old Kian Delos Santos last year.
The DOJ has recommended the filing of murder, planting of dangerous drug and planting of firearm charges against Police Officer 3 Arnel Oares, PO1 Jeremias Pereda, PO1 Jerwin Cruz and "police asset" Renato "Nono" or "Nonong" Perez Loveras over Delos Santos' killing.
Citing witnesses' testimony and forensic results, the state prosecutors said: "The foregoing circusmstances/findings clearly create doubts on the truthfulness of respondents PO3 Oares, PO1 Pereda and PO1 Cruz that the killing was done in the course of a legitimate drug operation in the guise of 'nanlaban ang biktima,' and that they merely acted in self-defense."
"The manner by which Kian was shot thereby sustaining three gunshot wounds at the back of his head while on the ground in a kneeling position demonstrates treachery," the 41-page resolution read.
Pereda and Cruz are also facing charges for violation of domicile or unauthorized entry into the residence of the complainants—the parents of Delos Santos—and conducting unlawful search.
The DOJ however junked the complaint of torture against the four.
The following Caloocan police officers were also cleared of murder, violation of domicile, planting of dangerous drug and planting of firearm complaints:
Chief Inspector Amor Cerillo
PO2 Arnel Canezares
PO2 Diony Corpuz
PO1 Silverio Garcia Jr
PO1 Ronald Herrera
PO1 Myridon Yagi
PO1 Christian Joy Aguilar
PO1 Rossillini Lorenzo
PO1 Erwin Romeroso
PO1 Ferdinand Claro
PO1 Ceferino Pacula
The resolution dated November 10, 2017, but released only on Monday, was penned by Senior Assistant State Prosecutor Tofel Austria, Assistant State Prosecutor Amenda Leaño-Garcia, Assistant Prosecution Attorney II Moises Acayan.
Delos Santos was killed in an anti-drug operation by the Caloocan City police. Police said he was a drug courier, a claim belied by the Department of Education and barangay officials, who said the boy did not have any derogatory record.
Police said in a Senate hearing that they validated reports of Delos Santos' supposed drug activities through social media. — Kristine Joy Patag