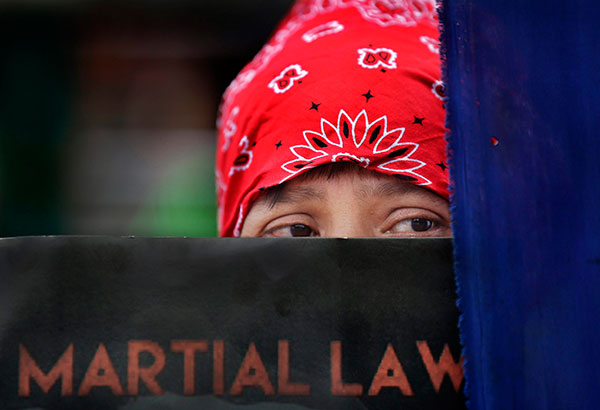 In a petition, the lawmakers also challenged the continued suspension of the writ of habeas corpus also up to the end of next year. AP, File
Opposition challenges martial law before Supreme Court
Jess Diaz
(The Philippine Star) - December 27, 2017 - 4:00pm
MANILA, Philippines — Opposition congressmen led by Edcel Lagman of Albay have turned to the Supreme Court for help in contesting Congress' decision to allow President Duterte to extend martial law in Mindanao up to the end of 2018.
In a petition, the lawmakers also challenged the continued suspension of the writ of habeas corpus also up to the end of next year.
Suspension of the writ allows state forces to resort to warrantless arrest.
Lagman and opposition colleagues Edgar Erice of Caloocan City, Teodoro Baguilat Jr. of Ifugao, Emmanuel Billones of Capiz, Gary Alejano of Magdalo and Tom Villarin of Akbayan asked the high court to issue a temporary restraining order (TRO) on the extension of martial law and the suspension of the writ of habeas corpus.
Named respondents in the case were Senate President Aquilino Pimentel III, Speaker Pantaleon Alvarez, Executive Secretary Salvador Medialdea, Defense Secretary Delfin Lorenzana, Budget Secretary Benjamin Diokno and Armed Forces chief Gen. Rey Leonardo Guerrero.
President Duterte declared martial law in Mindanao in May. Before it expired in July, Congress extended it up to the end of this year.
The petitioners said there is no actual rebellion in Mindanao to justify the second extension of martial law.
They said Pimentel and Alvarez, "supported by the supermajority in both chambers of Congress, unduly constricted the period of deliberation and interpellation on the subject extension so much so that the President's request for extension was approved baselessly and with inordinate haste."
"Threats of violence and terrorism by remnants of vanquished terrorist groups do not constitute a constitutional basis for extension of martial law because 'imminent danger' has been deleted as a ground for imposing martial law under the 1987 Constitution," they said.
They added that prolonging martial law by one year "defies the unequivocal intent and mandate of the Constitution of having a limited duration of martial law and its extension."
The Constitution does not allow a series of extensions or re-extensions of a martial law proclamation, which may lead to "extensions in perpetuity," Lagman and his colleagues stressed.
They added that Congress committed grave abuse of discretion in extending martial law.
They pointed out that the President, as commander-in-chief, has the power to call out the armed forces to prevent and subdue lawlessness by remnants of terrorist groups without extending martial law and the suspension of the writ of habeas corpus in Mindanao.
They noted that the President and his defense, military and police advisers have claimed that "remnants" of terrorist groups have been monitored as "recruiting" new fighters and "regrouping" to launch new attacks.
"Rebellion or invasion is neither a state of mind or a state of fear. It must be actual, not contingent. It must be real, not contrived," Lagman said.
He said "remnants" of defeated terrorist groups "do not have the capacity to launch a rebellion even as the government is molding them into apparent menacing ogres, instead of preempting them by ordinary military and police operations without the need for extending martial law."
"Martial law cannot be extended in Mindanao simply to subdue residual phantoms. The improvident extension of martial law and the suspension of the writ of habeas corpus against remnants of terrorist groups is akin to killing a fly with a sledgehammer," he said.