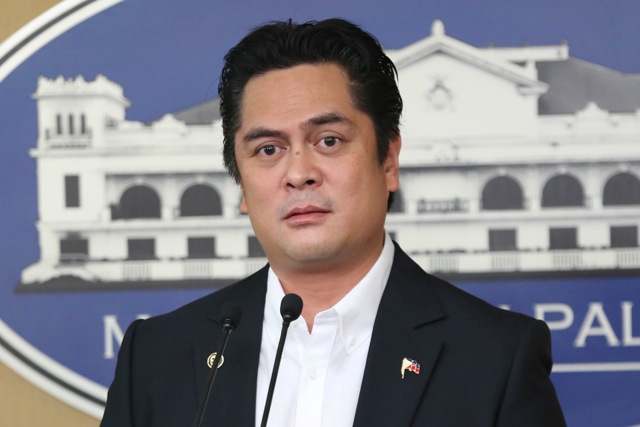 Presidential Communications Secretary Martin Andanar insisted that there are no extrajudicial killings in the Philippines because state-sponsored killings are not allowed under the Constitution. Presidential Photographers Division/Albert Alcain, File
Palace defends zero EJKs under Duterte claim of PNP
MANILA, Philippines — There are no extrajudicial killings (EJKs) in the Philippines because there is no death penalty, Malacañang said Sunday, as it stressed that the slain drug offenders either fought with policemen or were killed by narcotics syndicates.
The Philippine National Police has drawn flak after claiming that there are no EJKs in the Philippines despite the rising number of deaths linked to President Rodrigo Duterte's war on illegal drugs.
Officials have defended the PNP's claim, citing Administrative Order No. 35, which defined EJKs as killings of members of cause-oriented organizations, advocates, media practitioners or victims of mistaken identities.
Malacañang has said that the order, which was issued by former President Benigno Aquino III, has not been revoked so the definition of EJKs remains the same.
Presidential Communications Secretary Martin Andanar insisted that there are no EJKs in the Philippines because state-sponsored killings are not allowed under the Constitution.
"We do not have judicial killing, we do not have capital punishment. It is prohibited to kill in our country. So why is there extrajudicial killing when there is no judicial killing? Why put 'extra?' So there is no extrajudicial killings in our country. There is no judicial killing, it is not state sponsored, it is not legal, it is not in our Constitution," Andanar told radio station dzBB Sunday.
"Therefore, those who were killed in the war on drugs, it's either they were killed because they fought with the policemen or were liquidated by their companions in the drug industry," he added.
The Commission on Human Rights has described the government's definition of EJKs as "inappropriate," noting that AO 35 was issued to address politically motivated killings.
Sec. Cayetano claims a different EJK definition is being applied to Duterte admin. But experts already refuted this: https://t.co/Hk10EoEsbX pic.twitter.com/Wu6gfGrJVZ

— Philstar.com (@PhilstarNews) October 8, 2017
Andanar also dared the policemen who went to the Catholic Bishops Conference of the Philippines to confess their involvement in EJKs to show proof that the government is behind the killings.
"They should show proof. It is easy to talk and to make allegations…Gather the evidence, file cases," Andanar said.
"It's easy to make noise, for example, that there are 13,000 people who were killed. With regard to EJK, the government has real numbers and only 3,000 died because of drug operations," he added.