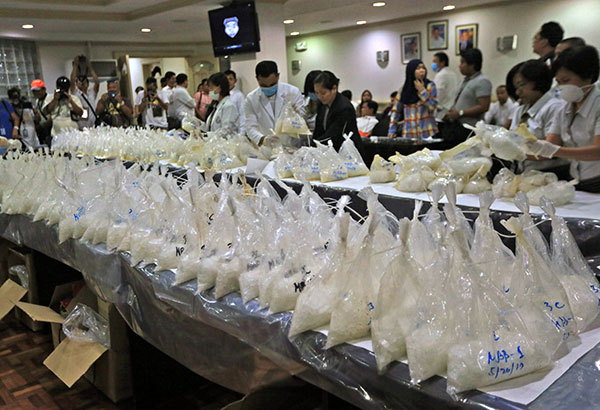 Customs collector Vincent Philip Maronilla was appointed on Dec. 1 after he was cleared of criminal liability in the shabu shipment. He will replace Edgar Macabeo, who retired in September. Edd Gumban, File
Exec in P6.4-B shabu case now BOC-NAIA collector
(The Philippine Star) - December 11, 2017 - 4:00pm
MANILA, Philippines — A Bureau of Customs collector implicated in the P6.4-billion shabu smuggling has been appointed by President Duterte as BOC district collector at the Ninoy Aquino International Airport (NAIA).
Customs collector Vincent Philip Maronilla was appointed on Dec. 1 after he was cleared of criminal liability in the shabu shipment. He will replace Edgar Macabeo, who retired in September.
Maronilla yesterday said he has not yet received a copy of his appointment papers.
"I still do not know when I would assume the post as NAIA district collector. I am not sure if an official copy has been transmitted to the Bureau of Customs (BOC) already… I am just waiting. I will ask my marching orders from my commissioner," Maronilla said.
Maronilla said once he assumes the position of NAIA Customs district collector, he will improve BOC's service, especially to overseas Filipino workers.
Last May, 604 kilograms of shabu from China passed through the Manila International Container Port (MICP), which at the time was headed by Maronilla.
The Philippine Drug Enforcement Agency (PDEA) implicated Maronilla and other Customs officials for violation of the Comprehensive Dangerous Drugs Act, negligence and tolerance under Article 208 of the Revised Penal Code, and corrupt practices under Section 3 of the Anti-Graft and Corrupt Practices Act.
Customs Commissioner Isidro Lapeña removed Maronilla from the MICP and transferred him to the Compliance Monitoring Unit (CMU).
The CMU has been dubbed as the "freezer" because it is a place for officials placed under "floating status."
Lapeña reassigned Maronilla to the CMU on suspicion that he was involved in "benchmarking" of duties and taxes of imported goods.
But Maronilla, former Customs commissioner Nicanor Faeldon, former Customs Intelligence and Investigation Service director Neil Anthony Estrella and other BOC officials and personnel were cleared by the Department of Justice (DOJ) panel of prosecutors for lack of probable cause.
Meanwhile, Chinese businessman Richard Tan appeared at the DOJ yesterday once again over his reported involvement in the P6.4-billion shabu shipment seized last May.
Tan, whose real name is Chen Ju Long, asked the DOJ to dismiss the charges of violating the Customs Modernization and Tariff Act and the Comprehensive Dangerous Drugs Act, which the BOC filed against him.
After reportedly attempting to leave the country recently, Tan submitted his counter-affidavit to investigating Assistant State Prosecutor Charles Guhit.
Tan argued that the case filed by the BOC should be dismissed for mootness as the same charges filed by the PDEA against him and other respondents have already been filed by the DOJ before the Valenzuela City regional trial court.