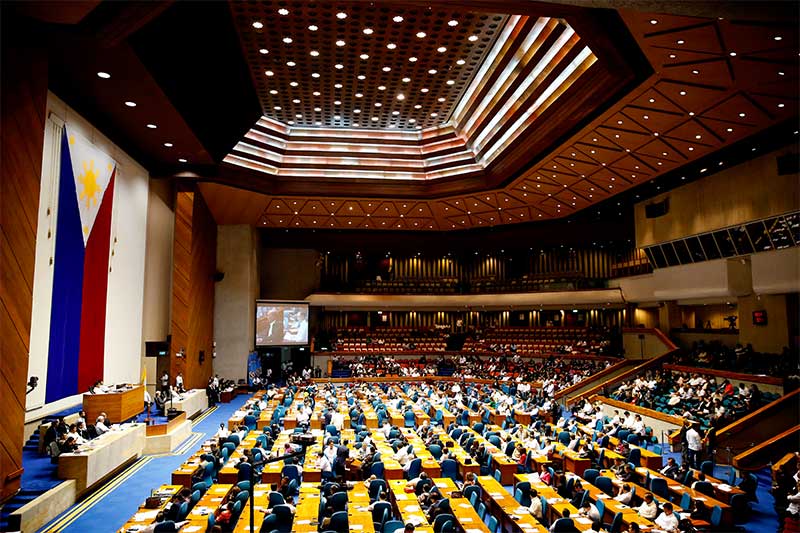 There is no need to hold a special session on the extension of martial law in Mindanao, House Majority Leader Rodolfo Fariñas said. AP/Bullit Marquez, file
Congress may hold joint session on martial law this week
(Philstar.com) - December 11, 2017 - 3:18am
MANILA, Philippines — Members of the House of Representatives and the Senate may hold a joint session this week to discuss the extension of the declaration of martial law in Mindanao.
Congress is set to adjourn its regular session for its Christmas break on December 15 and will resume on Jan. 14, 2018.
"We may have a joint session Thursday or Friday as part of the [Second] Regular Session, without need of a special session," House Majority Leader Rodolfo Fariñas said in a statement.
President Rodrigo Duterte has yet to officially ask the Congress to extend the declaration of martial law in Mindanao for one more year. Executive Secretary Salvador Medialdea on Sunday confirmed, however, that the president will seek an extension and that this will be officially communicated on Monday.
Congress readily agreed with the declaration of martial law in May 23 and a request to extend the martial law period until the end of the year sailed smoothly through a special session in July.
Opposition lawmakers: No basis for extension
A handful of lawmakers, however, have argued that there is no basis for Duterte to further extend martial law.

Sens. Bam Aquino, Franklin Drilon, Risa Hontiveros, Francis Pangilinan and Antonio Trillanes IV said martial law, along with military air strikes, were the primary reasons the residents fled Marawi in the early stage of the Maute group's siege.

"And martial law is also the reason why they are afraid to return, even in cleared areas," they added.

Rep. Edcel Lagman (Albay, 1st District), meanwhile, said arguments for the extension of martial law are weak on the basis of the Constitution.

"The projected extension of martial law in Mindanao is constitutionally infirm, both as to grounds and duration. Martial law can only be declared and its extension authorized in 'case of invasion or rebellion, when the public safety requires it,'" Lagman said.

He argued that "actual invasion or rebellion" no longer exists in Mindanao as Duterte had declared Marawi liberated.

"Even the Philippine National Police and the Armed Forces of the Philippines admit only the existence of threats from remnants of terrorist groups who are reportedly recruiting fighters and regrouping to exact 'vengeance' against government forces," he added.
READ: Duterte wants martial law extended one more year
On May 23, Duterte declared martial law and suspended the privilege of the writ of habeas corpus in Mindanao following an armed confrontation between government troops and the Maute group in Marawi City.
The president requested for an extension of martial law in Mindanao until December 31, which the Congress readily approved on July 22.
On October 17, Duterte declared the that Marawi City has been liberated from ISIS-inspired Maute group.
The president, however, had received recommendations from the police and the military to extend the declaration after it expires on December 31.
Under the 1987 Constitution, martial law may be declared when public safety requires it in case of invasion or rebellion. — Patricia Lourdes Viray
RELATED: Senate minority opposes martial law extension in Mindanao