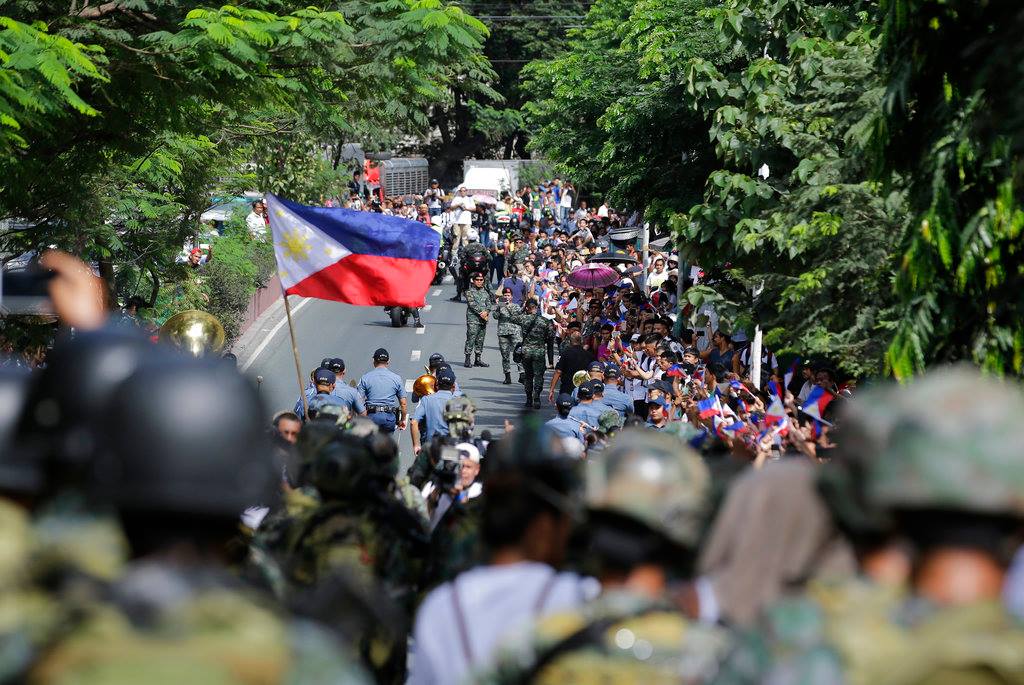 FILE - In this Oct. 25, 2017, file photo, residents and office workers wait along the streets as members of the Philippine National Police Special Action Force who just arrived from Marawi, southern Philippines, march to Camp Bagong Diwa, south of Manila, Philippines. The human rights group Amnesty International said in a report on Friday, Nov. 17, 2017, it has documented a variety of serious violations of humanitarian law, some amounting to war crimes, during the five-month conflict between Philippine government troops and Islamic State-allied militants who laid siege to the southern city of Marawi. The siege raged from May 23 until the government declared it over on Oct. 23. AP/Aaron Favila, File
Senate minority opposes martial law extension in Mindanao
MANILA, Philippines — Lifting the declaration of martial law in Mindanao would hasten the return of affected residents to their homes in Marawi City, members of the Senate minority said.
Sens. Bam Aquino, Franklin Drilon, Risa Hontiveros, Francis Pangilinan and Antonio Trillanes IV on Friday said they are opposed to the proposed one-year extension of martial law in Mindanao.
The five senators stressed that martial law, along with military air strikes, were the primary reasons the residents fled Marawi in the early stage of the Maute group's attack.
"And martial law is also the reason why they are afraid to return, even in cleared areas," the minority senators said in a statement.
Martial law was declared on May 23, within hours of the Maute attack on the capital of Lanao del Sur, and residents began to leave the city to avoid getting caught in clashes between security forces and the terrorists.
The senators asked whether the displaced people of Marawi would have a role in the planning and rehabilitation of their war-torn city.
"As security forces reign supreme during martial law, would not military rule actually get in the way of a people-centered rebuilding and rehabilitating of the once vibrant city," the statement read.
About 36 barangays of Marawi City remain closed for returning residents as the military continues its clearing operations.
The military is yet to clear the remaining main battle area in Marawi, which are yet to be declared safe from unexploded artillery and other traps.
The police have recommended a one-year extension of martial law in Mindanao due to continuing threats of terrorist groups in the region.
Congress readily agreed in July to extend martial law in Mindanao until the end of 2017. Neither chamber called for a special session when it was declared in May and instead issued resolutions of support for martial law.
House Speaker Pantaleon Alvarez (Davao del Norte) has said that more than once that Mindanaons support the imposition of martial law and that those from the Visayas and Luzon shoul stop opposing it.