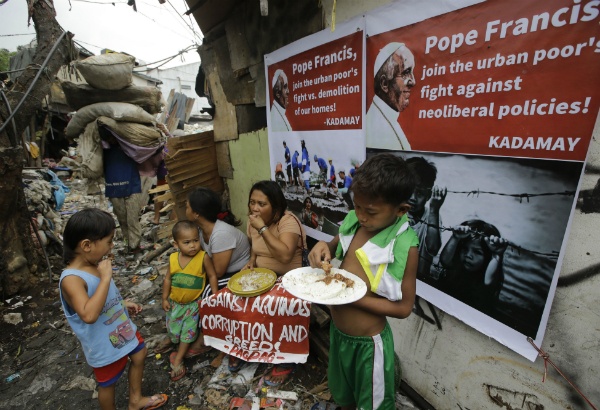 An estimated 2.7 million families or 11.8 percent experienced hunger in the past three months, a 2.3 percentage point increase from 9.5 percent in June 2017. AP/Bullit Marquez
SWS: More Filipino families experienced hunger
(Philstar.com) - December 7, 2017 - 4:27am
MANILA, Philippines — The number of Filipino families who experienced involuntary hunger at least once rose in the third quarter of 2017, the latest poll from Social Weather Stations showed.
An estimated 2.7 million families or 11.8 percent experienced hunger in the past three months, a 2.3 percentage point increase from 9.5 percent in June 2017.
The June survey was the lowest reading since March 2004's 7.4 percent.
Approximately 2.2 million (9.6 percent) families experienced moderate hunger in September, rising by 1.8 points from 7.9 percent in June.
The number of those who faced severe hunger also rose slightly during the third quarter to around 493,000 families (2.1 percent) from 1.6 percent during the second quarter.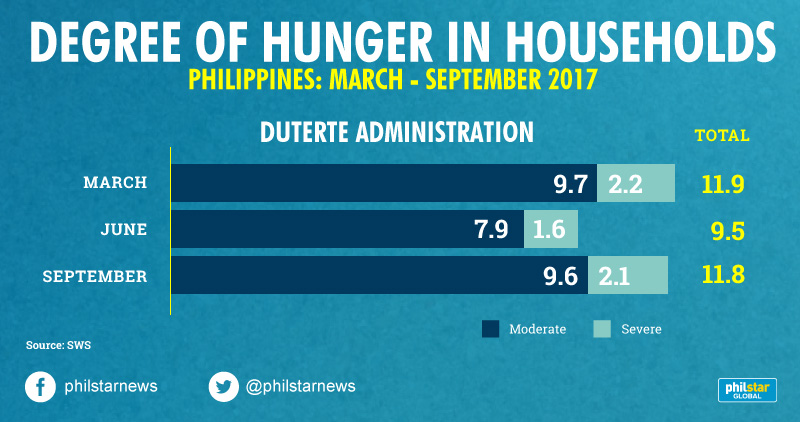 READ: Hunger level lowest since 2004 — SWS
Moderate hunger refers to those who experienced hunger "only once" or "a few times," while severe hunger refers to those who experienced it "often" or "always" in the last three months.
"The few who did not state their frequency of hunger were classified under moderate hunger," the polling firm said.
From June to September 2017, quarterly hunger grew by 3.1 points among self-rated poor to 16.7 percent in September from 13.6 in June. It also increased by 1.1 points among non-poor, going to 7.4 percent from 6.3 percent.
Hunger likewise swelled by 2.7 points among the self-rated food-poor to 19.8 percent in September from 17.1 percent in June and 2.1 points among the not food-poor to 8 percent from 5.9 percent.
READ: SWS: Self-rated poverty slightly up in Q3
Hunger rises except in Mindanao
The quarterly hunger rate increased in all areas except Mindanao.
It rose by 0.4 points in Manila from 11.3 percent in June to 11.7 percent (around 364,000) in September, 5.5 points in Balance Luzon from 8.3 percent to 13.8 percent (around 1.4 million families) and 1.3 points in Visayas from 7.3 percent to 9.7 percent (around 427,000 families).
Meanwhile, quarterly hunger in Mindanao dropped to 9.7 percent in September (approximately 506,000 families) from 11.3 percent in June. It fell by 1.7 points.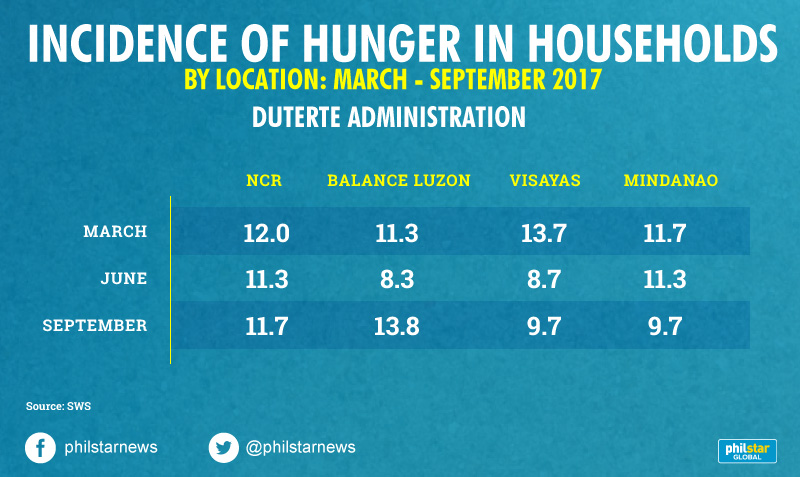 The third quarter poll was conducted from September 23 to 27 using face-to-face interviews of 1,500 adults nationwide.
It has a sampling error margins of ±2.5% for national percentages, ±4% for Balance Luzon and ±6% each for Metro Manila, Visayas, and Mindanao.