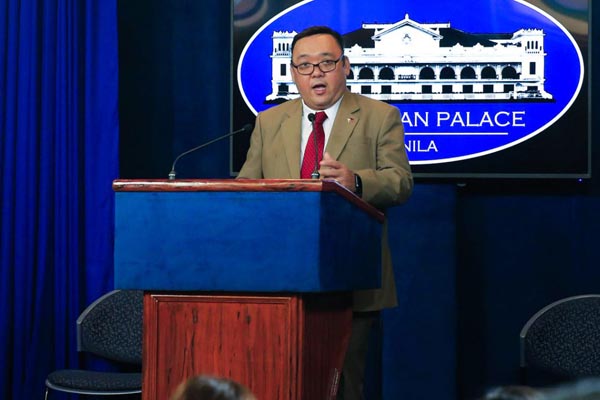 "Wala pong dahilan para mag-panic. Tama naman po na nagkaroon ng konting bahala tayo dahil hindi naman natin alam na matapos maibigay sa mga kabataan akala natin complete immunity na from dengue," Presidential spokesperson Harry Roque said. PCOO, file
Palace on dengue vaccine mess: Don't panic
MANILA, Philippines — Malacañang assured the public Monday that there is no reason to panic over the halted Department of Health dengue vaccination program.
Last Friday, the DOH announced that the immunization program was placed on hold after Sanofi Pasteur, the manufacturer of dengue vaccine Dengvaxia, revealed that the vaccine poses risks to people without prior infection.
READ: DOH suspends dengue immunization program over potential health risk
"Wala pong dahilan para mag-panic. Tama naman po na nagkaroon ng konting bahala tayo dahil hindi naman natin alam na matapos maibigay sa mga kabataan akala natin complete immunity na from dengue (There is no reason to panic. It is understandable to be a little worried because we thought that vaccination would mean complete immunity from dengue) ," Roque said in a press briefing Monday.
Roque explained that the "severe" dengue classification that Sanofi mentioned involves symptoms such as fever and hemophilia, which are not deadly.
The Sanofi study on the vaccine found that only one out of every 10 people without prior infection would acquire dengue.
"But there will be nine out of ten who will be protected from acquiring what could be not just serious but possibly a deadly stage of dengue," Roque said in Filipino and English.
DOH spokesperson Lyndon Lee Suy also clarified that only 10 percent of the more than 700,000 children vaccinated by Dengvaxia run the risk of developing severe dengue.
The government will monitor children who received the dengue vaccine, he said.
Meanwhile, the Department of Justice has ordered the National Bureau of Investigation to look into the possible criminal liability in the dengue vaccine project.
RELATED: Palace to 'leave no stone unturned' in Dengvaxia anomaly