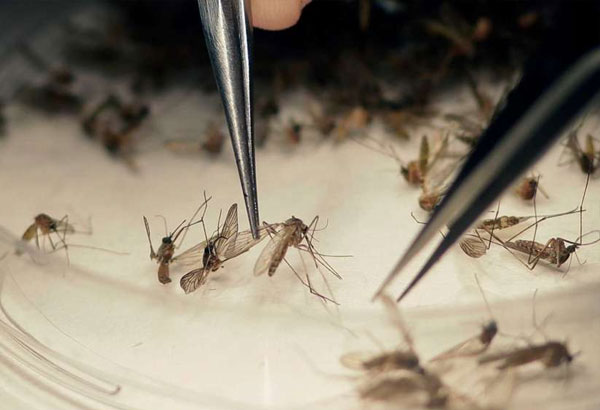 French pharmaceutical Sanofi Pasteur, the manufacturer of dengue vaccine Dengvaxia, warned that the vaccine poses risks to those who were not infected by dengue virus before. A total of 733,713 students from Central Luzon, Calabarzon and Metro Manila received the dengue vaccine as of last month. AP, File
Palace to 'leave no stone unturned' in Dengvaxia anomaly
MANILA, Philippines — Those behind the Dengvaxia fiasco would be made accountable, Malacañang said Sunday, as the government continues to monitor the condition of students who have been administered with the vaccine.
Presidential spokesman Harry Roque said the Health department is now intensifying the surveillance and evaluation of the dengue vaccination program.
"We will leave no stone unturned in making those responsible for this shameless public health scam which puts hundreds of thousands of young lives at risk accountable," Roque said.
Roque said the government understands the concern of parents and relatives of public elementary students in Central Luzon, Calabarzon and Metro Manila, where the vaccination program was launched by the previous administration.
"However, we call on all citizens not to spread information that may cause undue alarm," Roque said.
"We assure the public that as per the Department of Health there is currently no reported case of severe dengue infection to the individuals who received one dose of dengue vaccine last year," he added.
The Justice department is set to probe the P3.5 billion contract to purchase Dengvaxia, which may have placed students who have not had any prior dengue infection at risk of contracting a more dangerous strain.
Sanofi Pasteur, the French pharmaceutical firm that manufactured Dengvaxia, has warned that the vaccine might cause more severe dengue cases on those who contracted the illness for the first time.
The Health department has suspended the administering of the vaccine.
A total of 733,713 students from Central Luzon, Calabarzon and Metro Manila received the dengue vaccine as of last month.
"The Department of Health is now working in close coordination with the Department of Education to monitor the thousands of students who have been administered with Dengvaxia," Roque said.