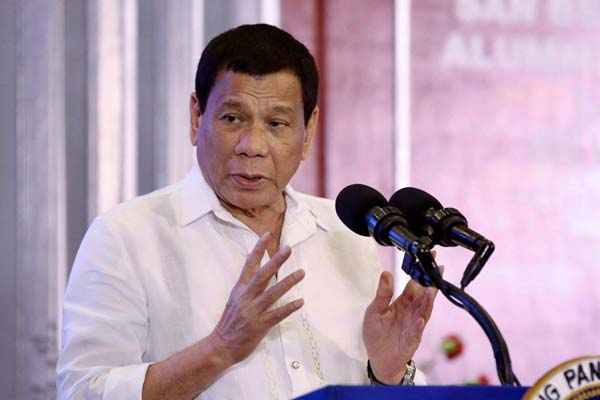 In a statement Tuesday, Karapatan Secretary General Cristina Palabay called Duterte's repeated statements insulting and threatening physical violence on UN special rapporteur on extrajudicial killings Agnes Callamard "deplorable and undiplomatic." Presidential Communications
Rights group calls Duterte 'a madman' for ranting against UN
(Philstar.com) - November 28, 2017 - 9:02am
MANILA, Philippines — Rights group Karapatan slammed President Rodrigo Duterte's invectives against United Nations experts and his perceived enemies, calling these "worn-out rants of a madman."
In a statement Tuesday, Karapatan Secretary General Cristina Palabay called Duterte's repeated statements insulting and threatening physical violence on UN special rapporteur on extrajudicial killings Agnes Callamard "deplorable and undiplomatic."
"[These are also] dangerous acts undermining international human rights mechanisms that are in place to provide redress to victims of rights violations and people's suffering from state violence," Palabay said.
The head of the left-wing rights group added: "These are but smokes and mirrors of his regime's real intent to cover up the accountability of his government and state forces on numerous cases of extrajudicial killings."
Palabay noted that it is the mandate of UN special procedures to look into and raise concerns on reports of human rights violations in states.
Despite the administration's refusal to invite Callamard for an official investigation, Palabay said the group will continue to engage with UN experts by submitting complaints and letters of allegation on extrajudicial killings and other human rights violations under the current regime.
"We will never be cowered by any words and acts of a tyrant. We will continue to provide assistance to victims of state violence and be one with them in their struggle for justice," she said.
She also slammed Presidential Spokesperson Harry Roque for calling Duterte's pronouncements as "unorthodox rhetoric," which she described as a "lame excuse" to promote further rights violations and impunity.
READ: Palace to UN: Duterte's threat to slap Callamard just 'unorthodox rhetoric'
On November 22, UN High Commissioner for Human Rights Zeid Ra'ad Al Hussein condemned "in the strongest terms" Duterte for the threats and insults hurled at Callamard.
Duterte has had harsh words for Callamard in the past, from hurling invectives at her for commenting on the death of 17-year-old Kian delos Santos to threatening to slap the UN expert should she investigate him for alleged extrajudicial killings in the government's war on drugs.
READ: Duterte warns Callamard: If you investigate me, I'll slap you, Pardon his French: Duterte curses at Callamard for comments on Kian case