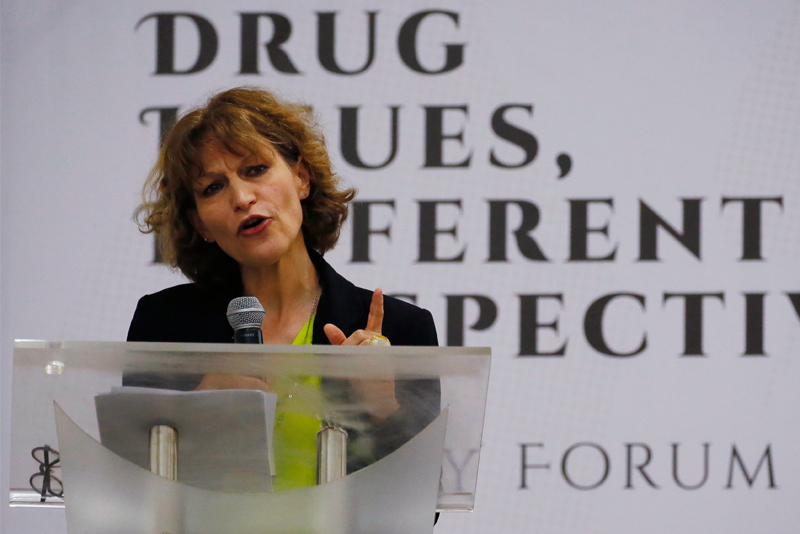 United Nations Special Rapporteur Agnes Callamard earned President Rodrigo Duterte's ire again for commenting on the Philippines' drug war. AP/Bullit Marquez, file
Pardon his French: Duterte curses at Callamard for comments on Kian case
PAMPANGA, Philippines — President Rodrigo Duterte on Monday hurled a slew of invectives at United Nations (UN) special rapporteur on summary executions Agnes Callamard, who has urged the government to make the death of 17-year old student Kian delos Santos the last.
Duterte said there is no assurance that delos Santos would be the last casualty related to his brutal crackdown on illegal drugs.
"T*** i** niya, sabihin mo. Huwag niya akong takutin. P***** i** niya. G*** pala siya eh. Taga-saan ba 'yang buang na 'yan (Tell her son of a b****. She should not intimidate me. Son of a b****. She is a fool)," the president told reporters here.
"Mangyayari nang mangyayari 'yan. Eh sa lugar niya nangyayari, g*** ka pala (It can always happen. It also happens in her place. You are such a fool)," he added.
Last Wednesday, Callamard extended her condolences to the family of delos Santos, a high school student who was among the more than 90 people killed in what the police described as "one time big time" operations against drug pushers.
In a Twitter post, the UN rapporteur called Duterte's war on drugs "cruel" and wrote the hashtag "#Makehisdeaththelast".
She also asked Duterte to investigate all "unlawful deaths" and to stop all murders.
Duterte reminded Callamard, who has been critical of his war on narcotics, that the Philippines is not under the jurisdiction of France, her country.
"French? T*** i**, umuwi siya doon (Son of a b****. She should just go home)," he said.
"They can detain a person almost indefinitely, under the French law. And the French law says you are guilty, and you have to prove your innocence. Here, the presumption is you are innocent."
The French "Declaration of the Rights of Man and the Citizen", adopted by their national assembly in August 1789, holds that "every man [is] presumed innocent until he has been pronounced guilty.
"[If] it is thought indispensable to arrest him, all severity that may not be necessary to secure his person ought to be strictly suppressed by law," Article 9 of the Declaration continues.
The same article is found in the Constitution of October 4, 1958, the basic law of the French Fifth Republic.
'Callamard should visit Philippines'
Duterte challenged Callamard to visit the Philippines to see the extent of the drug problem herself.
"Papuntahin mo siya dito, sige sabihin mo. Nandito ba (Ask her to come here. Is she here)?" the tough-talking leader said.
"Tingnan mo 'yung sitwasyon (Look at the situation). Do not ever give me that kind of s***. This is the Republic of the Philippines, not a territory of France. G*** pala siya. Hindi siya nakikinig ng sinasabi ko (She is a fool. She did not listen to what I was saying)," he added.
Last December, the Duterte administration invited Callamard to visit the Philippines subject to three conditions including allowing the President to ask the UN rapporteur questions in a public debate.
Callamard refused to heed the conditions, saying the violate UN protocols for country visits.
It was unclear whether Duterte's remarks yesterday was an indication that he is willing to drop the conditions for Callamard's visit.